Here is the Complete Weight Loss Story of Jillian Michaels
Jillian Michaels's inspiring weight loss journey: Exclusive details here!
A personal trainer, author, businesswoman, and television personality, Jillian Michaels has inspired a legion towards a healthy lifestyle. The tv-personality is best known for starring as a weight loss coach in the NBC reality show, The Biggest Loser. But who'd believe that Michael wasn't always this fit? She took extreme courage and hardship to fight her extra pounds and achieve her healthiest physique.
Born on February 18, 1974, in Los Angeles, California, Michael was raised in Tarzana by her parents, a psychotherapist and a lawyer. The personal trainer describes her young self as a chubby kid who used food as comfort until her mother enrolled her in martial arts classes. Michael recently slammed The Biggest Loser for 'gamifying' the weight loss procedure.
Jillian Michael's weight loss journey!
Jillian provides detailed rhetoric to the whole weight transformation structure. The personal trainer says losing "weight is a lot like paying off a debt." She explains, "When you are paying off a debt, you might work two jobs to pay off the debt and make ends meet. Once the debt is paid, you can drop one of those jobs. Same with weight loss."
Jillian weighed 170 pounds as a kid.
Photo Source: Women's Health
At 13, Michael weighed 170 pounds. The dietician recalls her father being obese and the two bonding over food at all times. Michael turned to food for comfort when her parents divorced, worsening the matter. "My mom enrolled me into martial arts classes, not for weight loss, but as an emotional outlet to help me through that time of my life," the former Biggest Loser weight coach says.
Don't Miss: Full Story on Lizzo Weight Loss.
Michael describes the martial classes as a stepping stone into her lifelong fitness journey. Feeling empowered and capable, Michael found herself handling bullies in school. The personal trainer reveals weight loss was a years-long journey for her. It took her years to identify a healthy diet and get away from fake diet food. In 2019, She revealed her weight to be 117 pounds.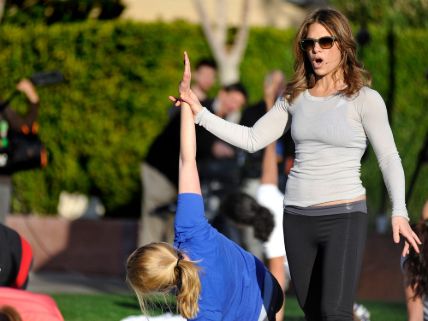 "Losing weight is like paying off a debt," Jillian says.
Photo Source: Insider
Also a black-belt holder, Michaels uses many strength techniques with her clients, including kickboxing, pilates, yoga, and more. She says another key to weight loss is "practicing calorie restriction, not deprivation."Jillian practices intermittent fasting and believes finding balance in everything is another key.
Jillian Michaels criticizes "The Biggest Loser"!
Even though Michaels rose to fame with the NBC reality show, which invited obese individuals to shed weight and win cash prizes, the personal trainer has no qualms pointing the show's drawbacks. The Fitness App founder recently lashed out at the show's several aspects.
Jillian starred on 'The Biggest Losers' from 2005 to 2014. Source: NBC
"Nobody should have been eliminated. That was my number one issue with the show," Jillian said on Today. "The producers gamified weight loss. It was weight loss on a ticking clock," the former coach added. Michael starred in the show from 2005 to 2014, but her remarks have left fans feeling like she was on the show reluctantly.
Check Out: Melissa McCarthy Weight Loss - Learn the Total Pounds She Shed and the Secret to Her Diet!
The trainer claimed that the show required "Mental health professionals." "The Biggest Loser needed a mental health professional," Michaels said. "Some random guy they could talk to if they needed, but these people needed deep work. When you have someone that weighs 400 lbs., that's not just an individual who likes pizza," she adds. Michaels recently got engaged to her long-time girlfriend, DeShanna Marie Minuto.
For more information and news on your favorite stars, stay connected to Glamour fame.
-->