John Cena Gets Emotional While Talking Retirement Following Roman Reigns Bout
John Cena almost broke into tears following the match during the post-match interview.
This goes back to the time when two of the biggest WWE superstars, clashed in one of the main events of WWE No Mercy 2017, John Cena, who is all set to host revival of 'Are You Smarter Than a 5th Grader' Game Show, and Roman Reigns bouted, which was clearly a match of the century.
Reigns, who discussed his leukemia fight on 'Good Morning America', defeated John in a tough-bout at the Staples Center pay-per-view in Los Angeles, Cali, and the result was not something that Cena took it well. The 42-year-old almost broke into tears.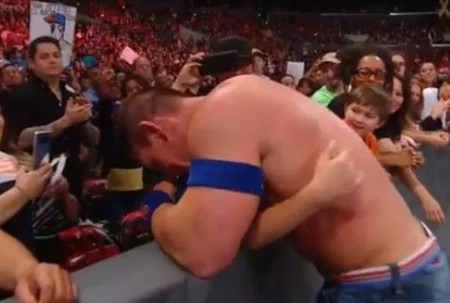 Source: WWE
It clearly seemed as if the 42-year-old was saying his goodbyes to the audiences following the fight as he stayed in the squared-circle after the match, bowing, waving, and taking pictures with the fans.
Cena, who is Set To Star in Netflix Action Comedy Directed by Jason Bateman, showing the true sportsmanship, raised a Roman hand up in the air after the hard battle, seemingly passing on the mantle to the next superstar in line.
The 42-year-old WWE RAW star then hugged his fans and families, before walking up the ramp towards the backstage area. Cena then looked back to the crowd and then saluted for the last time before heading for the exit.
The aftermath of the fierce one-of-a-kind battle saw Cena sitting for the interview with Jerry Lawler and Renee Young on a WWE exclusive - RAW Talk to discuss John's retirement.
The superstar mentioned, though everything he "does, does for the love of WWE," the star "can't probably think of anything more achieving" then his career as WWE superstar but, at that point, he simply did not know how long he can keep up.
John was almost on the verge of tears while talking about his bout with Roman and the transition he is going through.
One thing for sure, Cena loves WWE more than anything else, and there was a part of him that was incredibly sad about making this transition. Since then, Cena only makes sporadic appearances on WWE.
It really is disheartening for fans around the world to see such a talent leave his most loved career, but through his occasional appearances, Cena is still managing to win the people's heart.
-->