Johnnie Walker Set To Launch New Game Of Thrones Scotches Under The Name Of A Song Of Ice And Fire
Published Mon Jun 24 2019 By Chester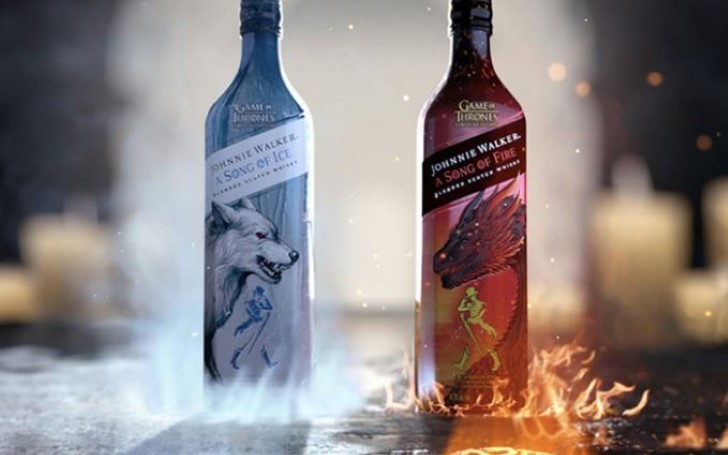 New Drink alert! Diageo's blended Whiskey Johnnie Walker set to launch two special Game Of Thrones scotches under the name of 'A Song Of Ice And Fire.'
'Winter' may be gone but Diageo's brand 'Johnnie Walker' is certainly here as they launch two Game of Thrones-themed blended whiskey under the name of 'A song of Ice and Fire.'
Well, the special edition of the whiskey will have two different flavors, 'A song of Ice' and 'A song of Fire'.
Check Out: Johnnie Walker Introduces A Song of Ice and A Song of Fire
The Scottish brand Johnnie Walker teased the release of the new liquors with a short video on June 12 sharing on their official Twitter and Youtube channel.
Shop 'Game of Thrones' Gifts For Everyone in Your House Before The Final Season >>>
Both the Scotch whiskeys look splendid in cool designs where A Song of Fire depicts a dragon and A Song of Ice features a dire wolf.
SOURCE: Thespiritbusiness
A Diageo spokesperson said: "We are excited to announce that Johnnie Walker and HBO will be releasing two new Scotch whiskey blends in honor of the enduring legacy of Game of Thrones."
Furthermore, details of the new whiskeys will be released in the coming months and the limited edition will be available on a first-come and first-served basis.
Both the expressions are originally based on 1996 novel by George R.R Martin from his series of epic fantasy novel 'A Song of Ice and Fire'.
The two blended whiskeys will launch in the US this August and globally till October. So make sure to grab one before the offers expire.
-->