Who Is Jon Batiste? What Is His Net Worth?
Inside Jon Batiste's career and net worth: The singer won album of the year at the 2022 Grammys!
Jon Batiste took over the tabloids recently as he entered the 2022 Grammys at MGM Grand Garden Arena, Los Angeles, with 11 nominations and left the event with not one or two but five Grammys, including one for best album of the year. In addition to his latest remarkable win, Batiste boasts several accolades under his belt, including a Golden Globe for best original score and an Academy for the same.
Jonathan Michael Batiste was born on November 11, 1986, in Metairie, Louisiana, into a family of professional musicians called the Batiste family, which includes renowned composer Harold Battiste, jazz clarinetist Alvin Batiste, and more. Jon started playing percussion and drums with his family at eight and later shifted his training to the piano at his mother's suggestion. Today Jon is a celebrated singer, songwriter, musician, bandleader, and television personality.
What is Jon Batiste's net worth?
Before rising to become the talk of the town with his sweeping win at the Grammys, Batiste already had a stellar reputation among the A-lister musicians. He initially rose to fame as the bandleader and musical director of The Late Show with Stephen Colbert in 2015, a title he still holds. According to Celebrity net worth, Batiste has an estimated net worth of $4 million in 2022, a notable amount he has amassed since he debuted at the Concertgebouw, Amsterdam, in 2007.
Jon hails from the family of professional musicians called the Batiste family.
Photo Source: Instagram
The jazz singer released his debut album, Times in New Orleans, as a mere 17 years old boy and premiered his second, Live in New York: At the Rubin Museum of Art, during his collegiate years. Jon's rise to acclamation began with a rather humble start. After graduating from Juilliard School in New York City, Batiste started producing shows and conducting workshops around the underprivileged hoods in the Netherlands.
Don't Miss: How Much is Matt Stonie's Net Worth? Here is the Complete Breakdown of Earnings.
Batiste's pioneering music projects, including Social Music, Christmas with Jon Batiste and Hollywood Africans, spent weeks on the Billboard charts. Batiste's career ascended with his notable performance, including a tribute to Chuck Berry and Fats Domino at the 60th annual Grammy Awards. While soaring through in his endeavor, Batiste formed the jazz/R&B band, Stay Human in 2015.
Batiste formed the band Stay Human in 2015.
Photo Source: Instagram
Consisting of Joe Saylor, Louis Cato, Nêgah Santos, Endea Owens, Louis Fouché, Jon Lampley, and Batiste as the vocalist, Stay Human is currently the house band at The Late Show with Stephen Colbert. Aside from his stellar musical career as a soloist and band's frontrunner, Batiste also serves as the Creative Director of the National Jazz Museum in Harlem, New York and the Music Director for The Atlantic. "I think my role is to give back to the Harlem community because of what it has given to us," the Academy winner said in an interview with Forbes in 2019.
Jon Batiste wins five Grammys!
Industry watchers and experienced analysts had cited swanky popstars to be the likely awardees of the major trophies at Sunday's Grammys, but the New Orleans-born jazz pianist took everyone by surprise with his sweeping win. Batiste was the most-nominated artist this year with 11 nominations to his name, and the pianist topped five of them, including the prestigious Album of the Year prize.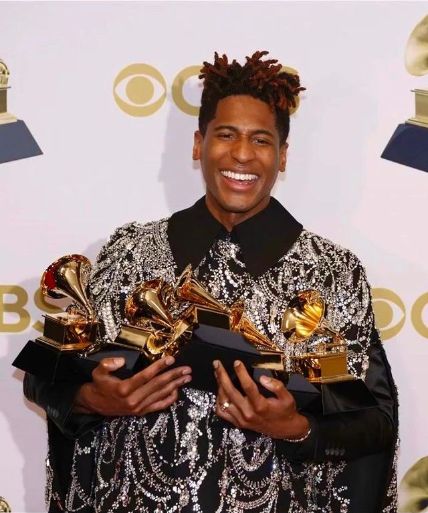 Jon won the prestigious Album of the Year prize for 'We Are' at the 2022 Grammys.
Photo Source: Instagram
Silk Sonic was another crowned king with the record and song of the year prizes for his anthem, Leave the Door Open. Batiste, 35, who later said that he "floored every single time" they called their name, delivered a gratitude-filled manifesto on winning the awards. "I believe this to my core: There is no best musician, the best artist, best dancer, best actor," the We Are hitmaker said. Jon adds, "Music is more than entertainment for me; it's a spiritual practice."
"Music is more than entertainment for me," said the five-Grammy-winning singer.
Source: CBS Los Angeles
Throughout his career as a regular on The Late Show with Stephen Colbert, Batiste has also produced songs for movies on the side. He composed several tracks for the HBO series Treme while appearing as himself in a few seasons. He landed similar gigs in Da Sweet Blood of Jesus, Thrive, and the computer-animated film Soul, for which he collaborated with Trent Reznor and Atticus Ross, and garnered three Grammys nominations.
Recommended: Priscilla Presley's Net Worth: The Actress's Career and Earnings.
Stay connected to glamour fame for more.
-->