Jon Bernthal's Kids: Learn About His Family Life Here
How Many Children Does Jon Bernthal Have? Inside the Actor's Thriving Marriage!
Jonathan Edward Bernthal came to the limelight for portraying Shane Walsh on The Walking Dead as a starring cast member in the first two seasons. His work on the show earned him immense fame and fortune.
On September 20, 1976, he was born in Washington, D.C, to Joan Lurie and Eric Lawrence, a former lawyer and chair of the board of directors for the Humane Society till 2019. Curiosities around the actor's personal life have been growing, with many wondering if Jonathan has been as successful in his personal ventures.
Who are Jon Bernthal's Children?
Jon Bernthal is a loyal husband and has been a married man for a long period. His wife Erin angle is a professional Trauma nurse. She is also the niece of retired professional wrestler Kurt Angle.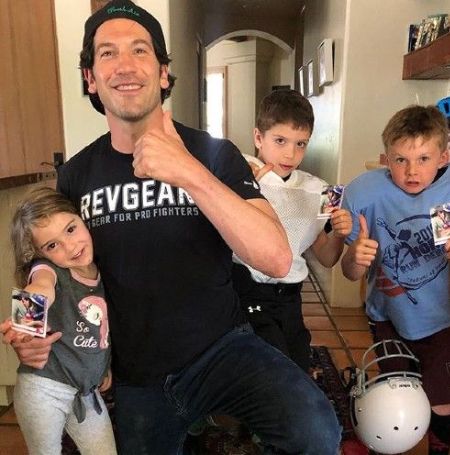 Jon Bernthal together with his daughter and two sons.
Photo Source: Instagram
After studying at the Moscow Art Theatre in Russia, the star first met Erin Angle in 2000 at a welcome home party thrown for him following his return to Washington, D.C. He became fascinated with her from the moment he caught her sight and was sucessful in making his partner and Jon and Erin got married on September 25, 2010.
Also See: Alvaro Morte's Kids: Learn About His Family Life
Jon and Erin have a daughter and two sons together. They gave birth to their first son Henry Bernthal which was born in August 2011. Secondly, they gave birth to their second son Billy Bernthal in January 2013. Lastly, they gave birth to their daughter Adeline Bernthal in February 2015.
Jon Bernthal Talks About His Daughter Adeline's Coma!
Jon Bernthal was preparing up for a major movie role when his world came falling down. Bernthal's daughter Adeline had an unexpected seizure, and that ultimately led her to a coma, which made the actor and father of three-step out of the Neil Armstrong-centered movie.
Jon Bernthal opens up about his daughter Adelina's unexpected seizure.
Photo Source: Instagram
He acknowledged his loving wife Erin, a trauma nurse, pulling the family through the misery. "People talk about bravery like fake ultramasculine, but my wife didn't panic," Bernthal told People magazine. "What I saw in my wife was courage and beauty unlike I'd ever seen."
Who is Erin Angle?
Erin Angle is the known wife of actor Jon Bernthal, who is famous for his role in "The Walking Dead" TV series. In 1977, Erin was born in Pittsburgh, Pennsylvania, USA, to Cindy Abbondanza Angle and her unnamed father, who is one of the four brothers of Kurt Angle.
Jon Bernthal, together with his wife, Erin Angle.
Photo Source: Daily Express
Erin Angle built a commendable career in the field of medical science of her own. She started her career in early 1999 at the Georgetown University Medical Center in Washington, DC. Then, she performed duties as a nurse at the USC University Hospital and, likewise, for the Standford University Medical Center too.
Recommended: Who are Bob Odenkirk's Children?
Erin's lastly worked at the Harbor-UCLA Medical center as a nurse anesthetist before getting together with Jon Bernthal. Even though she is linked to famous personalities in Hollywood, she lives a low-profile life. It's unclear whether she still serves as a nurse and anesthesiologist or decided to put her career on hold.
For more information and news on your favorite stars, stay connected to Glamour Fame.
-->