Jude Law's Daughter: All the Details About Her
Jude Law's Daughter is an Up-and-Coming Model: More Story Here!
Reasons to love and admire the two-time Academy Award-winning actor, Jude Law, are manifold, other than his stellar performance in movies like The Talented Mr. Ripley, Cold Mountain, and Hamlet. He is also an ardent philanthropist and a doting father of six at 48. Born David Jude Heyworth Law, he forayed into movies after a successful stage career, took a complete trip collecting multiple accolades and vast critical recognition in the film industry, and went back to embrace theatre roles in 2009 again.
It hasn't been long since Law's co-founded Riff Raff Entertainment wrapped the production of anticipated psychodrama True Things and got the whole cast trending for a while. Now his second eldest daughter's name has been making rounds on the internet for all the right reasons. Continue reading to learn more about Law's stunning daughter.
Law's Second Eldest Daughter, Iris, Hustling Hard At 20!
Jude is a few of the stars who have been brutally honest and candid about their rugged marriage and love life. Married twice and engaged once, Law is father to six children from four different women. His oldest is Rafferty, followed by Iris, Rudy, Sophia, Ada, and a recent newborn, whose name isn't revealed yet.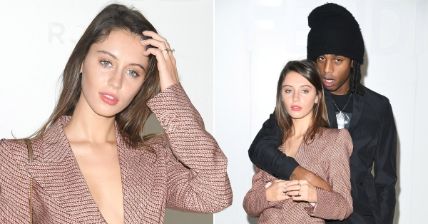 Beauty ambassador of Dior and signed with IMG Model at 20, Iris is dating a fellow model.
Photo Source: Metro
Of all of his pretty young children, his first daughter and second eldest, Iris Law, has been raising quite the eyebrows lately with her career ventures and alluring beauty. Though Iris has been modeling since she was 14, she recently had a milestone in her career, as IMG Models signed her.
Check Out: Who is the Daughter of Olympia Dukakis? Find All the Details Here
At 20, she is a beauty ambassador for Dior, has starred in Marc Jacob and Miu Miu's campaigns. A career in modeling may have been the best decision for Iris because Kate Moss is her godmother, and we can't overlook her distinguished style and perfect fit for the job either.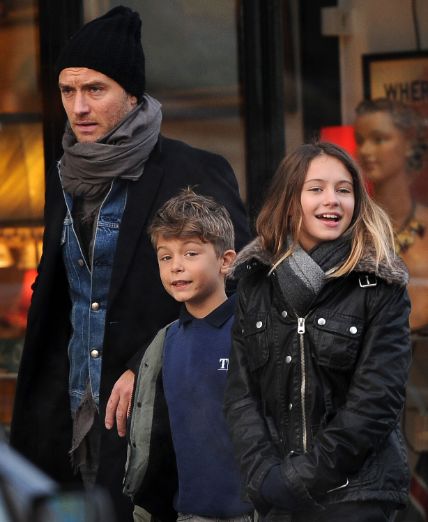 Jude Law's daughter Iris Law now has her own cooking channel on youtube.
Photo Source: Today's Parent
The 20 years old is dating a fellow model named Jyrell Roberts since 2018. She is currently proving herself beyond modeling; the young girl recently started her own youtube channel, a culinary venture. Head to her channel to catch Iris's easy bake recipe of blueberry and blue cheese focaccia.
Inside Jude Law's Controversial Romantic Life!
First married to actress Sadie Frost, Law had first three kids with Frost, and even though they stayed hitched only for six years, the duo kept it ravishing while it lasted. Called the 'It couple,' they were famed for their wild hedonism. And the split hit harder, too; a report tells the break-up was bitter and even ended up splitting their tightly-knit social group.
When a fling with model Samantha Burke resulted in an unexpected love-child, Law demanded a DNA test.
Photo Source: Mama Mia
Actor Law, regardless, moved on with actress Sienna Miller just a year later and got engaged with her in the same year. The couple never made it to the wedding because Law messed up before they could get there. In 2005, he apologized to Miller for cheating on with her with his children's nanny. What came after the two failed relationships was a shocker.
In 2009, a solicitor informed Law that he was about to become the father of a child from his fling with Samantha Burke's model relationships. Taken aback from the news, he even demanded a DNA test, inviting flak for his response. Law reportedly made no contact for weeks after the daughter's birth but thankfully shares a close bond now. He told Hello Magazine, 'How can you deny it, once you see her face,' he further added that his newborn had his chin and nose.
Don't Miss: Who is Billy Beane's Daughter? Learn all About Her Here
Jude and singer Catherine Harding's brief romance resulted in his fifth child, Ada. Harding recently told Mirror, "Jude is good father, and she sees her brothers and sisters, 'he takes her out all the time." Law married his girlfriend, Phillipa Coan, on May 1, 2019, and they had their firstborn together in September 2020.
For more information and news on your favorite stars, stay connected to Glamour Fame.
-->