Who is Juliana Carlos Husband in 2021? Here's Everything You Should Know
Published Fri Feb 05 2021 By Bran
Grab all the details you should know about the husband of Juliana Carlos, the heckler of LeBron James is the latest basketball match in this article.
Juliana Carlos is quite a prominent and trending woman in recent times as she got into the bad side of the NBA's active superstar, LeBron James. Her impression didn't particularly come good across the millions of NBA lovers as the diva alongside her husband was kicked out of a basketball match.
Well, if you don't know the reason already, it was the fact that she screamed at the NBA champion from Los Angeles Lakers, which got her across all the news media on Tuesday mornings.
Things like that are perhaps an easy route to getting fame, and what better way to get into the head of a living legend from the NBA, LeBron James. Juliana Carlos wasn't the one to shut up as she made her voice heard from her Instagram handle, where she decided to clear the air and explained how the things she did were for love.
Stay right here as we bring you all the details about the husband, love life, and the dramatic incident involving the trio of Juliana Carlos, her husband Chris Carlos, and the greatest player in the NBA right now.
Juliana Carlos In Love With Businessman Husband
The name of Juliana Carlos might be something that many people hear for the first time, but that doesn't mean that she is any less of a celebrity. In fact, the gorgeous woman is a reputed model and a fashion icon herself with over 80,000 followers on Instagram.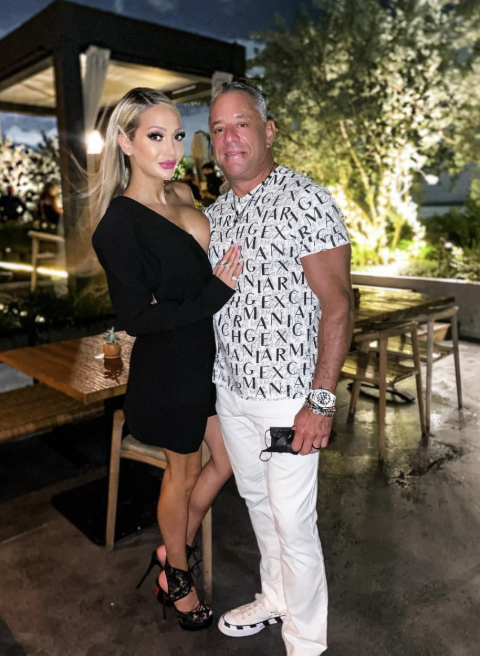 Juliana Carlos got the tag of 'Courtside Karen' by LeBron James following their spat.
Photo Source: The Sun
You would find the fact fascinating how she is also active on YouTube, which looks on a roll following her feud with LeBron James. Her longtime followers must know that the classy Juliana Carlos is blissfully married to a longtime husband, Chris Carlos.
Recommended: Ashley Benson packs on the PDA with singer boyfriend G-Eazy.
Juliana Carlos and her renowned husband, Chris Carlos, prefer to keep the big details about their relationship and marriage as a secret, which includes the details on their first dates or the wedding dates. However, we do know one fact that she loves her spouse dearly, as her actions in recent days have shown.
While Juliana has a separate fan base, her husband is a partner at Republic National Distributing Company. The business venture is the second-largest distributor of premium quality wine in the United States.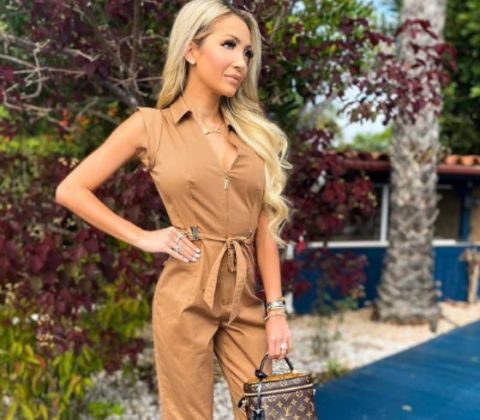 Juliana Carlos is the longtime wife of the businessman Chris Carlos.
Photo Source: Instagram
Apart from the multi-national alcohol brand, Juliana's husband also has the experience of serving in different top boards such as March of Dimes, Ronald McDonald House, and Murphy's Heart. The nemesis of LA Lakers' star boy, LeBron James, Chris Carlos is a philanthropist too who supports several charities and non-profit organizations.
Juliana Carlos And Her Husband's Spat With LeBron James
The story isn't new that Juliana Carlos and her husband were kicked out of an NBA match on Monday night. Well, the security guards were left with no choice as her husband, Chris Carlos, exchanged a war of words against the fan-favorite athlete, LeBron James.
As per her own words, Juliana was the one who intervened in the spat that her partner Chris was having with the LA Lakers talisman. Things went out of control once she got involved as they went on, forking out thousands of dollars on the courtside seats.
Juliana Carlos and Chris Carlos were kicked out of an NBA match after a brawl with LeBron James.
Photo Source: The Sun
Later, Juliana Carlos opened up on her Instagram handle on how she was on her own and how her partner has been a longtime fan of Hawks. Although she admits that her corporate head spouse might have some problems with the basketball player, she didn't care a little about James.
However, when LeBron came across Chris's head and started talking about some bad things to him, she couldn't stay quiet and got riled up and got angry at the NBA Champion.
Also See: Know All About The Married Life of Juan Williams.
As things turned out, the love and bond that Chris and Juliana share got even more strong, and the YouTuber even got more prominence, although not in the most preferred ways available.
The aftermath of the event definitely got the attention of James who called Juliana 'Courtside Karen.' Moreover, he described her behavior as 'MAD MAD!'
Related: Who is the wife of Mike Lindell? Is He Married or Divorced?
For more news and updates about your favorite stars, please stay connected with us at Glamour Fame.
-->