Jumoke Hill Weight Loss Journey - All the Facts Here
Published Thu Mar 12 2020 By Matthew
Here's all that you need to know about the late aspiring rapper Jumoke Hill's weight loss transformation!
Life doesn't wait around for anybody, and Jumoke Hill's passing proved that. The aspiring singer, entrepreneur, and self-proclaimed human just trying to do better was plucked too soon from this universe. Hill was beginning to scratch the surface to fame when his time in this world came to an abrupt end.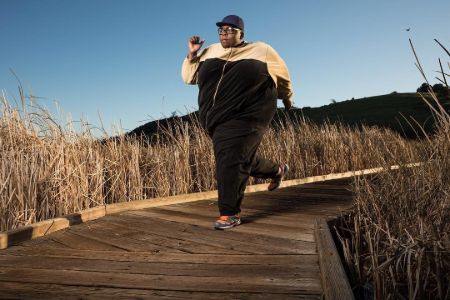 Jumoke Hill was an aspiring singer, entrepreneur, and self-proclaimed human just trying to do better.
Photo Source: Jumoke Hill Instagram
Even after his untimely passing, Jumoke remains an inspiration for a lot of people out there trying to shed a few unwanted pounds. Hill's death on February 28, 2020, due to a car accident, left his family and well-wishers in shock.
Watch: Jumoke Hill - At the Gym (Official Music Video)
Born May 12, 1984, Jumoke, who called Union City, CA home, launched his YouTube channel when he was 29. He weighed a whopping 672.2 pounds at the time and documented his attempt at slimming down.
Jumoke Hill's Weight Loss Journey: The Beginning
When he started his YouTube channel back in 2013, Jumoke was hell-bent on trimming down his weight. And he planned on doing so by shaking his groove thang to some of our favorite songs. Bullied and ridiculed until he started to hate himself at a point in life all because of his weight was what drove Hill.
Despite all the hateful boy shamming, he found a way to turn his life around and started dancing in front of the camera. As Hill began conquering his fears and overcoming the obstacles and challenges he's faced almost all of his existence, he met with waves of encouragement from people all over when he posted his changes online.
Recommended: Full Story on Jen Atkin Weight Loss
In an interview back in 2015 with Popdust, Jumoke revealed his brilliance to dancing off the weight saying, "I wanted to have fun with my workouts. I've always known I've had some type of rhythm and I thought hey why not, maybe I'll inspire someone to be free and comfortable with who they are. Lets dance the weight off. I also wanted to change the meaning of the word fat. To FUN. ACTIVE. TALENTED."
Jumoke Hill and his partner Justin Llamas.
Photo Source: Jumoke Hill Instagarm
Jumoke's dance partner Justin Llamas choreographed all of their videos, and the duo moved their bodies over and over and over till they got the right take. He even admitted to filming till 3:00 AM sometimes to get it right. Two years into the innovative workout regime, he lost 60 pounds.
Jumoke Hill's Workout & Transformation Story
Ever since he began posting his Workout videos on YouTube, Jumoke Hill earned thousands of followers on his Facebook page and hundreds of thousands of views on his YouTube channel. The California native became something of a folk hero to YouTube loving weight loss enthusiasts the world round.
Hill's initial regime began with simple steps like practicing daily healthy habits, cooking for himself, and exercising. The smallest changes in his everyday life made him prouder of himself; he felt more robust and more mentally stable than ever before.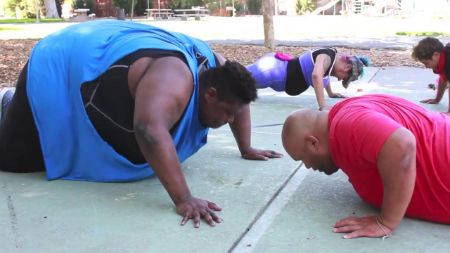 Hill's initial regime began with simple steps.
Photo Source: YouTube
Around the end of 2016, Jumoke took up professional help with personal trainer Johnny Garcia and enrolled himself into Bay Life Athletics. With the ultimate goal of reaching a 200-pound range, the motivated and dedicated guy described it bet in his YouTube channel,
Throughout my childhood and adult life, I have been overweight, but I never stopped following my dreams! I believe anyone can do anything they put their mind to. Even though I may sometimes fall and stubble, you'll never see me stay down. I always get back up and try again. I hope to one day inspire many around the world to never give up, no matter what! This is me…
From healthy food to rigorous exercise, the entrepreneur's Instagram was full of all fitness things. Making use of 'Cardioke,' a workout program pairing cardiovascular exercises with karaoke singing, he made portions of his program available through cable company Comcast's 'On Demand' programming.
You Might Also Like: KTLA's Lynette Romero Finally Reveals Her 50 Lbs. Weight Loss Secrets
Explaining his workout schedule, he said, "I eat five times a day, smaller portions, instead of waiting for (big meals). And I don't eat fast-food. I cook everything."
In the first four months, his workout routine consisted of walking, lifting weights at home, and cardio exercises in the swimming pool, at home, and in the gym. With such dedication and persistent hard work, he managed to shed 72.5 pounds and got to 599.7 pounds.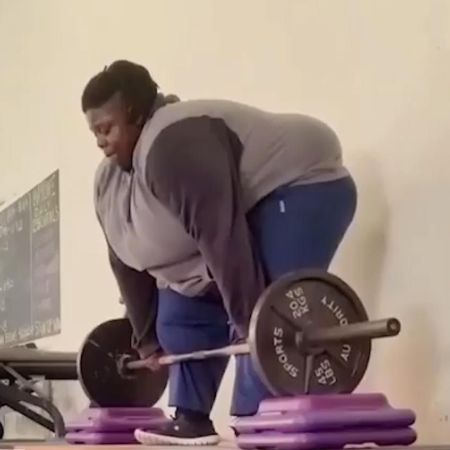 Jumoke Hill managed to shed 72.5 pounds and got to 599.7 pounds.
Photo Source: Yahoo
Yet all of Jumoke Hill's ambition and spirit for life were incomplete when he passed away last month in a car accident. The details of his tragic incident are scarce and are kept under wraps.
For more information about celebrity weight loss, head on over to Glamour Fame, and don't forget to sign up for the newsletter.
-->