KTLA's Lynette Romero Finally Reveals Her 50 Lbs. Weight Loss Secrets
Published Mon Jan 13 2020 By Sea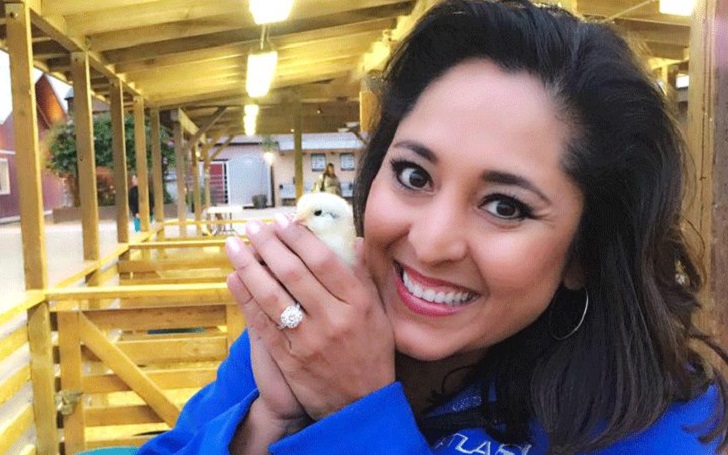 Despite struggling to be open up about it, KTLA reporter Lynette Romero finally shared her weight loss journey on air. Her fans love her even more.
In short, "Lynette Romero finally discussed her 50 lbs weight loss using the 'Intermittent Fasting' method since June 2019 with a Weekend AM piece on KTLA. Dr. Myles Spar detailed the proper way to use the technique. Her transformation was seen clearly in December, and she finally found the appropriate time & way to be sharing the secret after uncountable requests from the fans."
Oh, Lynette. Don't say you're just a news reporter. You're a celebrity too.
Granted it took a lot of courage for her to be discussing her weight loss struggles on air, everyone is happy she finally took the chance to answer her fans' questions. No one is anything but happier for her and her actions for it.
You can almost never miss a smile on that face.
Source: Lynette Romero, Instagram
We've discussed how fans have been asking how the Emmy-winning KTLA news anchor, Lynette Romero, was looking better and better every day. While her recent weight loss pictures have got fans going crazy for her, people have noticed her charming side since 2016. Here's the complete piece of the story.
The Weight Loss for Lynette Romero Struggle Goes All the Way Back to the Fourth Grade
To that earlier story, there are many things to add. Although she was pretty silent when people asked her to tell them her weight loss secret because they wanted to utilize it themselves, she, on occasions, did come to acknowledge a few of her fans' comments on social media.
The photo from December 13 on Instagram is flooded with comments about how great she looked (in all fairness, they are absolutely right) and what she did to achieve that. Lynette's comments barely stand out. But upon digging deeper, she replied to one particular user mentioning they worried she might have gone ill. But she was positive with the answer mentioning, "I've just been really focusing on my health. It's all good."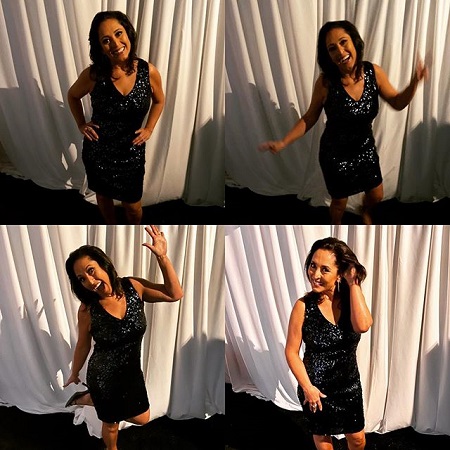 Just look at Lynette Romero. Her weight loss technique made her even more amazing.
Source: Lynette Romero, Instagram
However, in a past response, she was a little defensive when one asked her secrets. "No secret, I've said a number of times that I got serious about taking care of me and my health. I'm still working on it and not really in a position to give advice. But you know I share everything and I will just please give me a chance to get to where I'm going." It was quite reasonable from her considering all the bickering she gets regarding her weight loss journey.
Complete Journey: Singer Tamela Mann's Incredible Weight Loss Story. She Will Keep You Updated Every Time
And it seems she was finally ready to unveil what she did for losing a lot of weight with the biggest of smiles possible. Then again, she's always been smiling when she needs to.
See, smiling ever since the old days — a rare picture she shared on herself.
Source: Lynette Romero, Instagram
On Sunday, January 12, 2020, morning's 'New Year, New You' piece on KTLA, she talked about how she struggled with weight throughout her life. One of the earliest weight loss diets she remembers doing was in fourth grade. Since then, she's been going up & down and trying out almost all the diets there were. But she found the one working spectacularly for her and her colleagues. More on this later below.
Honest to God Lynette Brought in a Health Expert on KTLA Morning News to Explain Her Method
The entire KTLA Weekend AM news piece related to the discussion about her technique is available on Romero's Instagram page (also towards the end of this piece).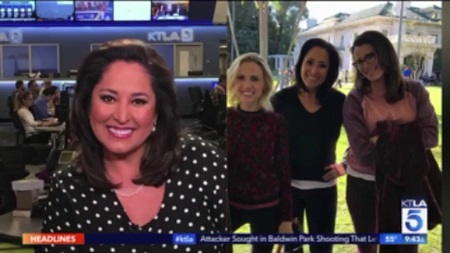 A little 'before and after weight loss' picture glimpse from the news piece.
Source: Lynette Romero, Instagram
On the Instagram post, she captioned a lengthy message, stating she "was taking care of other people and not taking care of myself" for a long while and needed a change. She also realized she hadn't met her primary doctor in 3 years, after 20 years of the service from the doctor. It was then she knew she "was stressed, not sleeping enough, not making time to exercise and not make healthy choices".
Here: So how did Christina Aguilera lose those 50 lbs? Grab the details of her weight loss journey.
When she finally got serious back in June 2019, she started doing "Intermittent Fasting". Since then, she was over 50 lbs. down on her serious weight loss journey. After all the questions from fans, she finally talked about it but wanted to set the records straight, "A lot of people go, 'Oh, fasting. That's bad... You shouldn't do it.' That's why I didn't want to talk about it too much. Because I didn't want to encourage people to do it, and then they get sick, you know... It's not just fasting, it's just, you know, organizing it in a way that works for you."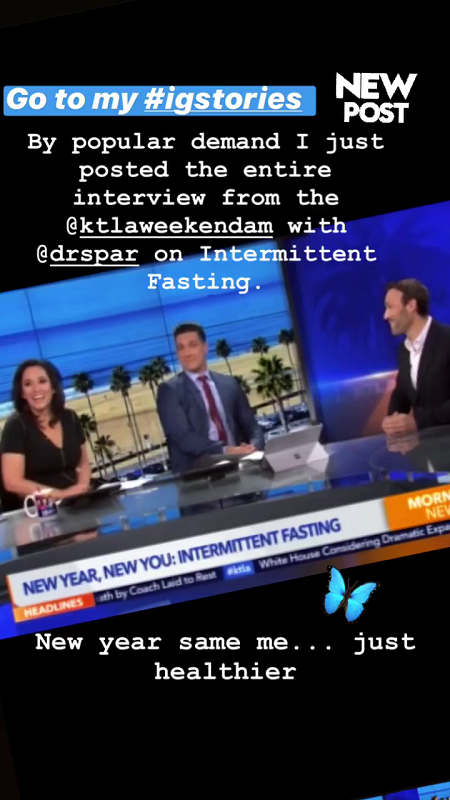 Lynette Romero announced the upcoming IG post hours before premiering it on her page.
Source: Lynette Romero, Instagram Story
In order to provide expert opinion on her technique, she invited in Dr. Myles Spar, the Chief Medical Officer at Vault Health, on the show to explain all the scientific and scheduling details of 'Intermittent Fasting' for weight loss. When you think about it, don't just fast; do it intermittently.
Her Method - Intermittent Fasting
After every other method, this one was what finally worked for Lynette. It's not just about not eating, it's about doing it without going sick, meaning about health all the way. So yeah, her excitement to share what 'Intermittent Fasting' means for weight loss is really encouraging. But there are a few points to take from the discussion with Dr. Spar in that interview. (For what it really means to fast intermittently, watch the whole video.)
► Dr. Spar DOES NOT RECOMMEND the method for teens and young kids because they need to keep growing and need more energy for their changing body.
► Instead of a regular 16-hour eating window and eight-hour sleeping period, this method 'commonly' reverses the periods — an eight-hour window for eating and in all the other 16 hours, you fast. The fasting period will prevent late-night snacking (a big problem) and "gives your body time to get rid of junk cells" when there is no additional junk to look out for. And thus, your weight loss is effective; also, it's antiageing (that ought to make you excited; more about it in the video).
► You can exercise during intermittent fasting, but DO NOT DO ANY ENDURANCE TRAINING, like the kind you do before a marathon, or a long race, because you need energy throughout the day at the time.
► For the 16-hr fast, it's perfect to do the exercise to burn the fat right away after the fast. Exactly what Lynette did.
► Refeeding right after the exercise is also great. Meaning starting the exercise right before the end of the 16-hr fast.
► Always consult a medical professional when taking on this method. But you don't really need to. Just be careful.
► Do not attempt to eat in the 8-hr window what you used to eat as snacks in the 16-hr fast period before. Otherwise, the weight loss method will be of no use.
► Some people opt to have a 24-hour fasting period like twice a week. In those moments too, there are things to look out for.
Watch: The Detailed Interview with Dr. Myles Spar Regarding Lynette Romero's Weight Loss Method, Intermittent Fasting
Lynette Romero Invites You to Exercise with Her During the Fasting Period
Lynette calls it the 'KTLA Challenge'. In a recent Instagram story, she funnily made a clip about letting people know of the challenge. Take a spin class, do some jumping jacks, walk at least five minutes a day, and make your life better.
It seems she came right after an exercise routine to post the clip because she was out of breath. Along with the request, she also asked her followers to post their own weight loss journey on social media and tag her along with a hashtag, #ktlafit5. The clip, let's say is so funny, Lynette probably wouldn't like us to share it here. There were two more stories regarding her weight loss endeavor, showing her working out, but we didn't get there in time. Needless to say, she's been enjoying her technique.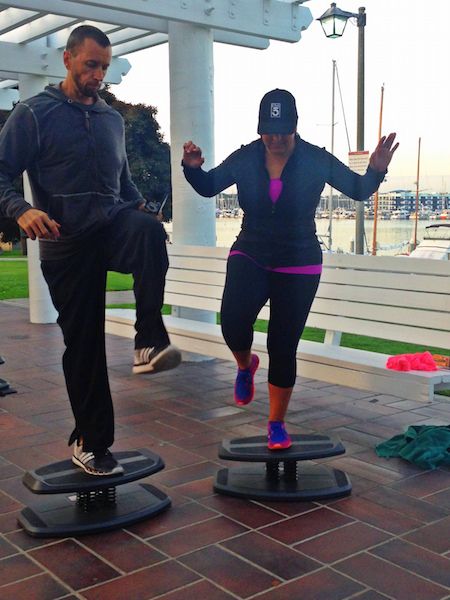 Lynette Romero has been invited to cover several fitness programs for KTLA.
Source: Strong Board Balance
The responses from her fans in the comment section of the IG post about the piece has been amazing, to say the least. No matter how she looks, they are going to keep loving her on air, and so will we.
Stay tuned and connected to GlamourFame for more Weight Loss stories. There are a lot of beautiful ones.
-->