Lynette Romero Weight Loss - The Complete Details
Published Sun Dec 22 2019 By Sea
Lynette Romero is an Emmy Award-winning news reporter and anchor at 'KTLA 5 Morning News'. Since joining KTLA in 1999, she's been receiving honor after honor in the media world to become Sunset Boulevard's favorite new anchor.
Life has been blissful since finding love before moving to LA and, after the move, achieving a ton of fan-followers who watch her news presentation every morning. And the romantic side of things is kicking in too.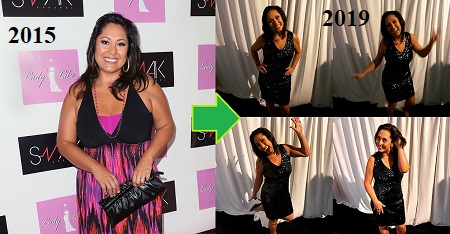 Lynette Romero lost a lot of weight only in December 2019, though.
Source: David Livingston, Getty Images/Lynette Romero, Instagram
Romero married her boyfriend of then 15 years, now husband, David Angulo, on July 12, 2003. With that, she's also found quite a few appreciators of her improving body figure over the years, especially with the KTLA Weekend Holiday party appearance in mid-December 2019. Everyone agrees, she's lost an impressive amount of weight recently. The comparison photos provide proof.
One Fan Got the Courage to Congratulate Lynette Romero on Her Weight Loss
There are some pieces of news that anchor would probably not present on their show, but all in all, reporting is pretty fun for Romero. There are a lot of people to connect to, at the studio.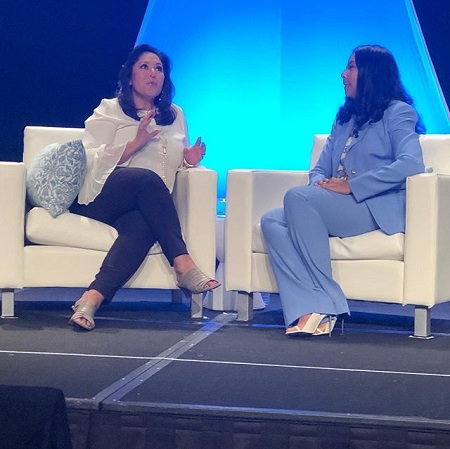 Photo from May 2019. The weight loss thing started towards the end of October.
Source: Lynette Romero, Instagram
While many have been ignorant of how good she looked as every year passed by, there are some fans that have seen the change in her and appreciation is everywhere for the 52-year-old. It seems the age hasn't slowed her process of looking good at all.
One fan, Holly M. Cleary, took to Twitter in 2016 to pop it up and ask if Lynette's gone through some kind of weight loss journey. The user noticed her looking slender, while acknowledging the TV adds in a lot more weight. She also requested the process she followed to achieve that.
It's not like Lynette didn't notice herself tagged in the post. She responded quite positively to the comment on her look, stating, "the struggle is real."
The discussion ended after Cleary replied to Romero's comment, wishing her a great afternoon. The biggest shock was probably at that holiday party when she was dressed in black and looking slimmer than ever.
Despite Several Requests, Romero Didn't Reveal Her Weight Loss Secret
The Twitter discussion was followed up by other fans, like three years later, in September 2019 with flooding requests of her weight loss secret. First, of course, there were praises over her look. But some are also worried about her health.
"You look fantastic and your clothing accentuates your great personality," one raved about her. "Lynette you look great, keep up the good work 💕," another gave her more motivation.
The viewers were desperate to know what she did in order to "look great". "Lynette, You look great! Please share your weight loss secrets! Thanks! Bonnie," the initiator of the current discussion requested.
Meanwhile, another got desperate, "Lynette how did you lose weight. Please share." And then there was another, "You are looking fabulous! You always have but now you seem to be disappearing! What's your secret?"
Despite all the groveling fans did to learn her weight loss secret, they got zilch. She hasn't replied to the weight loss requests as of yet. There are still questions popping up here and there on Instagram, but she seems adamant to keep it to herself.
Update: Lynette Romero finally revealed she lost over 50 lbs. since starting the 'Intermittent Fasting' method since July 2019. She brought in Dr. Myles Spar to discuss what it means and her story on KTLA's Weekend AM piece on January 12, 2020, with a 'New Year, New Me' vibe, only healthier. Grab the complete detail on that story here.
Lynette Is Mother to a Daughter, Olivia, with Partner of 25 Years
The story of Lynette Romero and David Angulo is an inspiring one, if one ever needs an inspiration. The two met in January of 1994 at a crash course in Spanish fluency, a five-week Spanish immersion program at the University of Guadalajara, Mexico.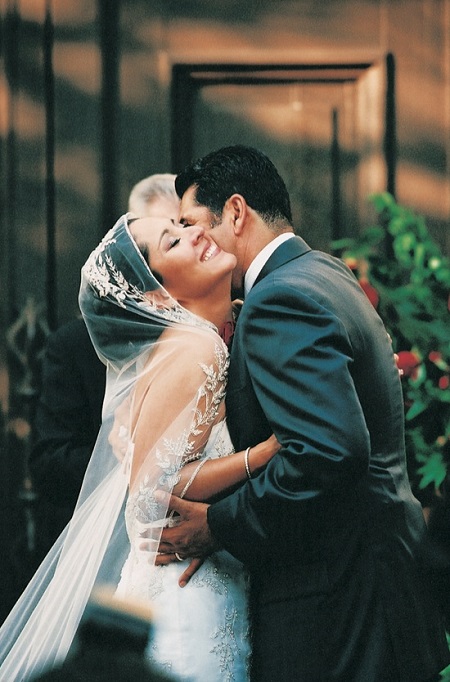 Lynette Romero married David Angulo on July 12, 2003.
Source: Moses Sparks Photography
After leaving Mexico, the possibility of never seeing each other haunted them both as Lynette lived in Denver and David, in Los Angeles, at the time. They formed a budding relationship nonetheless, and everything was worth it when David took her back to Guadalajara and asked her to be bound to him for the rest of their lives in early 2003.
The couple got married in the summer of 2003 at the Los Angeles River Center and Gardens, after six months of engagement and making decisions as a team every step of the way to the altar. They did many of the preparations together, including ditching the idea of a professional florist and selecting the flower arrangements together.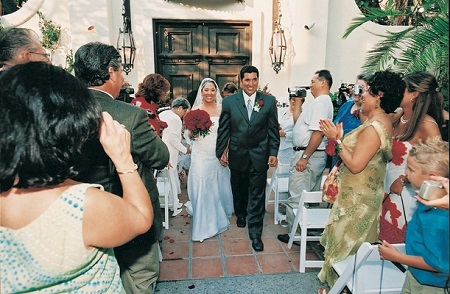 If there's an inspiration of a love story, follow Lynette's.
Source: Moses Sparks Photography
And yeah, the pair had help with close friends and family. To this day, the two are thankful for the people who helped make their day the best they ever had. They had a Mariachi band (obviously) at the reception later at the evening of the wedding, with the first song they danced to being 'Sabor a Mi'.
Just over a year after the wedding, the two had more work to do than just their jobs. They also had someone to call their moon, sun, stars and everything — their daughter, Olivia Angulo. She was born on August 3, 2004, and while Lynette shares her childhood pictures on social media, Olivia grew up to be so lovely & turned 15 this August. You should hear her Mother's Day 2015 wish for Lynette.
Watch: Lynette's Daughter Gave Her a Huge Surprise on Mother's Day 2019
When the parents were serious about their relationship together, Lynette moved to LA in January 1999, leaving everything and her work at KUSA-TV behind, a decision she has no regrets whatsoever. And the rest is history.
Romero won the prestigious Golden Mike Award from the Radio and Television News Association of Southern California for her piece on 'Public Schools: Working the System', KTLA's News series, in the first year of her work there.
Nathan Fillion Looked Really Skinny on the Latest Season of 'The Rookie'. Learn What the Fans Think of the New Look.
In 2006, Lynette received a local Emmy and another Golden Mike Award for her being the reporter/anchor of the show 'Access L.A. – The Latino Experience' and another local Emmy as the reporter/producer of the five-part series 'From Farm to Fork'.
After such a long time together, Lynette says her heart still skips a beat for her husband. Take that inspiration. Also, it seems she will look better and better for her show with that secret weight loss technique everyone is dying to know about.
Stay tuned and connected to GlamourFame for more Entertainment and Celebrity Weight Loss Stories. There are a lot of beautiful stories told here.
-->