Christina Aguilera Weight Loss Story - Grab All the Details How She Lost 50 Pounds
Christina Aguilera, who is a well-known singer/actress, is one of the most exciting people you will ever see. The 39-year-old singer is in show business since the age of eight, and she is still more active in the industry than ever.
Being a pop icon, however, comes with a price. But Christina never shied away from flaunting her body in all shapes. We have always pictured her as a slim, luring, personality, but her life has seen a lot of ups and downs. This goes back to 2008 when the singer had her first baby while life offered all-new challenges as she took a new role of a 'mother,' which followed unwanted stress of gaining weight.
Christina Aguilera Dramatically Gained Weight After the Birth of the First Child in 2008
Christina Aguilera dramatically gained weight after the birth of her first child.
Source: ABC
While the news was exciting, Christina Aguilera became the mother as the singer welcomed her first child in January 2008, but what followed was something unwanted for the singer. After the birth of her first child, son Max, from her previous marriage with her ex-husband, Jordan Bratman. Going through her first pregnancy, it was readily tricky for the singer to maintain her body.
Also See: Mark Wahlberg Weight Loss - Learn the Secret to His Diet!
Failing to maintain her body, Christina Aguilera gained weight drastically. However, the singer remained positive throughout the changes. The singer said, "as a woman, I'm proud to embrace my body through all stages of life. Staying fearless and confident in surrendering to the unknowns the future has in store."
In 2009, Christina Aguilera was on a Mission to Lose Weight for Her New Project, Burlesque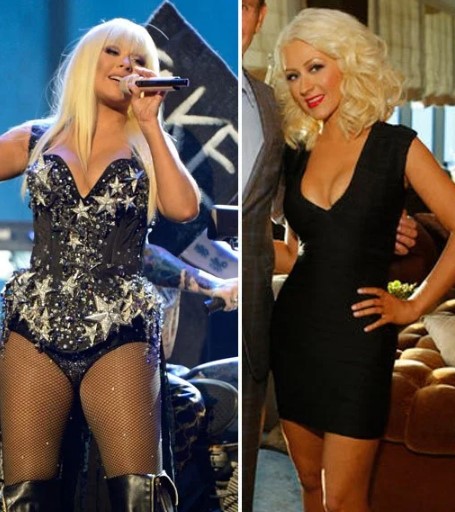 Christina Aguilera lost weight for her movie, Burlesque.
Source: Daily Mail
Talking about Christina Aguilera's weight loss journey, her movie Burlesque plays a vital role in pushing her out of her comfort zone. The 39-year-old singer hired a celebrity trainer, Tee Sorge, to help her lose weight. With the help of Tee, the singer lost some crazy pounds and gained her slim and sexy body back. The singer admitted her weight loss, and toning made her feel sexy, confident, and more defined.
Also Read: Melissa McCarthy Weight Loss - Learn the Total Pounds She Shed and the Secret to Her Diet!
In an interview, Christina revealed, "As you feel your body getting stronger, you become motivated to be in the gym. When you are defined, it's sexy; I exercise because it makes me feel good." Well, indeed, her confidence in the all-new body was apparent in the movie 'Burlesque.'
Christina Aguilera's Life was Pretty Much Like a Roller Coaster After the 'Burlesque' and First Weight Loss
Christina gained weight after Burlesque again and faced many criticism.
Source: ABC
Burlesque star, Christina Aguilera, after her first baby, gained weight, for which she hired a celebrity trainer to cut all those fats. But sadly, while she was busy doing the movie, Burlesque, she was fighting with her relationship issues with her former husband, Jonathan.
In 2010, the former couple eventually divorced, which pushed the singer to void of darkness and stress, and to top all of that, her movie, Burlesque, failed miserably in the box office. And as expected, the actress faced significant criticism from the media, which kind of added to gain her more weight. Moreover, she got pregnant again with Matt Rutler and welcomed a baby girl. We feel bad to say this, but, despite the birth of her daughter, the singer had a rough year.
In 2011, Christina Aguilera Joined 'The Voice'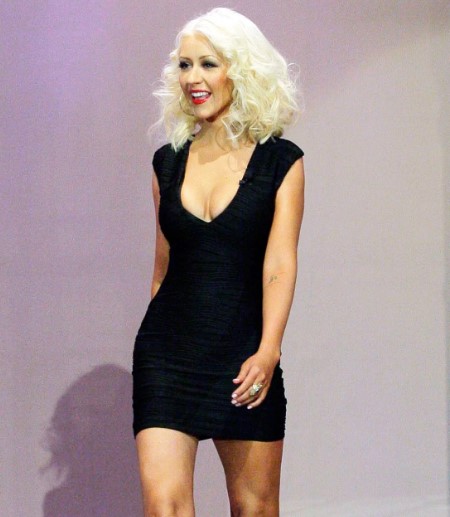 Christina Aguilera lost weight in 2013 for good. The singer said her diet, yoga, and discipline helped her to lose weight dramatically.
Source: People
Though there was always immense pressure for her to lose weight, Christina Aguilera was having a really tough time, which led to more weight gain. The singer joined 'The Voice' judges panel, but people never stopped to criticize her body.
Recommended: Full Story on Whitney Way Thore Weight Loss
Despite the criticism, the singer embraced her body and continued doing things that she wanted to do. In an interview, the singer said, "The challenge I have always had is being too thin. So, I loved now I have a booty, and of course, I love showing my Cleavage."
Despite her body-positive message, people never stopped to criticize her weight, which pushed Christina Aguilera to lose weight for good this time. Christina Aguilera always talked about how comfortable she was in her skin. But people had different views for her which kind of forced her to lose weight for good. In 2013, she was on her mission to lose weight again, for which she used planned workout and diet. Christina, who initially faced trouble losing weight, stirred controversy as people suspected she opted for surgery to achieve her flawless body. But according to her friend, "Christina did not get liposuction. She worked hard to change her eating habits."
And it's true. Christina worked really hard to achieve her toned body. Apparently, the singer took a break from the reality singing competition and de-stressed herself from all the worries, which kind of dramatically helped her. The actress stressed she became more disciplined, mindful, and focused. Her weight loss plan was in place; the actress became aware of making better dietary options as an essential step for weight loss goals.
According to the reports, the singer diet incorporated low-carb food, including dinners like chicken and veggies. The singer apparently relied on the meal service to deliver healthy food right to her plate. Moreover, performing Yoga daily also helped the singer dramatically. And some reports even suggest, the singer opted for weight loss supplements like Garcinia Cambogia, to increase her energy and burn fat, and probiotic in the evening to help her body get rid of toxins and lose weight fast.
Christina, with the help of proper diets, supplements, and yoga, lost whopping 50 pounds, which kind of became the national headline. Well, what's important is, the singer was able to get her confidence back and reclaim her pop icon status.
For more information on your favorite celebrities' lifestyle, stay tuned to Glamour Fame, and don't forget to sign up for the newsletter.
-->