Mark Wahlberg Weight Loss - Learn the Secret to His Diet!
Published Mon Dec 09 2019 By Sea
Mark Wahlberg. Hope you remembered that name, or his face. He entered into the acting scene after his brother rescued him from a terrible youth. Ever since then, he's been shining as a star. Along with the fame, he's also gotten involved in fitness and weight lifting.
Yes, it was the movies that got him involved in such weight loss (beefing up) strategies. Wahlberg has had to go to extremes in order to adapt to the kind of roles he'd gotten.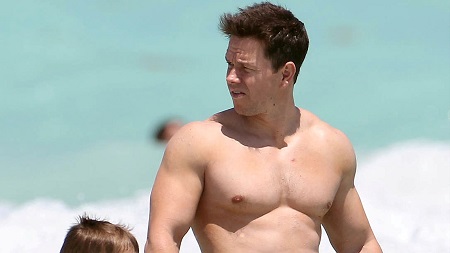 There are certain ways to be ripped like Mark Wahlberg, but it's not necessary to follow it.
Source: Amazon
Currently, Mark Wahlberg weighs around 170 lbs. But at one time or another, he weighed much more, or even much less, in order to portray the character he was playing at his best fit shape. He's had some serious weight change processes that once he started, he was never able to stop changing his body in the best possible way. Learn what he did for his weight loss or weight gain journey here below.
Wahlberg Had to Gain and Lose Weight For His Role in 'The Fighter' & Spent 5 Years to Prepare!
The actor/producer started off his career from the early '90s. He has undoubtedly gone through many other weight loss or weight gain processes. In fact, he was already known to have undergone several workout processes in the past, for different roles in movies.
When it was time for filming 'The Fighter', he probably the most dedicated actor to get into character for the movie genre. To be exactly like his character Irish 'Micky Ward', he took up actual boxing classes as training and went as far as installing a boxing ring in his house.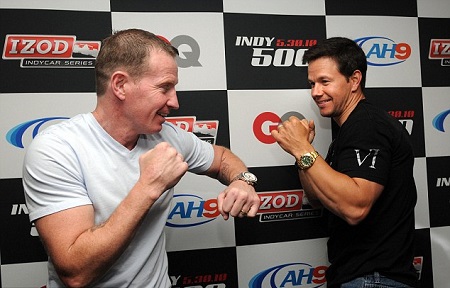 Micky Ward (L) and Wahlberg are friends for a long time.
Source: WireImage/GQ Magazine
It was a dream role of his since he began acting, so why not. He did a combination of pad work, cardio workouts, plyometrics and weight training, which included a lot of functional exercises and high-intensity conditioning exercises. Also, he was already friends with the real Micky Ward since he was 18.
While the dedication before filming the movie is quite impressive, it's not as impressive at the amount of time he took to prepare for the movie. He trained for almost five years before the movie released in 2010, the period that he did about 10 different projects. It's probably why he had to gain weight at one time and lose some of it at the other. Of course, different roles required different getups.
The Process During Filming
However, within the movie itself, the 'Transformer' star had to undergo the up-down process. He was 30 pounds overweight at one point, for which he ate a lot to pile fat on top of the already-built muscle. But he was told to re-shoot some fight scenes, for which he again had to lose the weight he gained.
The actor's diet went back to protein-focus, ran eight miles every morning up and down a hill, and did about 45 rounds of boxing training after breakfasts. After that, he practiced basketball along with the conditioning workouts after that.
Watch: Four and a Half Years of Training, "It Was Worth It"
After the movie ended, he admitted he was happy to get back to a more relaxing lifestyle, drinking wine and such. But it was not the end of his weight-related journey. He said he was determined to maintain the figure, at least a part of it, in the future too. He worked for almost half a decade after all.
Wahlberg's Took His Weight from 165 Lbs to 205 Lbs for Filming 'Pain & Gain' in 2013
When he filmed the movie 'Broken City' [2013] or 'Ted' [2012], he was 165 lbs. But by the time he started filming 2013's 'Pain & Gain', he was 205 lbs. Why did he gain the weight? Well, he had to.
Wahlberg had to gain weight to keep himself in shape for 'Pain & Gain'
Source: Pain & Gain, Paramount Pictures
In seven weeks, he had to gain 40 lbs of muscle, not the fat, for his role of 'Daniel Lugo', an ex-convict who is hired by a gym owner, 'John Mese', to increase membership. Instead of using a fitness suit, he used a 3-day workout split and ate 10-12 times a day to gain weight. He had less than two months to get in shape and went through a 5-day workout routine every week, alongside the 3-day workout split. He took Wednesdays and Sundays off.
I was 165 pounds for my last movie, but I had to walk on the set at 205. So, that's 40 pounds of muscle in 7 weeks. That's a lot of physical preparation.
Pop Workouts has the entire workout and exercise routine, which includes a 335 lbs benching on his chest workout. When filming, he had to do the entire workout at four in the morning. His trainer was Bryan Nguyen. There were reports his weight went up to 221 lbs towards the end of the movie.
Instead of Gaining, Wahlberg Had to Lose Weight for the Role of a Teacher in 'The Gambler'
Just a year after the release of 'Pain & Gain', he had to lose another amount of weight for another movie. This process probably was the most publicized one of his weight-related journey.
For the role of a literature professor-by-day and a gambler-by-night, 'Jim Bennett', in the crime thriller, 'The Gambler', he was asked to lose some weight. After several weight loss sessions, he lost a drastic 60 pounds.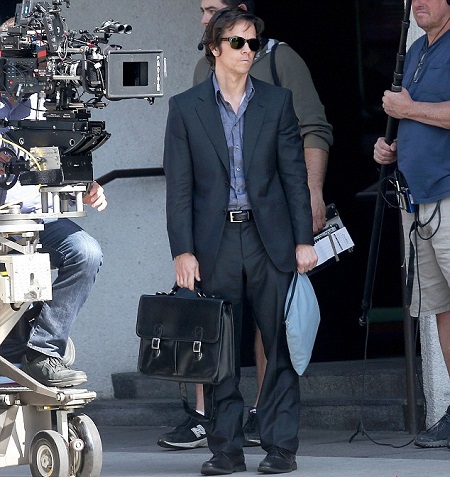 Wahlberg really thinned out for 'The Gambler'.
Source: XPOSURE
At first, his intention was to go the other way around since, you know, a lousy teacher or a gambler typically is portrayed a little overweight in movies. He was just joking, by the way.
It was a very unhealthy way, but once Mark started dieting, he was so obsessed with it that he wanted to break his record of the least weight he was when filming a movie.
I went from 197 to — the lightest I'd ever been in a movie was in 'Boogie Nights,' I was 138 — so I wanted to beat that. I beat it by a pound, so 137. I was losing weight while we were shooting the movie, too, so continuity kind of went out of the window.
Even though, the director and the production team said, "You're good, you're good, don't lose anymore weight," he wouldn't stop. He had that record to beat.
The way he did that was with the lack of food, which made the weight loss task easier and got him even more motivational. "No energy, no nutrition, and the studio, there was a complaint about that, that my lips were always looking blue," Wahlberg stated at the AFI Fest premiere of the movie in Hollywood. "What the f**k do you want me to do? I haven't eaten anything! If you make them red, I'm going to look weird, like I've got lipstick on, so it is what it is."
Wahlberg Beefed Up Again for 'Mile 22'
For the last 14 years, he trained with Nguyen. So it comes to no surprise that Mark would turn to him again to prepare for the 2018 movie, 'Mile 22'. He played the leader of an elite, secretive CIA squad in the movie. Nguyen shared his 'Mile 22' fitness plan for Wahlberg with Men's Health.
The star also has shared his daily schedule on Instagram back in August 2018. His wake up time at 2:30 am, while he sleeps at 7:30 pm. Within that time, he has two workout slots. A 90-minute session starts at 3:40 am, while an hour-long one starts at 4 pm. The time in between consists of 30 minutes each of golf & prayer and an hour-long cryo-chamber recovery.
The 48-year-old also explained in an FAQ on IGTV that a big part of his workout is spent on 'a very hard machine' called the Versaclimber. On his diet, he shared that it consists of a lot of meat protein — three turkey burgers, 10 turkey meatballs, steak, grilled chicken, and fish such as halibut, cod, sea bass, as well as eggs, steel-cut oats, and plenty of fruit and vegetables.
'Lost' and 'Hawaii Five-0' Star, Jorge Garcia, Lost 100 of His 400 Lbs Weight in 2016/17. Learn How He Did It.
When there's a need of a actor dedicated to fitness and workout when a role requires it, Wahlberg's the man. Even if a movie needs a different shape of body from him, he will give his all for it. He also used the F45 brand this past August. He's preparing now for like five different movies to act and some more to be the producer of. Expect to a different side of him in every one of those movies.
Stay tuned and connected to GlamourFame for more Entertainment content.
-->