Justin Roiland dropped from the Rick and Morty show for his domestic abuse charges!
Do you love animated series? Which is your favorite animated series? If you love watching the American adult animated Series Rick and Morty, this next personality is 100% familiar to you. Justin Roiland is an American animator, director, writer, and voice actor. Being a co-creator of the popular sitcom Rick and Morty, he grabbed massive popularity.
Also, the voice actor has given his talents to several series, including Adventure Time, Fish Hooks, Space Jam: A New Legacy, Small Foot, and so on. His incredible deeds have helped him to gather several awards and nominations. Let's take a closer look at his life. Why did he leave his admired show? Find out below.
Justin Roiland dropped from the Rick and Morty show for his domestic abuse charges!
Justin Roiland recently shocked the world after being dismissed from Rick and Morty. It started in August 2020 after he was arrested and charged with false imprisonment and domestic battery in California.
The incident is connected with January 2020, involving a woman playing against him. However, he was released on bail of $50,000 after not being found guilty, and his pre-trial got scheduled for April 27, 2023.
All of the news was later published by NBC news in January 202 and kept private for a while. Not only that, several people accused him of abusing them in various manners after the news came forward. Of this incident, Roiland was dismissed from Rick and Morty, and his role is now free to apply.
Regarding the incident, Justin hasn't revealed anything about it. However, his attorney T. Edward Welbourn has stated that all media coverage is incorrect. He added,
"To be clear, not only is Justin innocent, but we also have every expectation that this matter is on course to be dismissed once the district attorney's office has completed its systematic review of the evidence."
Fans sending in auditions to be the voice of Rick and Morty!
Many people are still giving auditions for the voice, and it is still unknown who will be the next behind the voice of the two characters. Squanch Games also revealed that the voice actor has resigned from the company.
Later Solar Opposites and Koala Man confirmed that he had been removed from the show and would continue without his involvement.
Is High on Life creator Justin Roiland Single or Married? Know About His Relationship and Wife
The American writer Justin Roiland is part of the limelight through his exciting career. With his popularity, people are often fascinated by his love life. However, on the other hand, the producer is quite private about his personal life. Currently, Justin lives a single lifestyle and hasn't been involved in any relationship.
In the past, he had love affairs, but neither of them was highlighted. Jane Doe is a new name circulating on the internet after she accused him of domestic violence. The victim even confirmed that the two were former pairs.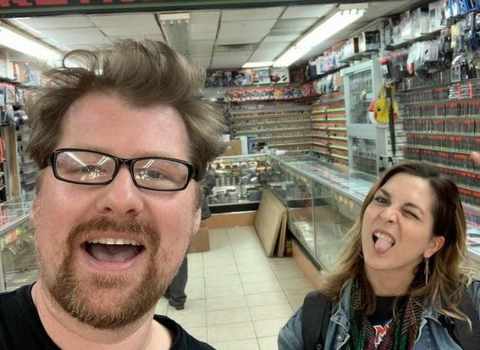 Details regarding her are still unknown due to her private nature. However, according to the news, the court has ordered that Justin can't go within 100 feet of her. Moreover, all his firearms have been possessed until the next order, October 2023.
Also Read: J. Michael Mendel, Known for the Works of 'The Simpsons' and 'Rick and Morty' Dies Aged 54
A Short Glimpse of Justin Roiland's Career
California Native Justin had a great career until all went upside down due to his accusations. The talented writer started his career in the entertainment world after appearing in Cheap Seats without Ron Parker.
Then, he met Rob Schrab and Dab Harmon and created several great creations. The three co-created one of the iconic sitcoms, House of Cosbys, and gathered massive attention.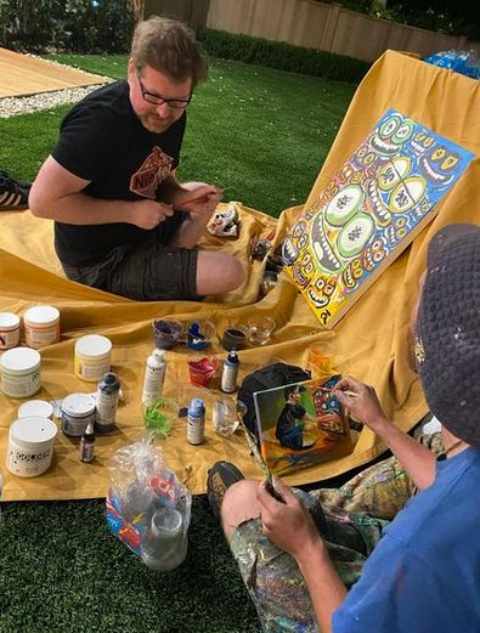 From 2007 to 2010, Justin appeared in The Sarah Silverman Program as Chant Leader and Blonde Craig. Roiland also did several episodes for Fish Hooks, Adventure Time and Gravity Falls.
Rick and Morty's co-creator found a major turning point in his career after Adult Swim approached Dan to create new animated series for their network. Roiland and Harmon jointly created the American adult series Rick and Morty. After the show's release, the creators had no turning back, and they gathered global recognition.
At the end of the first season, it becomes the number-one show that Adult Swim has ever produced. Not only that, their franchise and themed merchandise are sold worldwide. Since then, the writer has started serving in Robot Chicken, Hot Streets, Invincible, and The Boys Presents: Diabolical, Space Jam: A New Legacy, and many more in various designations.
Award Winning Creations
American director Justin has often excited his fans through his incredible deeds. Many critics and fans have praised his work. From his outstanding career, he has gathered several awards and nominations. In 2018, his series, Rick and Morty nominated for five award shows.
The series won three of them: the Annie Award, Primetime Emmy Award, and Critics' Choice Television Award. The show won the Hollywood Critics Association TV Award in 2022 in the Best Cable Animated Series category.
Find Out: 10 Fascinating Facts About Rick and Morty10
How Rich is Gravity Falls Actor Justin Roiland? Know About His Net Worth and Incomes
Since 2004, Justin Roiland has given its best to the entertainment industry. His talent has often helped him to amass a huge amount of fortune. As of 2023, the writer has a net worth of $4 Million which he gathered through his impressive career. His 2021 released film, Space Jam: A New Legacy, earned a total of $163.7 Million under a budget of $150 Million.
Similarly, his another involved movie, Smallfott, amassed a total of $214 MIllion worldwide within a budget of $80 Million. As an important cast in every participation, he enjoys large remuneration. Remember that he has created one of the successful series, Rick and Morty, from which he adds much more fortune to his account.
As an estimate, he secures over $500,000 per annul through his collaboration. In 2021, he offered his several artworks collection for sale. The Smintons were sold for $290,100 and became the highest-selling piece. His overall collection gathered a total of $1.65 Million in the particular auction. Furthermore, the talented writer lives a lavish lifestyle in his Million Dollar California Home.
Stay Attached To Glamour Fame For More
-->