Justin Timberlake has sold his entire song catalog in a deal reportedly worth $100 million
Justin Timberlake sold his song catalog to a Blackstone-backed management company: Complete story here!
Singer Justin Timberlake has officially joined the wave of recent stars who've sold the right to their music for staggering sums. Timberlake, 41, has made the transfer to the London-based Hipgnosis Song Management, a $1 billion fund supported by the private equity firm Blackstone. Justin's entire music catalog has been reportedly sold for $100 million.
"I am excited to be partnering with Merck and Hipgnosis – he values artists and their creative work and has always been a strong supporter of songwriters and storytelling," Timberlake said in his statement. He adds, "I look forward to entering this next chapter." The sold catalog reportedly includes around 200 songs, including Justin's hot hits Sexy Back, Cry Me River, Mirrors, and Can't Stop the Feeling.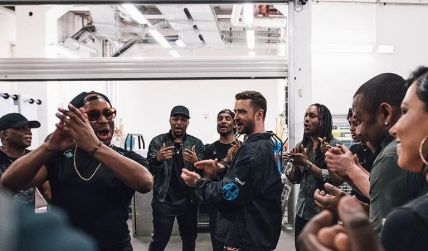 Timberlake says he is looking forward to the next chapter. Photo Source: Instagram
As per sources, the sale took over a year to close. The founder and CEO of Hipgnosis, Merck Mercuradis, says, "Justin Timberlake is not only one of the most influential artists of the last 20 years, but he's also one of the greatest songwriters of all time." Some of the megastars who've sold their music catalog include names like Bob Dylan, Bruce Springsteen, Neil Young and Stevie Nicks.
Don't Miss: Katie Holmes Makes Red Carpet Debut With New Boyfriend.
"These are not only some of the most culturally important songs and extraordinarily successful songs of the last 25 years, but they're going to continue to be so for decades and decades to come," Mercuradis further added in his press release. Other recent artists who've struck a deal with the firm include The Chainsmokers, who sold their catalog in 2019, and Shakira.
The deal includes a total of around 200 of Timberland's songs.
Source: Yahoo Finance
"A lot of the artists that are selling their catalogs are getting to a point in their lives where they are planning their estates, sort of planning for the future and they are at a point in their lives where it makes sense to sell their music to provide for their families," Hannah Karp of Billboard said, revealing the primary artist intention behind the rising trend.
Justin's music career spans over 20 years. A 10 Grammy, four Primetime Emmy, nine Billboard Music Awards, and three Brit award-winning singer, Timberlake has given five studio albums and 40 singles. However, the deal covers Justin's publishing rights only, meanings songs he wrote or had a hand in writing.
Recommended: Josh Duggar Gets Prison for Child Pornography.
Timberlake, a native of Memphis, Tennessee, started his musical journey with the 90s boyband NSYNC, consisting of JC Chasez, Joey Fatone, Lance Bass, and Chris Kirkpatrick as its members. The band attained massive success to become one of the best-selling bands and dissolved in 2002, amid Timberlake'sJustin's growing popularity over other members. While also pursuing his acting career, Timberlake kicked off his solo music journey with his debut single, Like I Love You, in September 2002.
Stay connected to glamour fame for more.
-->