Kaleb Wesson - Get Some Intriguing Facts About College Basketball Star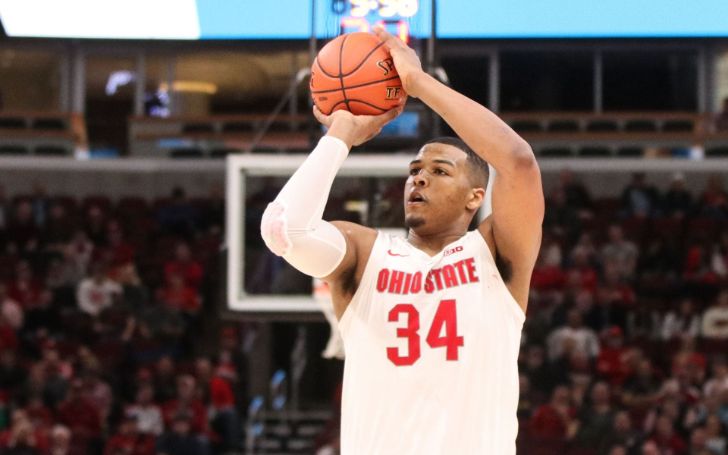 With the 2020 NBA draft going to take place on the 25th of June, 2020 it is a given fact that players all over are gearing up for their selection. The selection is supposed to be held at Barclays Center in Brooklyn, New York. Though there is a big question mark on the draft due to the Coronavirus situation in tow.
Less to say, it gives players even more time to be prepared and gear up for their selection. Asides that, today we're going to be talking about an equally talented college basketball player in the limelight, Kaleb Wesson. Let's get right on to know some intriguing facts on the basketball star.
Kaleb Wesson is The Son of Former Ohio State Player
Wesson was born on July 29, 1999, to Stephanie and Keith Wesson in Westerville, Ohio. He shares a sibling named Keith Andre Wesson, who goes by the name Andre. His father also played alongside the Ohio State from 1983 to 1987.
Kaleb Wesson with his father, Kevin and brother Andre.
Photo Source: 247 Sports
Although he did admit that he wasn't in the best of shape as the most talented or athletic member, but he did prove to be a great inspiration and teacher for his kids.
Kaleb started his interest in basketball since an early age of studying in second grade, and his father was there at every step to train his son into becoming an ace player.
You May Also Like: Erica Herman - Some Facts to Know About Tiger Wood's Girlfriend
Daddy Wesson trained both of his sons to hold tight on the fundamentals just like he did back in his own game and rigorously trained them with proper skill set in order to become future professional ballers.
Early Schooling Days of Kaleb Wesson
The emerging basketball player attended Westerville South High School and continued his game with older brother Andre. Kaleb quickly escalated to become the sophomore on the state runner up team and later on named as Ohio Mr. Basketball.
Kaleb Wesson plays for the Ohio State alongside his brother Andre Wesson.
Photo Source: Dispatch
He scored a school-record 49 points in a 68-67 loss to Upper Arlington High School back on January 24, 2017. At that time, he was a four-star recruit, rated as No. 75 overall player and No.6 center in his class. Kaleb Wesson is the most valuable player in multiple seasons for the Buckeyes.
Kaleb Plans to Enter NBA Draft
Ohio State player recently announced that he would forgo his final year of eligibility and declare for the 2020 draft. Currently, he is ranked as No. 54 in ESPN's ranking of the top prospects for the July draft, and he's got until June to make his final decision on the matter.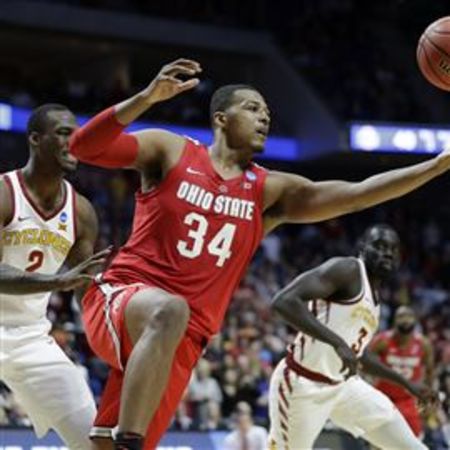 Kaleb is all set for his final draft tryouts.
Photo Source: Toledo Blade
Kaleb averaged 14.0 points and 9.3 rebounds per game while leading Ohio to 21­-10 record win. It is also a boost that Buckeyes consistently won nine of their last 12 seasons.
Kaleb Did A Body Transformation
Even though Wesson was a commendable player, he still slacked off due to his weight carrying him down, which was why the 6 ft 9-inch player transformed his body in between his sophomore and junior seasons. He completely cut off snacks, cold drinks, and unhealthy food to drop his weight from 289 pounds to 255 pounds.
Kaleb made a comeback in the game after shedding 44 pounds of body weight.
Photo Source: 247 Sports
Kaleb's newfound body, stacked with muscles, changed the game for him. He developed to be an effective outside shooter with an increase in quickness and endurance. After that, he averaged 42.5% from beyond the 3-point arc in this season. More of his progress couldn't be seen due to the coronavirus situation.
Also See: Scottie Pippen Net Worth - Complete Breakdown of Former American Basketball Player's Income
Make sure you subscribe the newsletter of Glamour Fame for more of these news.
-->