Kandi Burruss And Tamar Braxton Finally Reveal Reason For Their Beef
Published Fri Jan 25 2019 By Tess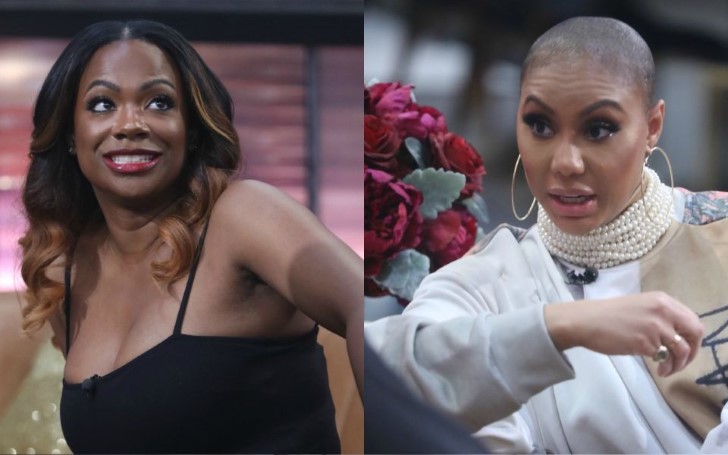 Kandi Burruss and Tamar Braxton finally open up about their feud.
Kandi Burruss and Tamar Braxton had a beef we didn't have an idea about. The two apparently share the same roof as they both appear on the Celebrity Big Brother champion this season which forced the women to address their rocky relationship.
During the season premiere on Monday, Braxton revealed the two started beef since she went on tour with Burruss and her group Xscape last year.
"We went on tour this time last year together, and had a really big, successful tour. And with Xscape, and myself, and another singer, and like, she ain't never really liked me like that, you know what I'm sayin'?"
While Braxton admitted Burruss didn't like her much, the Xscape singer, however, told a different story. She claimed their feud began after Braxton invited people who had spoken negatively about Burruss on tour.
Kandi Burruss and Tamar Braxton finally open up about their feud.

SOURCE: Celebrity Insider
Additionally, Burruss also mentioned Braxton unfollowed her after she appeared on the talk show The Real.
"When we became guests on the show—co-hosting or whatever—she got upset with us, and unfollowed all of us on social media. So that's what I mean, like, throughout our life, it's been multiple times where it's like we'll be cool, and she'll get mad. Then she'll unfollow us, then she'll decide she back cool, then she'll get mad and unfollow us."
During Wednesday night's episode, the two women attempted to solve the feud by talking which didn't quite go as planned.
When Braxton tried to pull Burruss aside to talk about their issues, she was offended with the singer's reaction.
Referencing turmoil in her personal life Braxton said:
"I feel like you made comments on things that you didn't know about and shouldn't have gotten in between of. You personally interjected yourself in the situation."
However, Burruss straightforwardly denied ever saying anything about Braxton.
"I don't remember ever saying anything about you," Burruss replied.
Braxton said she felt "disrespected" by Burruss while on tour.
"I had to endure being uncomfortable at work," she said,
In addition, Braxton felt that others were speaking negatively of her while on tour.
"I wasn't trying to attack you," replied Burruss.
Amidst the heated conversation, Burruss started laughing which made Braxton feel disrespected and eventually she stormed out.
Things became heated between the two of them again after Kandi expressed she felt like Tamar was being "petty" and having a "tantrum" about the situation.
You may also like: Angelina Jolie Is NOT Dating 'Avengers' Star Tom Hiddleston
"I can't believe we're still arguing about this. Like, I don't even know what she wants me to say to make her feel better," Kandi said in the diary room. "I mean, it's not getting any better. Let's just agree to disagree."
Just when it seemed like this beef was impossible to be squashed, Tamar approached Kandi again, and this time they finally agreed to stop arguing, move on, and hug it out.
Don't miss: Kaila Methven Goes Completely Naked - Poses in Nothing But Diamonds
But Tamar may have an ulterior motive for Kandi. As she revealed her plans to save fellow houseguest Lolo Jones from becoming a nominee in a diary room.
"OK, so me and Kandi hug because, honey, let me just be honest with you, there are bigger fish to fry. We gotta make sure Lolo stays off the block 'cause that's my girl for real."
Kandi and Tamar both managed to stay off the block and avoid eviction. It means they'll live to see another week in the CBB house.
Also read: Freddie Fox and Anna Chancellor Set To Feature in BBC Documentary about Oscar Wilde
The iciness may have temporarily thawed between these two Georgia Peaches, but something tells us that the cold war will rage on in the CBB house.
The next episode of Celebrity Big Brother airs at 8 p.m. ET on CBS, on Friday.
-->