Katie Conrad and Derek Sherman's Relationship Won't Last Long According to 'Married at First Sight' Alums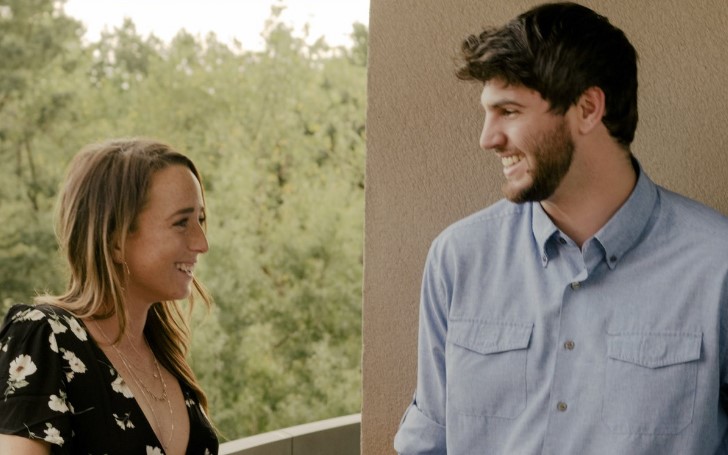 Married at First Sight previous season couples think Katie Conrad and Derek Sherman's relationship won't last long.
Married at First Sight's previous season couples doubt that Derek Sherman and Katie Conrad's relationship may fail. The previous season couples prediction that Katie and Sherman's relationship won't last long has some backing though.
Prior season couples, Kristine Killingworth and Keith Dewar, Ashley Petta and Anthony D'Amico, Danielle Bergman and Bobby Dodd, and Shawnice Jackson and Jephte Pierre gathered to give their opinion while watching back Sherman and Conrad's wedding.
Watch: 'Married at First Sight': Fans Think Derek's Vows to Katie Were the Sweetest in the Show's History
On January 9th, the couples appeared on 'Married at First Sight: Couples Couch,' where they opened up about Katie and Derek running into problems.
The whole show was about couples giving their opinions on newlyweds, so during the show, Danielle asked her husband, "So, Derek and Katie, are they going to make it?"
Bobby replied with a straight "No!" and Danielle added, "I was going to say no too." While Bobby and Danielle were convinced the newlywed couple won't make it, Ashley had a different view.
Also See: American Pickers' Frank Fritz Weight Loss Story - Why Did His Weight Decrease?
Ashley pointed, "She looks happy" to which Anthony replied, "She does look happy, very happy." After which Ashley replied, "let just see, this is just phase 1."
While Kristine noted, "She is like, 'alright,' you know, this worked out better than I thought. She is clearly not terrified. She looks happy."
Watch: Katie's Ex Will Ruin The Wedding | Married At First Sight Season 10 | Lifetime
Derek is a 26-year-old cybersecurity engineer from Maryland, who was matched to Katie. Conrad is a 25-year-old health professional from Virginia. The couple was matched by Married at First Sight experts Calvin Roberson, Dr. Pepper Schwartz and Viviana Coles for season 10, which premiered earlier this month.
Also Read: Earl Francis Brosnahan, Jr. (Frank) - Kate Spade's Father, Some Interesting Facts to Know About the Gentleman
Well, if you ask us, the couple looks perfect for each other, but according to prior couples, they won't make it. Let's see what happens, but hope the couple finds the strength to work their relationship and make it stronger in the coming days.
For more information on your favorite celebrities' lifestyle, stay tuned to Glamour Fame, and don't forget to sign up for the newsletter.
-->