What is Kelvin Gastelum Net Worth in 2021? Here's the Complete Breakdown
Published Thu Feb 11 2021 By Bran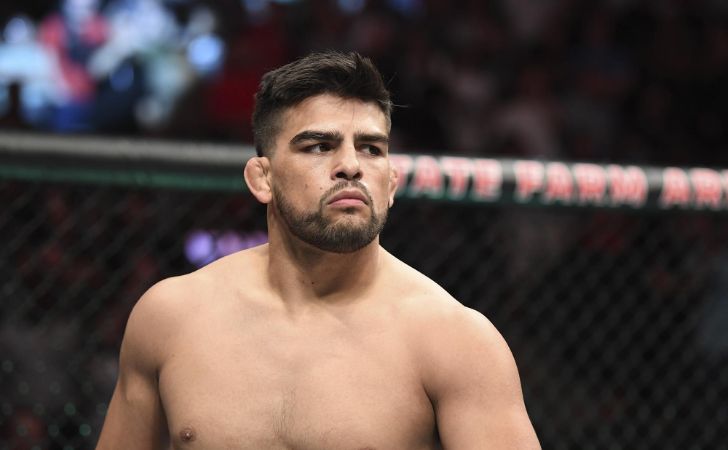 Grab all the details about the net worth of Kelvin Gastelum as he prepares for his UFC 258 fight against Ian Heinisch.
The UFC fans couldn't be more excited as one of their favorite fighters; Kelvin Gastelum is pumped to step back in the Octagon to face Ian Heinisch this weekend in the UFC 258. The mixed martial artist's portfolio couldn't be much better as he is ranked ninth in the UFC middleweight rankings with a strong record of 16-6-0.
Kelvin Gastelum's journey in the mixed martial arts embarked way back in 2013 in the Middleweight division, where he is currently, but it was transitioned for some time in the Welterweight sector.
His introduction would be incomplete without mentioning how he is a black belt winner in the 10th Planet Jiu-Jitsu under Brian Beaumont. Go nowhere as we bring you some exclusive details regarding the financial situation comprising the net worth and salary details of the American fighter.
Kelvin Gastelum's Whopping Net Worth Makes Him A Millionaire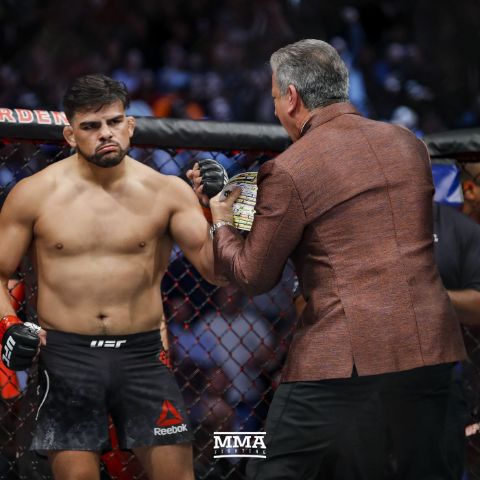 Kelvin Gastelum possesses a massive net worth of $1.5 million.
Photo Source: MMA Fighting
UFC is probably the most life-threatening sport considering the risk of losing a life in a short fight, but taking the hard route definitely comes at a price. As one of the active fighters for the past seven years, Kelvin Gastelum owns a staggering net worth of $1.5 million as of February 2021.
Aged 29, the San Jose born athlete still has some great peak years to offer in UFC, which definitely guarantees a massive surge in his income levels.
You May Like: Chandler Belfort's Net Worth- The Complete Breakdown.
Having won fifteen of his twenty-two fights, Kelvin Gastelum kept on increasing his bank balance in each passing year. As per several online reports, there are estimates on how the American mixed martial artist makes a salary of around $146,673 per year, which happens to be the average pay for a UFC fighter.
The numbers are subject to rising or fall depending upon the athlete's fanbase and performances on the Octagon.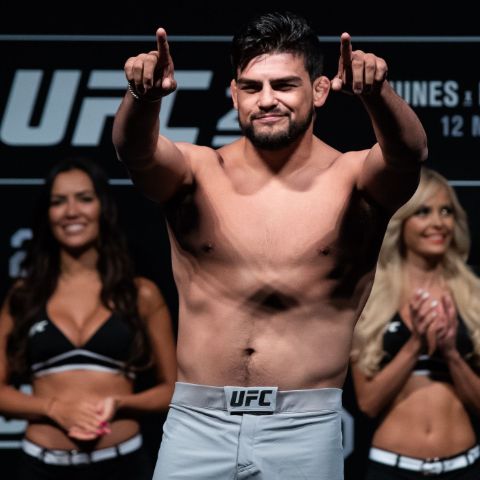 Kelvin Gastelum has an impressive record in the MMA of 16-6-0 before UFC 258.
Photo Source: MMA Mania
Kelvin Gastelum has been a loyal servant on UFC for the past seven years, ever since winning in Ultimate Fighter 17 Finale and getting a professional contract. One of his earliest fights came against Rick Story on March 15, 2014, on UFC 171, which he won back and forth through a split decision.
You would be surprised to know how was all set to face Court McGee earlier in December 2013, but a PCL injury ruined his plans.
Kelvin Gastelum Facing Ian Heinisch In UFC 258
The athletic Kelvin Gastelum keeps himself extremely occupied in recent times as he is set to feature in the main card of the UFC middleweight division on February 13, 2021, in UFC 258.
The former UFC Middleweight Championship challenger is going to go head to head against Ian Heinisch, a Colorado-based martial artist who has a record of 14-3. It is extremely difficult on paper to determine who will be the last man standing and get the final laugh ahead of this anticipated card.
Also See: What is Street Outlaws Cast' Big Chief's Net Worth In 2021?
Ahead of the over-hyped clash, Kelvin Gastelum's opponent showed no humbleness in the pre-match interview. Ian Heinisch's specific words were how he is all set and prepared to expose and beat 'one-dimensional' Kelvin.
His overly ambitious competitor even gave the fans another reason to follow their match by saying how the two fighters are all set to give a high-paced and exciting fight and even attempt to win the 'Fight of The Night.'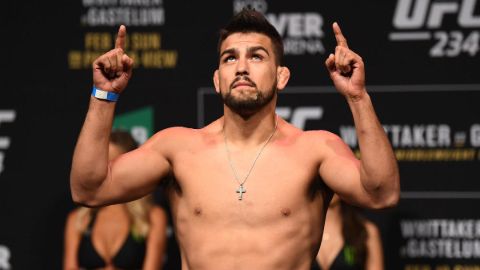 Kelvin Gastelum is going to face Ian Heinisch in UFC 258 on February 13, 2021.
Photo Source: CBS Sports
Well, the fans have to hold their nerves some more until Sunday to see if their favorite fighter, Kelvin Gastelum gets a win and expands his net worth or falls short against Heinisch.
Related: Romany Malco's Salary, Net Worth, And Income Details Here.
For more news and updates about your favorite stars, please stay connected with us at Glamour Fame.
-->