Kendall Jenner Wows In Lace-Up Dress For The Cover Of Vogue Russia
Published Wed Apr 17 2019 By Sarah
Kendall Jenner stuns on the cover of Vogue Russia.
Keeping Up with the Kardashian star, Kendall Jenner posed in a blue dress for the Vogue Russia cover which was photographed by Luigi and Iango.
The powder blue ruched lace-up dress which clings to her lithe figure. For the photo, she ran her fingers through her flowing locks and sports elegant diamond drop earrings and a ruby red pout.
For the next cover shot, the model went for a transparent cape with tan leather trim over a bodysuit. The red lips added an extra glam to her look.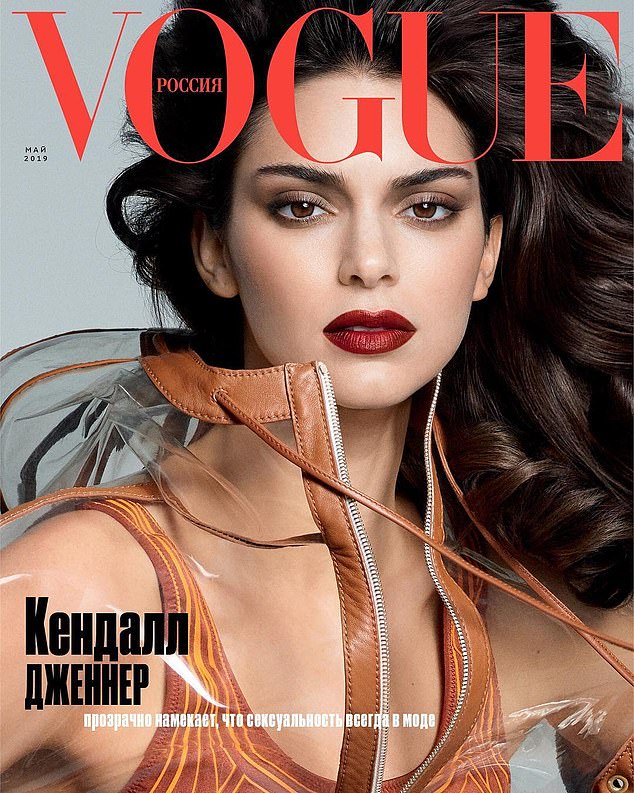 Kendall Jenner on the cover of Vogue Russia.
SOURCE: Daily Mail
This is not only the first time, Kendall did the cover shot, she had also graced the cover of the fashion bible a number of times, including Vogue Paris, Vogue Japan, Vogue China, and Vogue Brazil to name just a few. Similarly, she appeared on the cover of US Vogue for three times.
Meanwhile, the 23-year-old model said that she did not want to choose her own engagement ring.
You Might Like: Kendall Jenner & Ben Simmons are Spending Their First Christmas Together
The star who is dating a basketball player, Ben Simmons would 'give hints' about the type of sparkler she'd like to be given when her partner pops the question but thinks it would be 'romantic' not to have to be involved in the process.
She explained,
''I mean, I kind of love the idea of letting the man pick it and having it be that pretty thing that he kind of thought of himself. And having the feeling of like, oh, he made this with me in thought, kind of a thing. I like thinking that just the way it was made reminded him of me. That to me is kind of romantic.''
She added that she is like a kind of person who would give a hint and be like, "I kind of want this."
Well, the couple first started seeing together in the summer before their romance temporarily fizzled out at the end of August, just as Ben relocated to Philadelphia to start his basketball season. But in November, Kendall was spotted with him again and has frequented his games since.
-->