Kerry Washington Arrived at The Tonight Show studio in a Eye-catching Pink Outfit
Published Thu Jan 24 2019 By Tess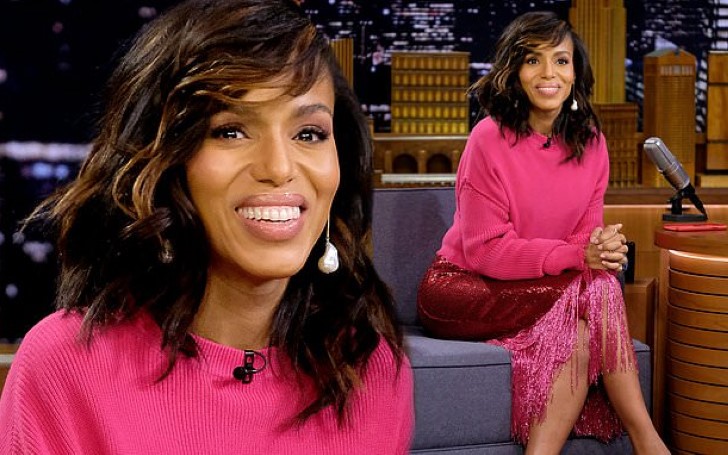 Kerry Washington appeared on the Tonight Show studio in a hot pink outfit.
Kerry Washington dazzled on Monday night's episode of The Tonight Show starring Jimmy Fallon as the main interview guest.
The Confirmation actress arrived at the Tonight show studio in an eye-catching pink outfit.
SOURCE: Daily Mail
The Django Unchained star dressed in a glittering pink tassel lace dress showing off her sculpted legs looked lovely in the rosy ensemble.
Kerry, however, battled the frigid New York weather with a more comfortable pink sweater.
SOURCE: Daily Mail
The actress wore her short hair in waves accentuated by dangling white earrings and her ever-present dazzling smile.
Kerry apparently appears in an acclaimed performance of Christopher Demos-Brown's play American Son on Broadway.
The entire show takes place within a police station while Kerry waits with her white husband for news about their missing 18-year-old son.
Don't miss: Travis Kelce out of The Pro Bowl; His Girlfriend Shared Cute Snaps Prior To Patriots vs Chiefs NFL Clash
On The Tonight Show, Washington also announced her play American Son will soon be heading to Netflix.
'I always get sad when people say on Twitter that I live far away and I can't afford to come to New York, and I really wanna see it and I wish you were running longer, so we are actually doing something really great.'
Washington added:
'Netflix is adapting the play for their platform. We're not just filming the play, but we're adapting it to kind of be this movie/play hybrid event.'
Washington is set to reprise her role alongside Steven Pasquale, Jeremy Jordan, and Eugene Lee. Kenny Leon will direct the play as the production starts in New York from February.
You may also like: Jessica Simpson's Fans Are Not Best Pleased By Possible Baby Name
Last year, the 41-year-old actress ended her reign on the Shonda Rhimes-created hit series Scandal.
Also read: Hailey Baldwin Accused of 'abusing' Her Dog as She Films Herself Shaking The Pooch
Additionally, her performance on Woman on the Edge also earned her widespread acclaim.
-->