Kim Scott Mathers - Top 5 Facts on Eminem's Former Wife
Published Thu Apr 02 2020 By Matthew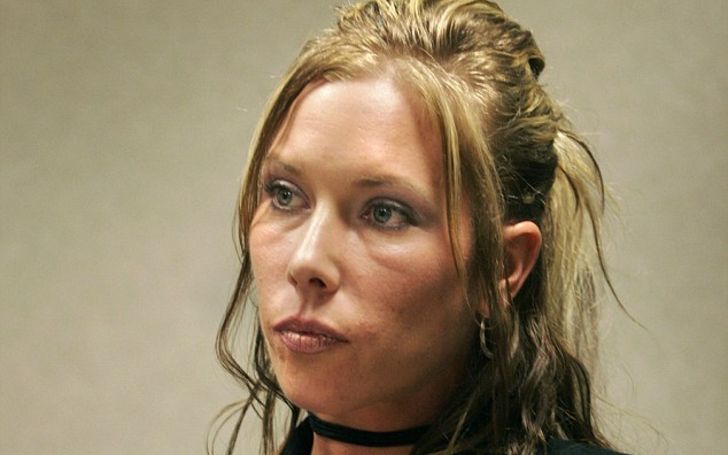 Here's all that you need to know about Kim Scott Mathers, the former spouse of the Rap God, Eminem!
Eminem and his daughter, Hailie Jade Mathers Scott, are hip-hop royalties, all thanks to the 47 years old rap god of this century. Yet the other part of that close-knit family, the mother of Hailie Jade, remains a mystery to the world. Kim Scott Mathers, Eminem's former spouse, is often mentioned in some of his past songs, and the lyrics aren't exactly complementary, to say the least. Nevertheless, Kim's life story is just as controversial and dramatic as Eminem's verses.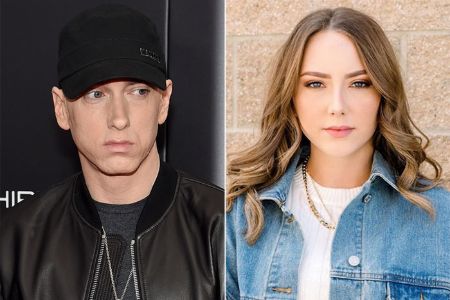 Eminem and his daughter, Hailie Jade Mathers Scott.
Photo Source: Rap-UP
The former couple spent quite a time with each other throughout their constantly on-and-off relationship. The connection between two was problematic, to put it mildly. One of Marshall's closest friends, rapper Proof said in an interview with Rolling Stone in 1999 uttering, "One time we came home and Kim had thrown all his clothes on the lawn… and Em's like, 'I'm leaving her; I'm never going back.' Next day, he's back with her. The love they got is so genuine, it's ridiculous. He gonna end up marrying her. But there's always gonna be conflict there."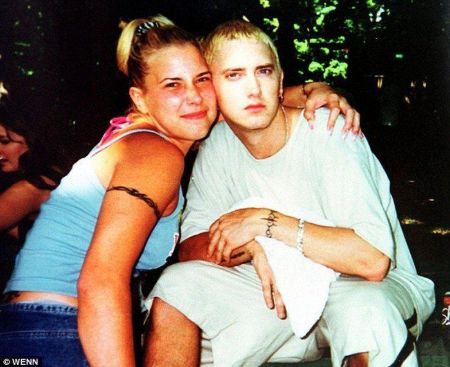 Marshall Bruce Mathers III aka Eminem and his ex-wife Kim Scott Mathers.
Photo Source: Pinterest
Every one of Proof's words came to life as if it was some sort of prediction. Not only did the twosome tied up in a marital relationship, but they also did it more than once, and the life story of the couple that ensued was hellish.
Kim Scott was a Twin Child
Very little and vague details about Kim's childhood exists; however, there is one fact about it that stands out from all the baseless rumors. Kim Scott wasn't the only child and actually had a twin sister named Dawn. Scott and her twin sister Dawn were born on January 9, 1975, to Kathleen Sluck in Warren, Michigan.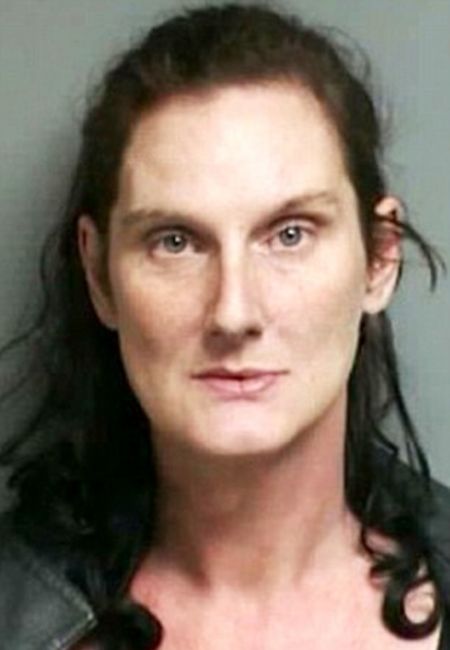 Kim Scott Mather's twin sister Dawn.
Photo Source: Daily Mail
The twins ran away from their home in 1988 allegedly to escape the abuse from her alcoholic stepfather and settled at a young shelter outside Detroit. Marshall's mother wrote about his ex-wife in her memoir, calling Kim a challenge who told some tall tales about her past. Kim's twin sister Dawn passed away on January 19, 2016, from a suspected overdose.
The Pair Met At a House Party When They Were Very Young
There's a long history between Eminem and his former spouse Kim. The two first met when Marshall was 15, and Kim was only 13 at a house party. Eminem himself talked about the first time he laid eyes upon Kim during an interview with The Complex.
You Might Also Like: Eminem's Father Marshall Bruce Mathers Passes Away Aged 67; Had Troubled Relationship With His Rapper Son!
Marshal said recalling the moments of the house party, "I'm standing on top of their coffee table with my shirt off, with a Kangol on, mocking the words to LL Cool J's 'I'm Bad.' And I turn around and she's at the door smoking." Not long after that, the rapper brought Kim home to his mother and then began the on-and-off relationship.
Kim Married Eminem Twice
Throughout their lifetime, the pair married twice. The first time they both tied the knot was in 1999, four years after their daughter Hailie was born. Their tumultuous relationship became the subject of many of the rapper's vitriolic verses. A year later, Marshal released 'The Marshall Mathers LP' that came with a song he wrote about Kim. Eminem accused his then-wife of infidelity and fantasized about violently murdering her.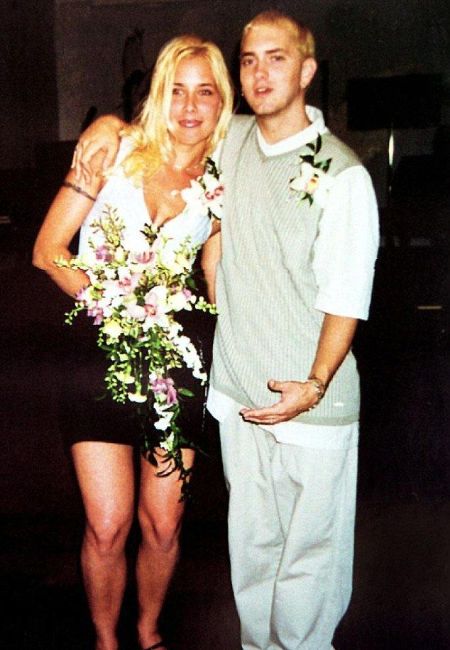 Kim Scott Mathers and Eminem married twice in 1999 and 2006.
Photo Source: Pinterest
A year after the release of the album, the couple divorced bitterly entangled in a heated custody battle over their daughter Hailie. "I would rather have a baby through my penis than get married again," Eminem told Rolling Stone in 2002 and yet still went on to reconcile with Kim. They were both married again in January 2006, before filing for divorce just three months later.
Kim Scott was Charged With Drug Possession
Following her first divorce with Eminem, Kim Scott was charged with felony possession of cocaine, driving with a suspended license and unsafe driving near a stopped emergency vehicle in 2003.
Recommended: Eminem New Album 'Music To Be Murdered By'
The police found a white powder in her Cadillac Escalade during a traffic stop on June 10. The arrest occurred when police stopped Mathers at 2:30 a.m. and found two baggies containing what the court spokesperson said was less than 25 grams of cocaine.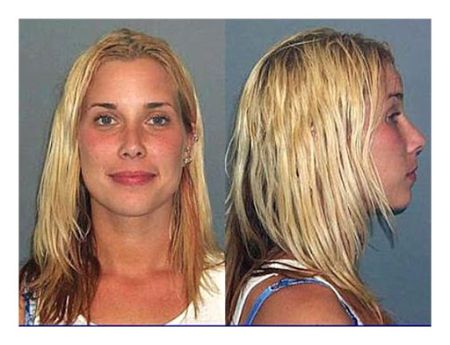 Kim Scott Mathers was arrested and charged for drugs possession.
Photo Source: The Smoking Gun
Kim pleaded innocent to the charges filed against her in court and was sentenced to 30 days in jail after violating her probation. She was also arrested and charged with cocaine possession in 2001 but was not convicted.
Kim Scott Admitted to a Suicide Attempt in 2015
Hailie's mother, Kim, lived quite a troublesome life, and they indeed weren't without challenges. After coming face to face with many tragic decisions in her life, Scott grew frustrated and attempted to commit suicide numerous times. When her husband released the rap song, which was about killing her, Kim tried to end her life for the first time.
Watch: Kim Mathers talks about Eminem
In October 2015, Kim Mathers got herself into a drunk driving incident to which she later admitted that this, too, was a failed attempt to end her life. Mathers reportedly drank before getting into her black Escalade to crash the vehicle. The incident allegedly occurred at 23 Mile and Card roads in Macomb County.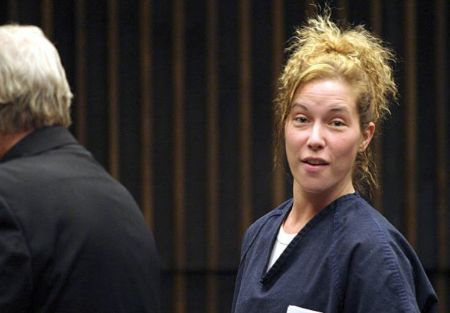 Kim Scott Mathers attempted suicide on October 2015.
Photo Source: Twitter
According to Detroit, Mathers confessed, saying, "I did this on purpose, and I'm so sorry. I never lied to (first responders). I told them everything that I did… I didn't expect to make it out alive."
For the better part of her life, Kim Scott Mathers remains vilified for the lifestyle she chose to lead and her personification from Eminem's songs. Starting with a tragic childhood, her troubles followed throughout the better part of her adulthood.
Also See: Eminem Reveals Daughter Hailie Mathers is the Only Lady He Adores
Tune into Glamour Fame for more facts on celebrities, and don't forget to sign up for the newsletter.
-->