Kimora Lee Simons Relaunches her Seminal Fashion Brand Baby Phat; Forever 21 Teased the Return
Published Fri Jun 14 2019 By Jessica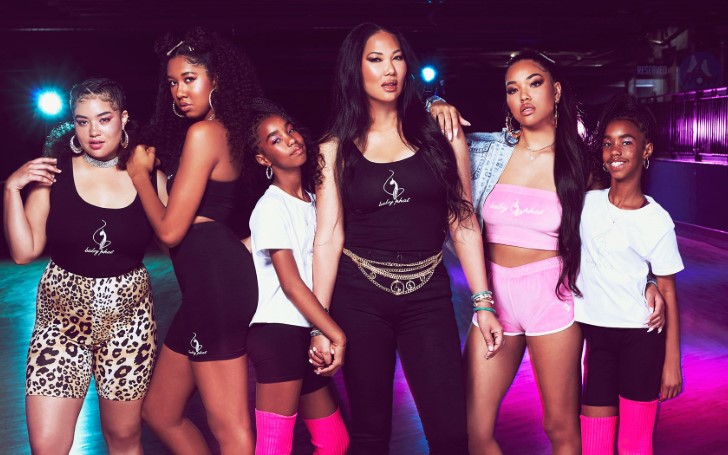 Kimora Lee Simmons relaunches her Baby Phat in collaboration with Forever 21.
The wait is officially over.
To all the fashion fans of Kimora Lee Simmons, the return of her famous Baby Phat brand in collaboration with Forever 21 titled '#F21xBABYPHAT' is finally here.
Since announcing the news of her plan to relaunch her teenage fashion brand a couple of months back, the reality star and former model posted a short clip on Instagram that showcases a few glimpses of the designs.
What's even more interesting to see in the clip is Kimora's now-grown children can be seen flaunting and modeling for the stylish pair of clothes as they rock along with their roller skate boots.
Related: A Fashion Student Stitched FKA Twigs Flyers And Many More Into Her Final Collection
Besides, Simmons, daughters; Ming Lee Simmons, 12, Aoki Lee Simmons, 23, the campaign clips and pictures for Baby Phat also features Jessie James Combs and D'Lila Star Combs, the twin daughters of rapper P. Diddy.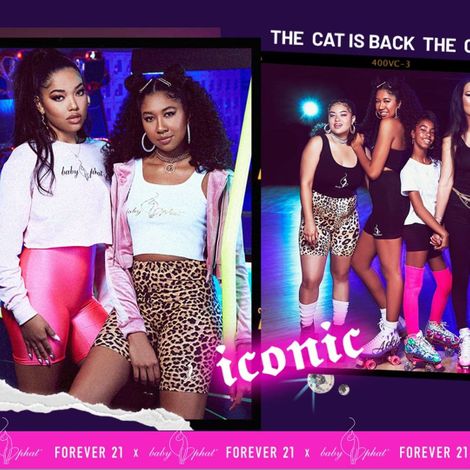 Kimora Lee Simmons relaunches her Baby Phat in collaboration with Forever 21.

SOURCE: Forever 21
Available from the price range of just $3.90 to $38. The clothing pieces include every necessity from casual to party dresses that includes pencil skirts, bike tights designed with leopard print, crop tops, bodysuits, mini skirts, kimonos, two-piece dress, and tube tops.
Besides, the clothing pieces, the brand also has accessories items such as fanny packs, pendant necklaces, metallic platform sneakers, square tinted sunglasses, rhinestone hair clips, faux suede rhinestone chokers, heart hoop earrings, and many more.
Furthermore, Baby Phat's divisive items of clothing are also available up to size 4X.
Speaking of relaunching Baby Phat, Simmons told a news outlet: "Here we are again, 20 years later in 2019, and now [my daughters] are with me taking the reigns. This is a woman-owned company, run by me and my daughters. I've been in fashion for 30 years. But now it's about passing the torch from one to the next."
Kimora Lee Simmons gave birth to Baby phat in 1999 as a portion of her former husband Russell Simmons's fashion brand called 'Phat'.
The reality star then added how she is hopeful that her daughters will help her business expand and prosper more in the foreseeable future.
"It's going to be an ode to the past but then they will pick it up where we left off. It's all going to be still cool, still sexy and still fun," said Kimora.
As a matter of fact, her kids are involved ' in every aspect of the business' as Ming is a business and fashion college student in New York whilst Aoki who recently graduated high school joins college next year.
Furthermore, the proud mama likes to call herself and the pair of her eldest daughters, 'the Three Musketeers'.
Kimora Lee Simmons is also parents to other children, a son named Wolfe Lee Leissner she shares with current husband Tim Leissner and Kenzo Lee Hounsou, the reality star shares with former husband Djimon Hounsou.
Linda Chang, VP of Merchandising for Forever 21 on Baby Phat said: "Baby Phat is always front and center when you think of iconic streetwear brands. We are so thrilled to be a part of a relaunch for a brand that carved the way for women in streetwear and fashion. It has been an honor to work with Kimora Lee Simmons and her daughters, Ming Lee & Aoki Lee, on this project, and we can't wait to help customers rediscover a legendary brand."
Don't miss: Selena Gomez Showed Up To The Dead Don't Die Premiere In A Killer Outfit
Fans and buyers can easily get F21 X BABY PHAT in Forever 21 stores or through ordering them online at the F21 website.
-->