​Kit Harington Reveals He Almost Lost A Testicle While Filming Major Game Of Thrones Scene
Published Wed Apr 17 2019 By David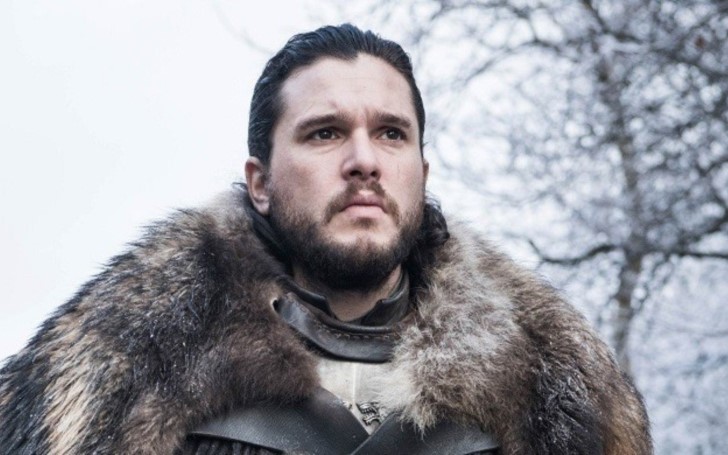 Kit Harington aka the King in the North nearly lost one of his testicles while filming a Jon Snow scene for Game of Thrones season 8.
Hit HBO fantasy series, Game of Thrones is back with its final season and it's already set to air its second episode. The first episode of season 8 saw the Starks reuniting with Jon as well as Daenerys first step into the Winterfell. The premiere also featured Sansa dragging everyone for filth and Jon finding out that he is the real heir to the Iron Throne.
The episode garnered a record 17.4 million viewers whilst also marking the largest Night of Streaming for HBO. However, the achievement came at quite a price especially with the series' main lead, Kit Harrington almost crushing one of his balls while filming it.
Kit Harrington opens up about terrifying yet funny behind the scenes incident while filming Game of Thrones.

SOURCE: Free Beer and Hot Wings
So what actually was going behind the scenes?
In a new backstage featurette of Game of Thrones, Kit shared about how had been his experience riding a dragon for the first time. All the dragon scenes in GoT are shot on a mechanical buck next to a green screen. Each sequence is then edited with special effects to make it look as though Jon and Daenerys are actually riding the dragons.
Also Read: Game of Thrones Season 8: What Does The Night King's Spiral Symbol Mean?
Discussing the scene, Harrington said: "Buck work is not easy. I think what sums up the buck for me was there was a bit where Jon almost falls off." The British star then went on to reveal how it almost cost of him one of his bollocks. As such he explained,
"The dragon swings around really violently, like this, and my right ball got trapped, and I didn't have time to say 'Stop!' And I was being swung around."
Kit finished the hilarious yet low key extreme anecdote by adding: "In my head, I thought: this is how it ends, on this buck, swinging me around by my testicles, literally." He then gaged by saying: "Sorry. Probably too much information."
While we're at it, here are some honorable mention of similar other behind the scene realities.
- Robert thought he wasn't up for the King: In the beginning, Mark Addy (Robert Baratheon) thought that Conleth Hill (Varys) was originally considered for the role of King Robert.
- Parts of the pilot: Only 20% of the original pilot shot in 2009 by Spotlight director Tom McCarthy, made it through the final cut.
Recommended: Why Jaime Lannister Is The True Hero Of 'Game of Thrones' Who Will End The White Walker Conflict
- Kit Kats in Winterfell: During the scene where everyone kneels down to greet King Robert as he enters the Winterfell courtyard, Addy said that Sean Bean had a pocket sewn into his costume to help him store his keys, smokes, etc.
During the first take of the scene, Bean forgot that he had filled his pockets with chocolates and sweets. When Ned Stark bends down, loads of Kit Kats fell out of his pocket.
Don't Miss: GOT Premiere Reveals What Happened To Ed Sheeran's Maligned Character From Season 7
- The difficult one: Boyd Rankin, the blacksmith on the show, shared that Ned Stark's sword Ice was the one that took the longest to forge. He also shared that Maisie Williams took one of the replica 'Needle' swords when she finished filming.
- The swords: Any time you see a character riding a horse in the show, if they're carrying a sword, it's completely made up. The actors are forbidden to have a real life weapon near a horse, just in case it fell. In fact, during those scenes on horseback, the swords are so pliable that they can be folded up, just like a roll of toilet paper.
-->