Know Intresting Facts on Atandwa Kani's Wife, Fikile Mthwalo
Fikile Mthwalo is a talented South African actress, television presenter, and producer. Born on June 7, 1988, in Durban, she gained fame for her notable roles in popular television shows such as "Isidingo," "Tempy Pushas," and "Scandal!". Her great performance including producing and presenting has helped her to establish great in the business.
Her passion for acting, combined with her dedication and skill, has earned her critical acclaim and a loyal fan base. With her rising prominence in the industry, Fikile Mthwalo continues to make a mark as a multifaceted talent in South African entertainment.
Wonderful Married Life With Husband, Atandwa Kani
Fikile Mthwalo and Atandwa Kani exchanged vows in a private wedding ceremony on December 24th, 2015. The adorable couple first crossed paths in 2013 at The Market Theatre and fate brought them together again in 2015. They became closer while working together on the set of It's Complicated in June 2015 and got engaged the following month.
They celebrated their love by getting married on Christmas Eve of that year, even though they skipped the traditional process. However, they later had their lobola ceremony in 2016. At the time, they were deeply in love, as evidenced by Atandwa's personalized wedding band engraved with Fikile's fingerprint and her name, "Fikile M K."
Husband, Atandwa Kani Tattooed Her Name
Atandwa also got a tattoo of Fikile's name on his back in late 2016. The couple openly displayed their affection on social media, setting relationship goals for others.
However, their marriage faced controversy, as some people labeled Fikile a home wrecker, alleging she was responsible for Atandwa's separation from his estranged wife, Thembisa Mdoda. Fikile clarified that she is Atandwa's first wife and that her claims could be supported by Home Affairs.
Although Fikile Mthwalo and Atandwa Kani had plans to start a family soon after their wedding, they have not yet welcomed a child together.
Also See: Who is actor Daniel Kaluuya from Black Panther? Does he have a girlfriend or a secret wife?
Did Fikile Mthwalo Separated From Her Husband?
In September 2019, there were reports in several media that stated that Fikile Mthwalo and her husband, Atandwa Kani are parting. They were experiencing difficulties in their marriage and were heading towards a divorce. It was alleged that the couple had been facing marital issues, which eventually led to their separation.
The strain in their relationship was reportedly caused by their busy schedules and conflicting commitments. According to the report, both Mthwalo and Kani had unfollowed each other on social media and had not posted about their relationship since February 2019.
However, it was stated that their separation was amicable, and they had remained friends. When contacted for a comment, both Mthwalo and Kani declined to provide any information. As a result, it remains uncertain whether they are still married or if they have divorced.
Another Black Panther star, Michael B. Jordan is Dating British Model Amber Jepson after Six Months of Splits with Lori Harvey
Fikile Mthwalo Movies and TV Appearances
Fikile Mthwalo began her acting career in the renowned soap opera, Isidingo. She gained recognition and became one of the top 24 finalists in the 'O Access Presenter Search' aired on Channel O.
In 2015, she landed her first leading role on television as 'Ipeleng' in the series It's Complicated. She also appeared in various television commercials for brands like Metropolitan, PEP, Omo, Shoprite, Etisalat Nigeria, Ponds, Hi-Malt Nigeria, and Nivea UK.
Fikile further showcased her talent in the telenovela Gold Diggers, portraying the character of 'Hlengiwe.' Currently, she spends a significant amount of time in New York and Los Angeles.
Family and Education
Fikile Mthwalo was born on April 13, 1989, in Lesotho. Her father is Mosotho, while her mother is of Kenyan and Tanzanian descent. She has a younger brother who resides in Cape Town.
From 2001 to 2005, the actress attended Machabeng International College. Afterward, she relocated to Bloemfontein, South Africa, where she completed her Matric (equivalent to high school) in 2007 at St Michael Girls School.
In 2009, Fikile enrolled at the University of Cape Town, pursuing a Bachelor of Arts in Film and Video Production. She successfully graduated from the university, further enhancing her skills and knowledge in the field. Fikile's educational background has provided her with a strong foundation for her career in the entertainment industry.
Joining Acting at New York University
With honors in 2012, Fikile Mthwalo earned her bachelor's degree in film and video. Her dedication and hard work led to her being awarded a full scholarship to join the Grad Acting Program at New York University (NYU) in 2015.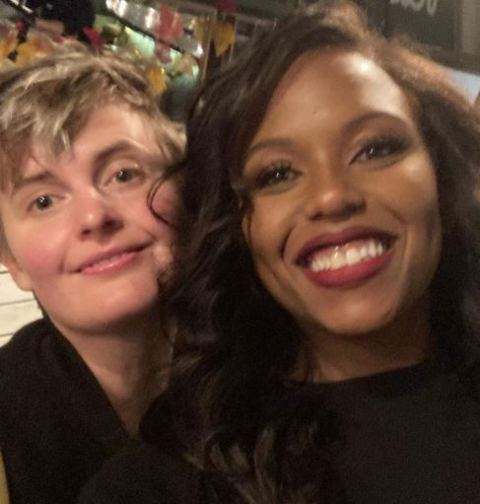 She pursued her passion for acting and successfully completed her Master of Fine Arts degree from NYU in 2018. Fikile's academic achievements and training at renowned institutions like UCT and NYU have further solidified her skills and expertise in the field of acting, allowing her to excel in her career.
How Rich is Fikile Mthwalo? Know About Atandwa Kani' Wife Net Worth
Celebrity spouse, Fikile Mthwalo is one of the talented personalities. She has achieved success in every field in which she has stepped in. Maseru native, Fikile is a TV presenter, Actress, scriptwriter as well as an entrepreneur.
As of 2023, the actress holds a net worth of $2.5 Million which she secured through her incredible career. Her estimated annual income is over $100,000 through her involvement. On the other hand, her husband is. one of the most talented actors. His appearance in the Black Panther is well appreciated by the fans. As of now, Atandwa holds a net worth of $5 Million.
For More Visit Glamour Fame
-->