Know Married Life and Relationship of Aerosmith Frontman, Steven Tyler
Steven Tyler is an iconic American musician, singer, and songwriter, best known as the lead vocalist of the legendary rock band Aerosmith. Born on March 26, 1948, in New York City, Tyler has left an indelible mark on the music industry with his distinctive voice, flamboyant stage presence, and dynamic performances.
With Aerosmith, he achieved unparalleled success, delivering hits like "Dream On," "Walk This Way," and "I Don't Want to Miss a Thing." Known for his charismatic personality and unique fashion sense, Tyler has solidified his status as a rock 'n' roll legend, inspiring generations of musicians and fans alike.
Who is Steven Tyler Dating in 2023? Know About Steven's New Girlfriend
Tyler and Preston first crossed paths in the 2010s when his girlfriend, Aimee Ann Preston began working as his assistant. However, their relationship took a romantic turn in 2014, sparking dating rumors among fans. Many struggled to come to terms with the significant age gap between them, as the singer is 39 years older than his girlfriend.
Their romance blossomed as they embarked on various private vacations together. They were first seen enjoying the beautiful weather in Maui, Hawaii, followed by numerous other romantic trips. Despite years of speculation, the couple finally decided to go public with their relationship in 2016.
The revelation occurred at Elton John's annual Oscar Viewing Party, which they attended together. Despite their efforts to appear nonchalant, a photo of them holding hands made its way to the public, confirming their romantic involvement.
Did Steven Tyler and His Girlfriend, Aimee Preston Actually Broke Up?
The couple remains happily together, and their love for each other has continued to flourish. In early 2022, during his annual Grammy Awards viewing party, Steven Tyler openly displayed his affection for Aimee Preston, confirming the strength of their bond.
Clad in a playful black-and-white outfit paired with sneakers, Tyler held onto his blonde girlfriend tightly as they walked the red carpet. Their affectionate display included Tyler sweetly kissing Preston's cheek while posing for the cameras.
The couple currently resides together in Los Angeles, and they had previously shared a home in Nashville, showcasing their commitment to building a life together.
Steven Tyler's First Marriage
Steven Tyler and Cyrinda Foxe's marriage was a rollercoaster ride, marked by both love and turmoil. The couple tied the knot in 1978, shortly after their daughter Mia Tyler was born. However, their relationship faced significant challenges, including Tyler's drug addiction and his infidelity.
The marriage began to unravel due to Tyler's heavy drug use, which put immense strain on the couple's bond. The Aerosmith frontman's addiction took a toll on their relationship and contributed to the deterioration of their marriage. Additionally, Tyler engaged in an extramarital affair, further exacerbating the situation.
The couple's struggles eventually led to their divorce in 1987, marking the end of their tumultuous relationship. Despite the hardships they endured, they remained connected through their shared love for their daughter Mia and eventually found a way to co-parent amicably.
The Tragic Death of Steven Tyler's First Wife, Cyrinda Foxe
Cyrinda Foxe, born on February 22, 1952, was an American actress and model. In 2001, she suffered a mild stroke, which left her in a challenging situation with no place to live. She relied on Medicaid and food stamps for support. To help her during this difficult time, Myra Friedman organized a benefit at CBGB, a famous music venue, to raise funds for Foxe.
Steven Tyler, who had previously paid her hospital bills, contributed a signed Aerosmith guitar to the benefit, which was sold for $5000. David Bowie also donated an acoustic guitar. Recognizing the urgency of her situation, Tyler generously agreed to cover the cost of a room for Foxe at the Gramercy Park Hotel.
It was there, on August 28, 2002, that she married musician Keith Waa. Tragically, Foxe's life was cut short at the age of 50. She passed away on September 7, 2002, due to an inoperable brain tumor. Her untimely demise marked the end of a tumultuous journey, but her memory lives on as someone who made an impact on those around her.
Second Wife, Teresa Barrick
Steven Tyler's relationship with Teresa Barrick was a significant chapter in his personal life. The couple began dating in the early 1990s and eventually tied the knot on May 28, 1988, in Tulsa, Oklahoma. They had two children together, Chelsea and Taj.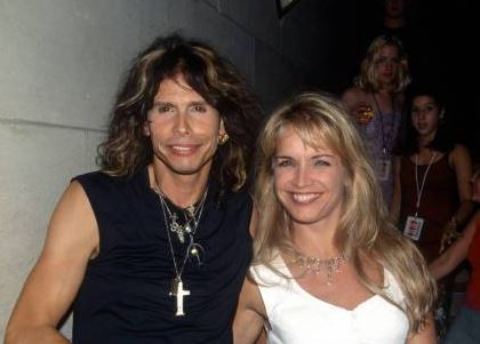 Their marriage faced its fair share of challenges, leading to multiple divorces and reconciliations. In 2005, Tyler and Barrick initially separated, filing for divorce. However, they reconciled in 2006, only to separate once again in 2008. Finally, in 2009, they officially divorced, bringing an end to their marriage.
How Many Kids Does Steven Tyler Have?
Steven Tyler has four children. His first daughter, Liv Tyler, was born on July 1, 1977, from his brief relationship with model Bebe Buell. Liv Tyler is a well-known actress and has made a name for herself in the entertainment industry.
Tyler's second daughter, Mia Tyler, was born on December 22, 1978, during his marriage to Cyrinda. Mia is also an actress and a plus-size model.
With his ex-wife Teresa Barrick, Tyler has two children. Their son Taj Monroe Tallarico was born on January 31, 1991, and their daughter Chelsea Anna Tallarico was born on March 6, 1989.
All of Steven Tyler's children have pursued their own paths in the arts and have established themselves as talented individuals in their respective fields.
For More Stick To Glamour Fame
-->