Kourtney Kardashian Admits Sofia Is A Better Girlfriend To Scott Than She Ever Was!
Kourtney Kardashian is perfectly cool with her ex-boyfriend's girlfriend.
These celebrities are taking the ex-game to the next level. How cool you need to be thoughtful about your former lover.
Recently, Kourtney Kardashian showed the epitome of maturity when she admitted the star is okay with Scott Disick's new girlfriend, Sofia Richie - who showed off her incredible physique in a skimpy pink bikini.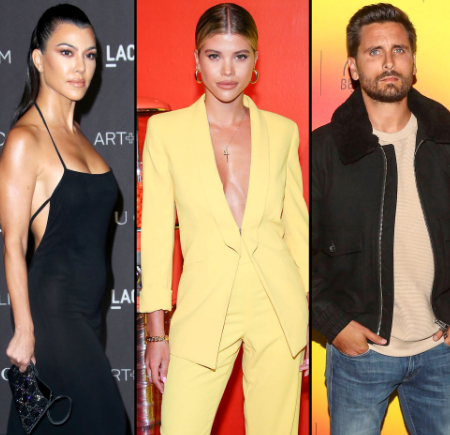 Kourtney Kardashian Thinks Sofia Richie 'Brings Out the Best' in Scott Disick
Source: US Magazine
In fact, the 40-year-old TV personality thinks Scott's new girlfriend is perfect for him.
One of the insiders of the celebs revealed Kourtney considers Sofia as a part of her family already.
The insider revealed, "Kourtney thinks Sofia brings out the best in Scott and is happy for them."
The insider added, "Kourtney and Sofia share a common background and lifestyle, and Sofia is easy to get along with and is a normal girl."
The insider further claimed it's not only Kourtney with whom the 21-year-old gets along. The whole Kardashian-Jenner family accepted the model as part of them. In fact, there was a time when Kourt and Sofia were fighting for Kris Jenner's love. Isn't that cute?
Sofia Richie is close to Kourtney's sister Kylie Jenner.
Source: US Magazine
The insider said, "Everything is positive with Sofia and Kourtney right now. The family is in a perfect place right now, and everyone views Sofia as being part of the family. Sofia is integrated into their lives, and they're closer than ever before."
Scott, 36, and Kourt - who heated social media with golden bikini -called it quits in 2015 after dating almost for two decades. Soon enough the 36-year-old caught rumors of dating in 2017.
Kourtney admitted she felt a little uncomfortable while they first started dating, but now she is in good terms with Sofia.
Well, it shows how maturely Kourt handled the whole situation and told the entire world she respects her people more than her ego.
This certainly is a kind gesture from the reality TV star, and we couldn't be more proud of her.
-->