Are Kourtney Kardashian And Sofia Richie Fighting For Kris Jenner's Love?
Published Sun May 19 2019 By Jessica
Is Kris Jenner getting more affectionate towards Sofia Richie and forgetting her own daughter, Kourtney Kardashian?
Things are apparently not looking great between Kourtney Kardashian and her ex's current girlfriend, Sofia Richie.
As the devil works hard but Kris Jenner works harder, the clever as a fox businesswoman slyly looks interested in further developing her relationship with the father of her grandchildren, Scott Disick. But more specifically with his girlfriend Richie.
As we previously reported Disick is coming to tv with his own reality show, momager was a big help in amplifying Disick's show. And by a big help, we mean that Jenner is intending to feature Sofia on the show too.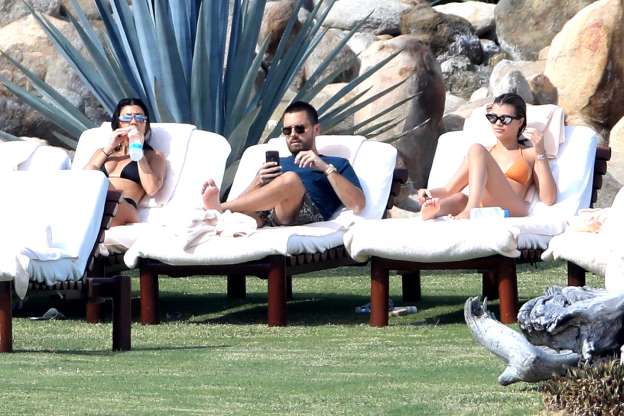 Kourtney Kardashian, Scott Disick, and Sofia Richie.
SOURCE: MSN
Throughout the season, the momager has always worked very hard to maintain the success of her family names with brand new strategies.
For instance, she encouraged her youngest daughter, Kylie Jenner in building her beauty company which established Kylie as the youngest self-made billionaire.
Not to mention, because of this, Kris's favorite daughter was clearly changed from fellow daughter, Kim Kardashian to Kylie. And, apparently, this has led to a similar consequence too, but from Kourtney to Sofia.
Following the harsh split with Kourtney, Scott has been in a serious relationship with only one person, i.e. of course, Richie.
When Scott and Sofia started going public with their relationship, the audience of 'Keeping up with the Kardashians' believed the two wouldn't last and that they were just playing around especially considering their fifteen years age difference.
The couple, however, has been going strong than ever for a long time now. And if fans get to witness Sofia on Disick's new show which is titled 'Flip It Like Disick', not only it will gain more viewers and ratings but Kris's fondness for Sofia will grow more too.
After all, the 20 years old young model is helping her show succeed, right?
"Sofia is clearly becoming an asset and clearly isn't going away. Kris thinks that the best part is that she can utilize her and market her for quite some time because Sofia hasn't even turned 21 yet." an insider told a news outlet.
On the contrary, how will this affect Kourtney when her own mother gets more close and affectionate towards her ex's girlfriend?
As for the mother of three who is rumored to be dating ex Younes Bendjima after the two reunited at Kourt's 40th birthday party, the source claims she was upset in the beginning but not because Kris looked interested in contracting Sofia over the project, but because Kourtney reportedly felt like she was being replaced and worried that it would ultimately make her lose her momager.
And talking of Kourtney's relationship with Scott, the former couple is all chill, especially with raising their children together.
-->