Kristen Bell Tattoos - Are They Real or She Decked on Some Fake Ones?
Published Sat Apr 18 2020 By Eric
The American actress, singer, and director Kristen Anne Bell is one of the most famous personalities in her career field. She began her journey in showbiz in 1998 and, since then, has made appearances in many movies and series. Bell also loves to do voice-overs for animated films; her recent work as a voice actor was in Frozen II (Anna) in 2019.
Except for Anna's professional career, something else makes her famous among the masses. We mean her 214 tattoos, which she talked about in the short video of "Funny Or Die." She has inked so many tattoos she has no regrets at all, want to know why because all of them are fake.
Kristen Bell Tattoo: 214 Tattoos in the Funny or Die Skit
In 2012, the actress Kristen Bell pulled a hoax video to fool her fans for fun; she told the camera about her 214 professional tattoos and nine tats, which she inked herself. She shared how she deals with her 214 symbols daily to prepare for her shoot.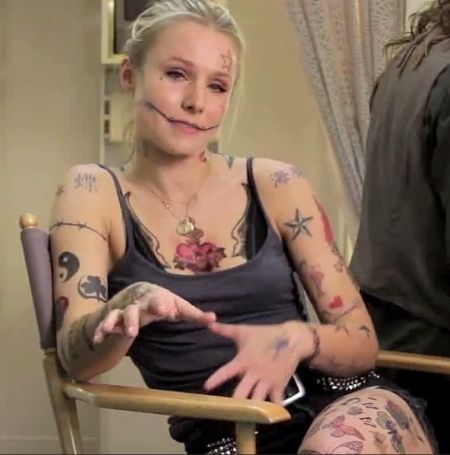 Bell had 214 fake tattoos in 2012.
Photo Source: Daily Buzz Live
Kristen began her hoax video by telling the story behind the "Tazmanian" tat, which she inked to reflect other whirlwinds in her past relationships. Further, she guides viewers through other different tats she inked. Regardless the tattoos were faux to make her fans believe Kristen even pulled off some story behind the tat in the clip.
Also See: Playboi Carti Tattoos and Their Meaning - Get All the Details Here
Bell inked around 72 butterflies' portrayals all over her body, which seems quite impressive even though they are all fake. Then she makes it suspicious with her dirty joke tattoo inked on her neck. She inked the text "Insert Your Gear Here" to add humor to the video. Kristen even tatted several Chinese texts on her body for the hoax.
During the video, she also summarized other tattoos in her 214 tat collection and shared her favorite and regretted sketches on her body. The prank ends when the beauty gets ready for her shoot with perfect makeup covering her tats; she even throws the last joke for the clip, saying she needs to stay for 5 hours in the shower to remove the product from her body.
Kristen Bell Fooled the World with her Tattoo!
Yes, you heard it right; all of the tattoos Kristen Bell claims to have in the show was prank video created for humor. However, many people don't see it as fake as in the video; Kristen acted so perfectly that even we got confused for a second.
After getting shocked for a moment, we delved deep into the subject and found; the video was a hoax. Still, many people today think it is natural and has no idea there was just temporary art. As a result, to pull the curtain out of Bell's fake tattoo, we present you with full details on this topic.
Kristen and Dax Matching Chest Tattoos to The Game of Thrones Premiere
Kristen Bell fans might be aware that she is a married woman. Bell calls the handsome Dax Shepard her husband. Kristen and her husband, Dax, welcomed beautiful daughters.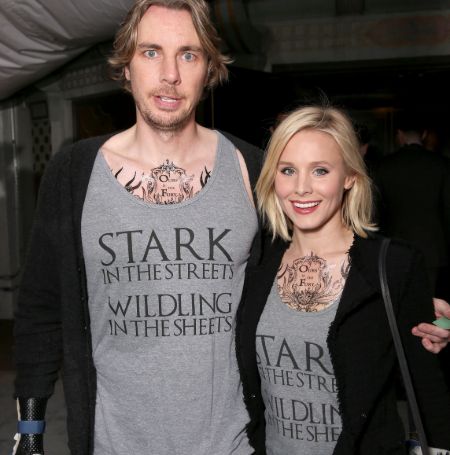 Bell and Shepard are perfect for each other and with their cute angels living a great life. They usually show up together in the media now and then at various events.
Recommended: Blac Chyna Tattoos and Their Meaning
One of the shows which went viral was the premiere of Game of Thrones season 6 at the TCL Chinese Theatre in Hollywood. The lovebirds, Shepard and Bell, appeared wearing sported matching gray tanks with "Stark in the streets, wilding in the sheets" while everyone in the event wherein formal dresses, as per MTV.
Further, to make things more interesting, Kristen pulled off another fake tattoo trick, which became legendary when her beau also gave his participated. Both inked faux tattoos on their chest with the House Baratheon phrase, "Ours is the fury."
Kristen Bell Beau, Dax Shepard Tatted a Bell Tattoo for Her
Though Kristen Bell pulls off a couple of fake tattoos to have some fun with her fans, her husband Shepard dedicated a "Bell" portrayal on his ring finger.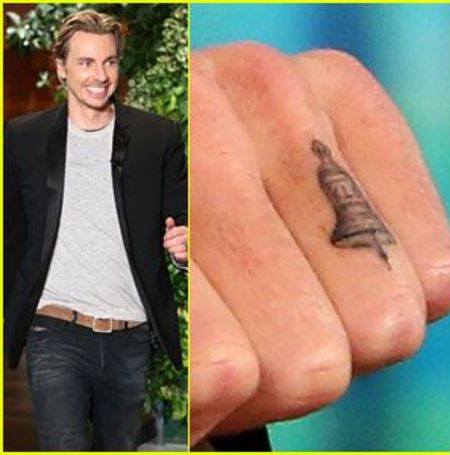 According to Purewow, Dax doesn't like to wear jewelry; as a result, to show the world he is engaged with The Good Place star, Bell, he pulls the trick to get a tat on his ring finger with her initial, which is a pretty romantic thing to do.
For more celebrity-related content, click here, Glamour Fame.
-->