Playboi Carti Tattoos and Their Meaning - Get All the Details Here
Published Thu Apr 16 2020 By Eric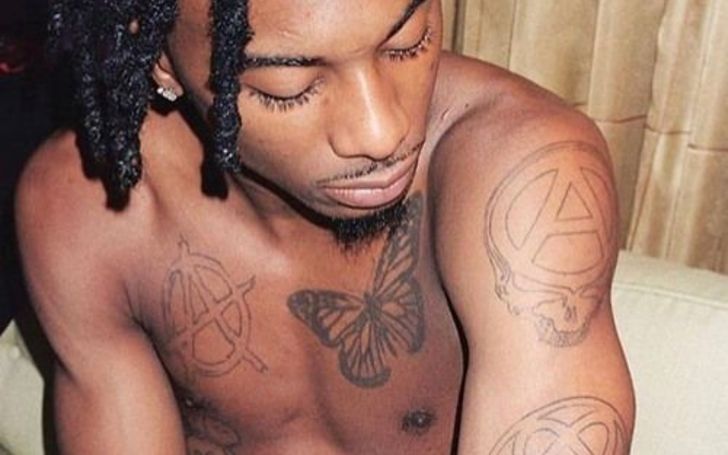 Who doesn't know the young rap star, Jordan Terrell Carter, who goes by the name Playboi Carti in the stage? The 23-years-old artist is currently signed to ASAP Mob's AWGE and Interscope Records and progressing himself to be one of the successful rappers in the industry.
Indeed, Carti is pretty successful right now with a label, different tours, and several hit songs in his pocket; he is doing great in his professional life like many top rappers. Likewise, he also inked his body with several tattoos, which most of the rappers tend to do in the music industry.
Therefore, we brought you brief information on different tattoos and their meanings of Playboi for you guys today. So, bear with us until the end of this article, to know more about the young artist Carti.
Inked Cross, Bunny, Star, V, and Loser Tat in His Neck
Neck do come in one of the painful parts to tat in the whole body; however, Playboi Carti undergoes through that discomfort to ink several portrayals. In the front part of his neck, we can see the word "Loser" texted, and above it, there is an upside-down cross in a red color, which is quite hard to see, as it has faded a little bit.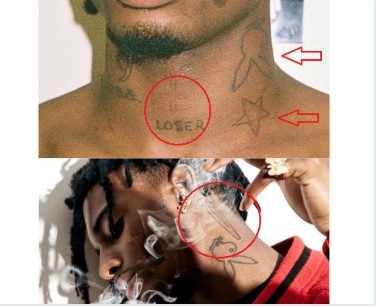 Playboi Carti inked Cross, Bunny, Star, V, and Loser tat in his neck.
Photo Source: Body Art Guru
Further, Carti tatted number "9" and some words on the right side of his neck, and on the opposite of it, he got a tattoo of a star and upside-down symbol of a playboy bunny logo which might be there to represent his alias name Playboi. He also got another letter tattoo, "V" in his neck part right below his left ear and above the playboy bunny logo tat.
Recommended: Blac Chyna Tattoos and Their Meaning
However, rapper Carti is open with the media to talk about the actual meaning of his tattoos because of which his neck tat meanings are still behind the curtain.
Playboi Carti Has Anarchy Symbol, A and Butterfly Tattoo in His Chest
Coming a little down from his neck, the rap star, Playboi Carti, he got two huge tattoos in his chest area. On the left, he inked "A" inside a circle, which symbolize anarchy, so, with the tat, he might want to indicate that he is an anarchist who doesn't believe in any political authority. Similarly, on the right side, he sketched a "Butterfly" with gigantic wings, which might be there to reflect beauty and freedom.
Hand Tattoos of the Rapper Playboi Carti
Focusing on Playboi Carti hand tattoos, his left shoulder contains two tats. One is another symbol of anarchy, similar to his chest tat, but the outer layer of the circle is stretched out to create a skull.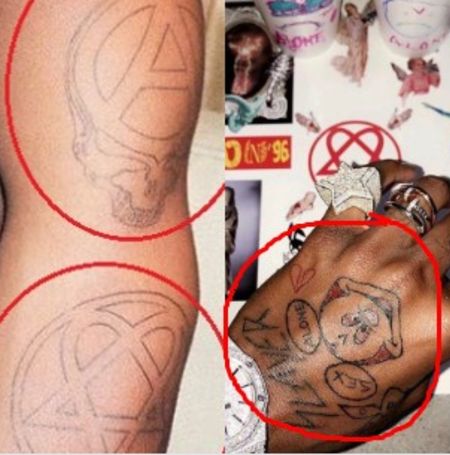 Rapper Carti left hand is covered with different tats.
Photo Sourde:Reddit
Below that, the singer Carti printed the logo of HIM, a Gothic Rock Band. If you are a die-hard follower of him, then you might know why he inked that symbol in his left elbow. We mean, we all know how much Playboi loves the HIM band, and as a huge fan, it is a small token of love he gave to himself.
Also See: Playboi Carti Net Worth - The Complete Breakdown of His Earnings
On his left hand, the rapper, Carti, has a face tat of famous cartoon character Mickey Mouse which he sketched there to show his love for the cartoon Mickey Mouse. Further, inside the big ear of the Mickey Mouse tattoo, she added two words, "Sex" and "Alone," plus he had a small broken heart tattoo. So, as a whole, those texts might be there describe his past failed relationships.
Playboi Carti - wokeuplikethis* ft. Lil Uzi Vert (Official Video)
Going through Carti other hand tattoos, he has "Slayer" texted above his Mickey Mouse face tat, which is a word he would love to use to describe himself. He also has another playboy logo art in his hand.
Several Arts are Sketched in His Stomach Area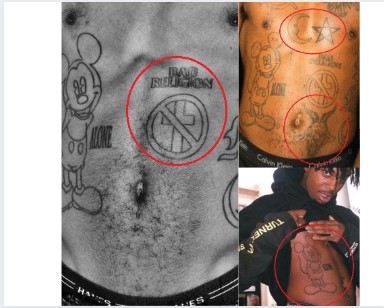 The rising star has tatted several tat in the skin of his Stomach.
Photo Source: Pinterest
Down to Playboi Carti's chest tat, he inked the "Moon" and "Star" portrayal to show his ability to grow and fight against darkness. Below it, he has a "Bad Religion" tattoo. On the left of that tat, he has a "HMC" letter sketched vertically, which is dedicated to his song released with Lil Uzi Vert, "Woke Up Like This (HMC 'I Think They Like Me')."
Also Read: Amanda Bynes Tattoos and Their Meaning
Carti also has another "Mickey Mouse" tattoo this time with his full body and picture of a "Sabbatical Goat" on each side of his belly button. Those tats are there to show his love for the cartoon animation Mickey and to give a devilish vibe, respectively.
For more interesting Celebrity-related content feel free to visit Glamour Fame.
-->