Kylie Jenner finally reveals her second child name! But meaning behind his name divides her fans in the internet!
American socialite and businesswoman Kylie Jenner is a big name in entertainment. After appearing in Keeping Up with the Kardashians in 2007, she has no turning back. She has now developed her empire and ruled the whole of entertainment. Her cosmetic brand Kylie Cosmetics, is number one and is loved globally due to her popularity.
Not only that, she is the third most followed person on Instagram and has a fan following around the globe. In 2014 and 2015, Time magazine even listed her as one of the most influential teens in the world during her teenage years. Let's dig into more detail regarding the beauty and find out everything about her.
Kylie Jenner finally reveals her second child's name! But the meaning behind his name divides her fans on the internet!
Without a doubt, Kylie Jenner is one of the most popular personalities in the whole world. With her vogue, she often comes to the limelight for various reasons. This time she took the internet by storm just by revealing the name of her second child. So, let's find out in detail. On September 7, 2021, Jenner and her partner, Travis Scott, announced they were expecting their second child.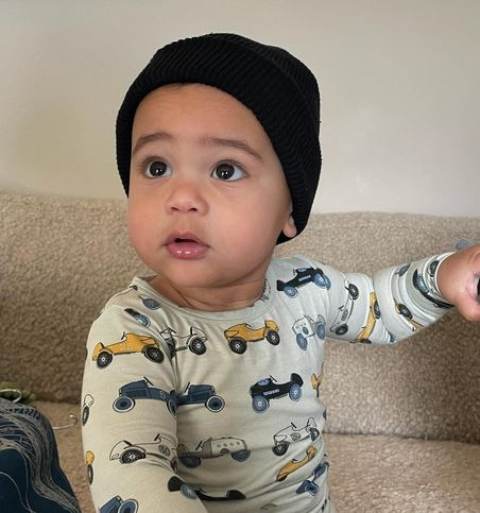 Later the pair welcomed their second child on February 2, 2022. However, the pair originally named their son Wolf Webster but later changed into Aire Jacques Webster. According to the couple, the new name means Lion of God. Unfortunately, she got trolled after the name Aire also sounds like an Arabic slang word for male genitalia.
This irregular coincidence was later pointed out by Matty Fahd and went viral in TikTok. Matty joked and laughed at the new first name of Jenner and gathered huge attention. Some fans replied to the video stating Wish she kept the name Wolf.' In contrast, others felt pity and replied another fan identifying themselves as Syrian said they had never used the slang term. So they wondered if Matty's video was even correct.
The model hasn't spoken a word regarding this incident, and the news is still hot in the industry. She has now limited her comment section and deleted all the negative ones in her Instagram account, where she posts pictures of her son.
Who is Kylie Jenner Dating Now? Know About Her Partner and Husband
The bold and beautiful Kylie Jenner is a popular celebrity, so people often wonder who she is dating. The media personality is not married but enjoying her dating life. She is in a romantic relationship with her partner, Travis. He is also a successful American singer, rapper, and record producer. Looking into their lovelife, the duo was seen together for the first time in April 2017 at Coachella.
After that, Jenner shared a picture with him and exposed her romance. Later she joined Travis on his tour and cheered him up throughout the travel. At the Met Gala, they got caught hanging out together, and she opened up about her relationship with him. Their love life then made headline after headline. The most shocking news burst when Tmz confirmed that the couple was expecting their first baby.
The socialite gave birth to her first child, daughter Stormi Webster on February 1, 2018. Like every parent, the celebrity pair are taking care of their two kids in every possible manner. Despite their hectic working schedule, they still spare time for their children. Both often post pictures with their kids on their social media accounts.
Are They Planning to Wed
Kylie and Travis have often amassed a large spotlight through their relationship and career. With their six-year relationship and two babies' arrival, they are usually asked whether they are tying the knot. During the interview, the rapper said they soon walked down the aisle together.
He further added. We'll get married soon. I've just got to sturdy up – I've got to propose a fire way. It reached a point where I was like, 'I need her with me to operate. She's that one.' On the other hand, the media personality made a huge buzz in the industry after she loaded her wedding dress into her private jet. However, it got revealed that the gown was for her 22nd birthday party.
Despite this love and affection, the duo announced their split in October 2019 and surprised their fans with the news. They lived separately for a year; however, the Covid-19 pandemic made them rekindle their relationship for the sake of their daughter. The duo soon started appearing together in various awards shows and even dashed the fans with engagement rumors.
On January 2023, the rumors speculated they were again breaking up. Many people confirmed the news after celebrating their New Year apart from each other. Despite the reports, neither has commented on the news and kept it low-key.
Is American Media Personality Kylie Jenner a Billionaire? Know About Jenner's Net Worth and Earnings
In August 2018, Forbes claimed that Kylie Jenner's net worth is over $900 Million, and she is about to become the youngest self-made billionaire. Again in 2019, Forbes estimated her net worth at $1 Billion and made huge controversy around the globe. The magazine even accused the socialite of forging tax documents.
Later listed among the 100 Richest Self-Made Women in her 20s, stating Jenner's worth $700 Million. According to Celebrity Net Worth, the social media star has a net worth of $750 Million as of 2023. She has amassed all of her fortunes through her incredible career and investment. Jenner's estimated annual income varies from $40 to $100 Million from her various endeavors.
Most of her fortune is from her global brand Kylie Cosmetics. In 2019, she sold 51% of her company for $600 Million to Coty In. From her wonderful modeling career, she has also amassed much more fortune into her account. She has endorsed several brands, including Topshop, Puma, Rebels: City of Indra, Nip + Fab, Quay Australia, and many more.
Multi-Million Worth Mansions and Properties
Media personality Kylie has earned a huge fortune and invested her money into buying several multi-million homes. She spent over $130 Million by buying a private jet and several mansions across the country.
When the model was only seventeen, she paid $2.7 Million for her first home in Calabasas, which she sold for $3.15 Million in 2017. In October, she and her partner, Travis, paid Beverly Hills home for $13.45 Million. Later the couple listed the home for sale for $22 Million.
Similarly, she paid $36. 5 Million for a beautiful home in Holmby Hills. Currently, she resides in the 13,000 sq foot home in Hidden Hills, California, which she bought for $12 Million. Furthermore, Kylie bought a $72 MIllion Global Express private jet and named it Climate Criminal.
Stay Connected To Glamour Fame For More Contents
-->