Kylie Jenner Spotted Wearing a Giant Engagement Ring at the Super Bowl; Is She Engaged To Travis Scott?
Published Tue Feb 05 2019 By Jessica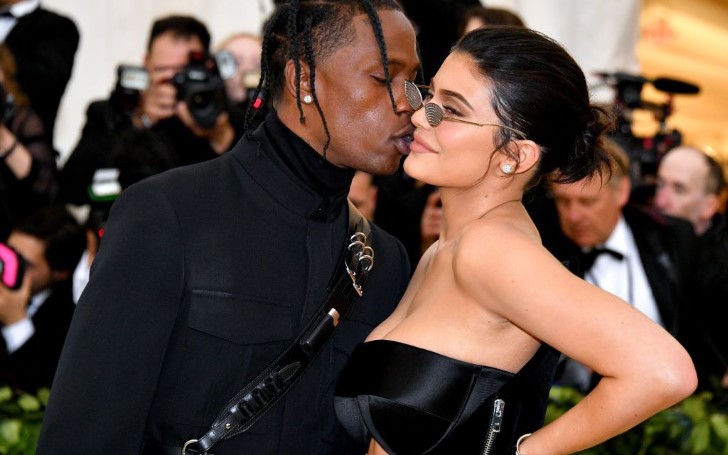 American reality star Kylie Jenner sparks engagement rumors with boyfriend Travis Scott.
Only in less than two days of hinting her fans that she might be expecting a second child, the Keeping Up with the Kardashians star Kylie Jenner sparks another rumor again indicating that she could be engaged with her boyfriend Travis Scott.
Jenner's rapper boyfriend Travis was one of the performers at the Super Bowl show last night.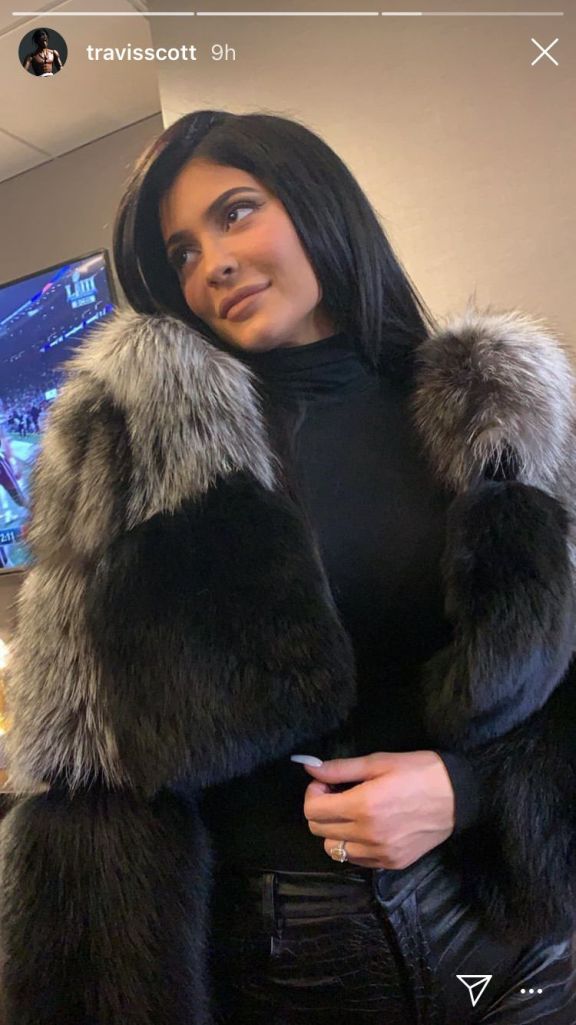 Rapper Travis Scott shares a picture of Kylie Jenner flaunting diamond ring on her engagement finger
Source: Instagram
And of course, the fans expected for the rapper to propose Kylie at the halftime show in front of thousands of people. However, unfortunately, that didn't happen. But, some of the fans guessed that Travis might have proposed to his girlfriend secretly offscreen.
You may also like: New Avengers: Endgame Teaser Trailer Dropped During The Super Bowl
After hitting off the stage, the rapper posted a picture of his baby mama or his presumably now-fiancee on his Instagram story.
The picture shared on his Instagram showed Kylie who likes changing her hair color for the chilly weather clad in wearing a furry jacket, black turtleneck sweater, and black leather jeans.
Kylie, who is always talked about amongst media and fans for what she wears didn't get attention for her outfit this time.
As a matter of fact, the main attraction of the picture included the massive diamond ring on her engagement finger that Kylie didn't forget to flaunt along with her blue fresh manicure.
Don't miss: Chris Pratt Promises Fans Guardians of the Galaxy Vol. 3 Will Happen
However, despite the engagement speculation turning out to be false, some fans assume that the couple who did not get engaged on the Superbowl night could be engaged or even married secretly.
This might be because there's a high chance of both Travis and Kylie sticking to not announce their marriage affair publicly, just like they did with Kylie's pregnancy with their baby daughter Stormi Webster.
Moreover, the suspects enlarge even high as both the couple even constantly calls each other with names like 'hubby' and 'wifey' on their social media.
However, the engagement of Kylie and Travis can't be sure again because this ain't the first time Kylie wore a diamond ring on her engagement finger and opted to tease her fans with engagement rumors.
See more: Rami Malek Finally Speaks Out Against Director Bryan Singer After New Sexual Abuse Allegations
Previously, during her New Year celebration party, the richest Kar-Jenner sister sparked engagement rumors by flaunting a massive diamond ring on her finger alongside bestie Jordyn Woods in the frame.
The couple met in the summer of 2017 during the Coachella and only welcomed their first child last year on February 1st just before the Super Bowl event.
-->