Lady Victoria Hervey Flaunted Her Sensational Figure While Soaking Up The Sun In Barbados
Published Sun Dec 30 2018 By Karly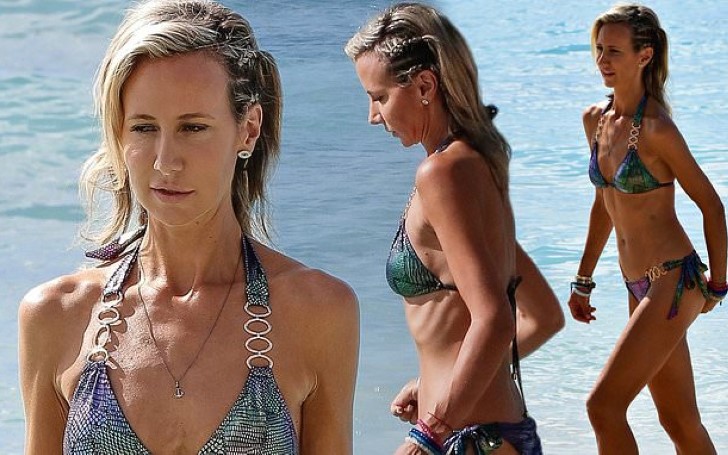 Lady Victoria Hervey boasted her incredible figure while watering up the sun in Barbados.
Lady Victoria is known for her sartorial elegance and lithe physique. Hervey ensured all eyes were on her as she displayed her sensational figure while soaking up the sun in Barbados on 26 December 2018.
The 42-year-old model, socialite, and aristocrat, blonde beauty Lady Victoria showcased her slim physique in a tropical halterneck bikini as she displayed her beautiful body at the beach.
SOURCE: Mail Online
The former It girl highlighting her taut abs topped up her tan in the warmer climes on the Caribbean island, choosing to wear a patterned two-piece for her latest beach jaunt.
See Also: Surprise! Christina El Moussa and Ant Anstead are Married
Lady Victoria made for an eye-popping picture on the sand, as her bikini drew attention to her assets with its halter-neck top and left her washboard stomach firmly on show.
Similarly: Six Artists Have Been Revealed For The 2019 Victorious Festival Line-up
Victoria's bikini appears to be a perfect match with her hips as she boasted a high-style design to showcase her slender legs.
SOURCE: Mail Online
Lady Victoria is well known for her sizzling style. She previously told Daily Mail's Sebastian Shakespeare that English women struggle to be sexy.
Also Read: Nick Jonas is Named As The Most Stylish Man of 2018
She stated:
"Women in London are too conservative and don't have the courage to wear sexy outfits. It's an English thing. I grew up in the South of France so I have a much more international approach."
The stylish Victoria is an inspiration for all women who want to become fascinating as well as sexy. Those who are struggling for perfect body figure can learn more tips and methods through Lady Victoria.
-->