Late John Candy's Wife Rosemary Margaret Hobor - Is She Currently in a Relationship?
Published Thu Oct 17 2019 By Travis
Late Candian actor and comedian John Candy's wife Rosemary Margaret Hobor. What's her current relationship status? Know it all!
Rosemary Margaret Hobor was married to her husband for over 14 years when the funny actor John Candy succumbed to a heart attack and died while filming the parody movie 'Wagons East.' The couple was happily married, but the untimely death of the celebrated actor cut short the time they enjoyed in each other's company.
John Candy's wife, Rosemary Margaret Hobor, was born on 30 November 1948 in Canada, and she lived there for the majority of her life. The duo started dating in 1978, and after one year and three months of dating, the couple decided to tie the knot. Rose walked down the aisle on 27 April 1979, and on the altar, the two shared their vows, and the priest pronounced them man and wife.
John Candy with his wife Rosemary Margaret Hobor at a black-tie event.
Source: Who Dates Who
Less than ten months after the husband and wife got married, their first child, daughter Jennifer, was born on 3rd February 1980. They also welcomed a son more than four years late, their second child, son Christopher, was born on 23rd September 1984. But the unity of the family was not to be because, in 1994, tragedy struck.
Death of John Candy; Leaving a Family Behind
John Candy was in Mexico on a work commitment where he was filming the parody movie 'Wagons East.' While the production was halted and he was enjoying a little free time in the country, the actor talked to his friends and sold his team in the Canadian Football League.
John Candy died on Mary 04, 1994, as a result of a heart attack.
After a call with his assistant back in Canada, he went to his room, and for late-night food, he ate lasagna. Then he went to bed for the final time, and he was found dead on his bed after the night on 4 March 1994.
Recommended: Who is Ben Affleck's Wife? A Timeline of His Dating History!
It was presumed he died from a myocardial infarction, but it was not proven because of the fact there was no autopsy done on the body, and the cause of death was not confirmed.
John Candy died due to complications with his heart while on work vacation in Mexico.
Source: Pinterest
The case of heart disease was a family thing for Candy whose family men suffered heart attacks early in their lives and considering the weight gain problem for the actor he was in a prime position to suffer from a heart condition and in the end, it took the life of one of the funniest and amazing actors working in the 80s and 90s.
After Death of Husband John, Rose Remained a Widow
Rose loved her husband, and the duo enjoyed a blissful married life where they made each other better and cared for one another. The death of John Candy was the biggest heartbreak Rose ever received, and after struggling for a while with the loneliness, she took the whole thing in stride and leaned on her children for support.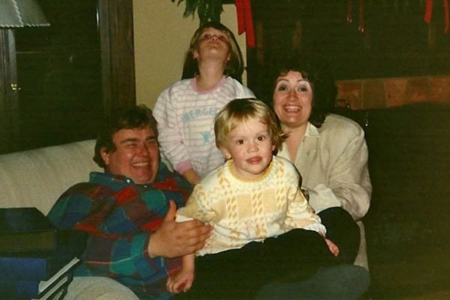 John Candy shared two children with her spouse Rosemary Hobor before his demise.
The wife of John Candy never got married again and wasn't even seen with another man, and to this day, she lives as the widow of John Candy. She was only 46 years old when her husband died, and the love of her children was all she needed. Rose dedicated her life to raising her children, who were only 14 and 10 at the time of their father's death.
Rosemary raised her kids and stayed a widow after her husband's death.
Source: Superb Hub
A few years after the death of his father and her husband, son Christopher, and wife Rose gave tribute and talked about still feeling his presence at home, even though he died a long time ago, they feel like John is still looking down on them. Chris also talked about his father's contribution to Hollywood and the lasting legacy he left behind.
Check Out: Who was Michael Mantenuto's Wife Prior to His Death?
John Candy is dead, but his family and fans keep him alive in their hearts. There is no way people will ever forget John Candy, as long as there are Christmas and young children, 'Home Alone' will be a staple on TV screens, and John Candy will be there, with his million-dollar smile and smooth voice.
Before you leave, make sure to click on our Entertainment section for more news and gossip about your favorite celebrities. Also, do not forget to visit Glamour Fame to be in the know of all the happenings in the world of show business.
-->