Leonard Fournette Weight Loss 2021: Here's What You Should Know
Published Tue Feb 09 2021 By Bran
Grab all the exciting details you need to know about the weight loss drill that Leonard Fournette went through and became successful here.
Leonard Fournette is someone who needs no introduction as one of the NFL's finest talents, especially in the category of the running backs. He currently plays for his new team, the Tampa Bay Buccaneers, and was considered the best player of his batch in college football, which helped him get enough exposure to make it big in the NFL.
And unlike most of the early bloomers who fail to impress, the round one pick just proved the scouts who trusted him right by putting on a consistent run of performances every time.
Being a player at the NFL might sound like a dream come true as it is, but the position invites a tremendous amount of pressure as well. Apart from the perks in terms of fame and fortune, Leonard Fournette also has to deal with the responsibility of keeping his body in the perfect shape to achieve the top level of fitness.
As a sportsman of the highest level, he did face the challenge to keep his weight at the optimum level and even went through a weight loss process. Stay right here as we take you through all of it.
Leonard Fournette Lost Weight To All-Time Lowest
Leonard Fournette dropped 12 pounds entering the 2018 season.
Photo Source: Florida Times-Union
Being a running back at the National Football League always put Leonard Fournette under pressure to keep himself sharp enough. And, for that, he needed to make sure that he keeps the balance of perfect weight, diet, and nutrition to avoid sporting issues such as fatigue, stamina, and the most important thing, injuries.
An extremely lighter version of the footballer showed up during a training camp back in August 2018, which definitely kept his fans in some sort of awe.
Related: Ruben Studdard Weight Loss - The Complete Details
The 2018 training camp was the time when Leonard Fournette was freshly off an intense weight loss drill. He used to keep himself occupied in the gym, working out some of the most effective weight-loss exercises, which showed immediate effects. All thanks to that, the footballer managed to drop around 12 pounds, reaching 223 lbs than the 2017 season, which happened to be his debut season.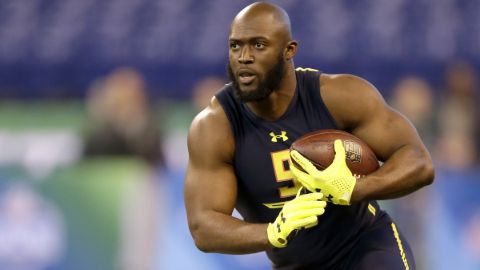 Leonard Fournett signed for the Tampa Bay Buccaneers in 2020.
Photo Source: LA Times
The media and fans were quick to notice a lighter version of one of the highly-rated NFL freshers in Leonard Fournette to question him about his health. In an interview, he disclosed how he felt healthier and great after dropping that many pounds.
Every gym freak realizes the importance of keeping a balance between workout sessions and everything else, and Leonard Fournette acknowledged that too. Consequently, he did around 50 pushups every night, regardless of how tiring the day has been, so that he wouldn't lose any strength.
Leonard Fournette's Weight Loss Ambitions Aren't Done Yet
Leonard Fournette is a role model not just for the young football fanatics but also everyone who is trying to cut down on some weight in their body. Despite managing to reach his all-time low since high-school, Fournette was all-set with a goal, which reflected how he was nowhere near his final goal.
Furthermore, he did reveal how he wanted to reach his weight during the sophomore year when he was up for the Heisman trophy and finished sixth.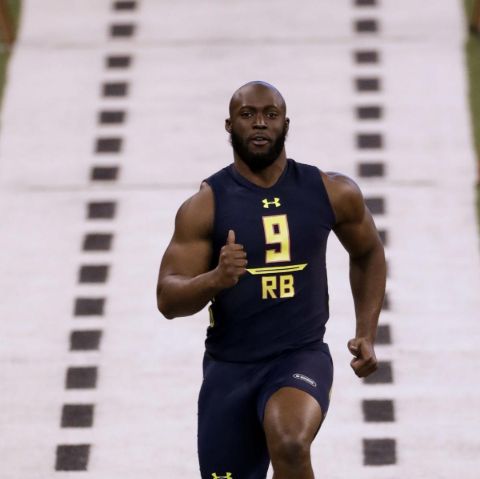 Leonard Fournett is currently weighed 223 lbs.
Photo Source: The Advocate
The college version of Leonard Fournette was some sort of a beast as his statistics were very good for the whole league, which helped him achieve 40 rushing touchdowns, which is the third-most in the history of LSU. He had already garnered enough hype and attention prior to the 2017 NFL drafts as one of the best prospects entering the highest division of football.
It was the Jacksonville Jaguars who were lucky enough to land the youngster back then as the fourth overall pick on a lucrative $27 million contacts, with a complimentary $18 million signing bonus.
You May Like: Salma Hayek Reveals Her Bikini Pictures Are All Throwback.
For more news and updates about your favorite stars, please stay connected with us at Glamour Fame.
-->