Lil Nas X's 'Old Town Road' Breaks Billboard's Singles Record Notching A 17th Week At The Top Of The Hot 100
Published Tue Jul 30 2019 By Chester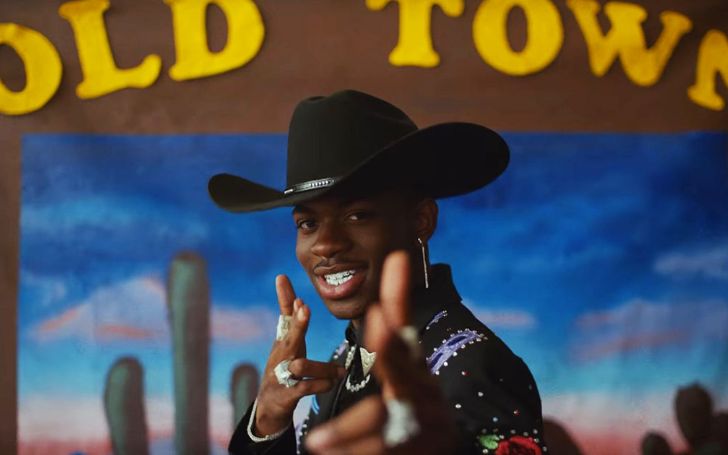 Lil Nas X featuring Billy Ray Cyrus 'Old Town Road' sets the record of the longest-running single in the 61-year history of Billboard's Hot 100 chart.
"Yeah, I'm gonna take my horse to the old town road. I'm gonna ride 'til I can't no more". Well, Montero Lamar Hill aka Lil Nas X superhit song "Old Town Road" is clearly riding till it can't no more topping all Billboard charts, setting records and being the longest-running No.1 song on the Billboard Hot 100.
Overcoming the record held by 1995 classic, "One Sweet Day" by Mariah Carey and 'Boyz II Men' and the recent viral hit "Despacito" by Luis Fonsi, Daddy Yankee, and Justin Bieber, which held the top spot for 16 weeks.
Soon as the breaking news dropped into the ear of the 20-years-old American singer, Nash expressed his happiness sharing in a tweet on Monday, July 29.
The unique fusion of genre-mixing the classic country with the flavors of Hip hop notched the groundbreaking record.
Lil Nas X Hints He Is Part Of The LGBT Community With A String Of Tweets Related To His Sexuality >>>
According to Nielsen, in the near-tie Billie Eilish "Bad Guy" had 51 million streams last week and was played 7,200 times on the radio still wasn't enough to win Lil Nas X historic run.
"Old Town" initially topped the chart in April, overcoming some of the giant chart competitors like Ed Sheeran, Taylor Swift, Shawn Mendes, and Billie.
The reason behind the track's such mainstream hit includes some potential factors as Nas released the song late last year as an experiment to the musical genre as well as to viral marketing.
The 'Country-Trap' hybrid first came to prominence on the video-sharing app Tik Tok. People started a trend, writing #yeehaw, embodying a cowboy hat and boots and using the track in the background. As a result of the experiment 'Old Town' circulated all around tabloids.
After the track being such major hit and viral sensation, Lil Nas X told Time magazine.
I promoted the song as a meme for months until it caught on to Tik Tok and it became way bigger.
Another key factor which made the song reach in such peak of success was because of its drip remixes, firstly with Billy Ray Cyrus and subsequently, Diplo's' electronic rendition of the song featuring rapper Young Thug and Mason Ramsey. There is a total of 79 versions of Old Town Road.
Nevertheless, we would like to congratulate Lil Nas for such tremendous lifetime achievement and for creating the legacy.
-->