Lindsay Lohan Reunites With Co-Star Jonathan Bennett After Beach Club Show
Published Mon Jan 07 2019 By Karly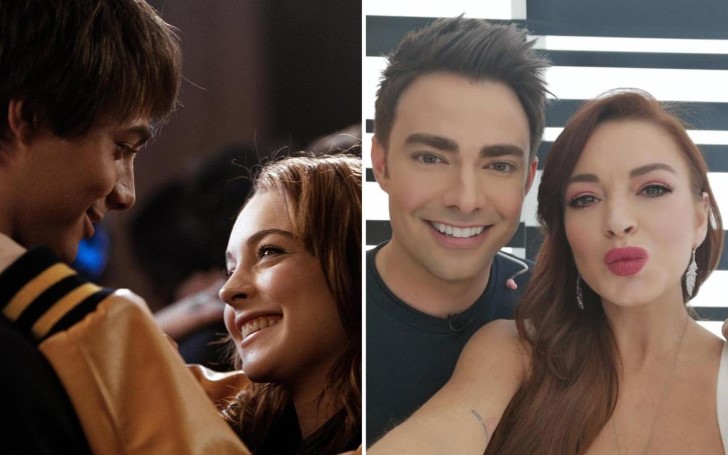 Lindsay Lohan rejoins with co-star Jonathan Bennett after Beach Club Show.
This is true that if a renowned celebrity takes a selfie with anyone, it raises lots of gossips and rumors on the topic of their activities. Likewise, some news is going viral about one of the top American actresses. Let's find out what that matter actually is.
On 5th January 2019, Lindsay Lohan, who played Cady Heron in the teen comedy, took to Instagram to share a selfie with Jonathan Bennett, who worked as her love interest, Aaron Samuels in the same teen comedy.
The actress, Lohan will join Bennett for the after-show in a studio packed with her biggest fans, as she responds questions about her journey abroad and marketing business empire.
You May Like: Salma Hayek Flaunts Her Cheetah Bikini Floating in The Ocean
Alongside the after-show news, MTV premiered a new clip from Beach Club, showing just what kind of shenanigans we can expect from the show. In the video, Lohan and her business partner, Panos Spentzos, get to know the staff of her Mykonos luxury club.
Also Read: Angelina Jolie Cemented A Classic Winter Combo Long Coat and Long Dress
Bennett recently reprised his Mean Girls role for Ariana Grande's Thank U, Next music video. In one interview, the actor said that it returned back tons of feelings from the set of the iconic film. He stated:
"It brought me back. There was that moment when you're sitting in the chair, they do your hair and makeup like Aaron Samuels, and they spin you around for the first time and you look in the mirror. That was the first time I saw him in 15 years, and it was like seeing an old friend. It takes you back to that time when life was just simpler."
However, Lindsay Lohan is not dating anyone. Speaking about her sexual orientation, Lohan said she's not a lesbian. When asked if she was bisexual in 2008, she answered:
"Maybe. Yeah, I don't want to classify myself.''
She further stated in a 2013 interview:
"I know I'm straight. I have made out with girls before, and I had a relationship with a girl. I think I was looking for something different."
Likewise, Bennett came out as gay in October 2017 and he was in a relationship with previous Amazing Race contestant and current Celebrity Page host Jaymes Vaughan.
Similarly: Chloe Madeley Stripped Off to Show Off her Incredibly Sculpted Abs in a Series of Breathtaking Selfies on Tuesday
Maybe the rumors will catch fire speculating on Lohan and Bennett's relationship but nothing is confirmed yet. The only certainty is there's a mutual bond between two stars who worked in the same movie in previous years.
-->