Little Women LA Star Christy Gibel Receives Restraining Order Against Abusive Husband!
Published Sat May 18 2019 By Chester
'Little Women LA' star Christy Gibel files a lawsuit against her husband for his eccentric and abusive behavior!
Those who are unfamiliar with Christy McGinity Gibel, well she is an American actress and reality star precisely known for her movies like "Death to Smoochy" and "Little Women: LA."
Well, the 'Little Women' star recently filed a temporary restraining order against husband Todd Gibel. She has accused her lunatic husband filing the case of domestic abuse, repulsive behaviors, and drug use.
Christy Claims Todd Choked Her, Beat Her in Terrifying Hotel Room Brawl
SOURCE: Zimbio
As by reports by THG, During the recent court meet for the case, 'Death to Smoochy' star shared,
"On April 18, I told respondent that our marriage was not working, and we should figure out our next steps."
Christy furthermore added, "I mentioned that I was concerned for his well being and asked him repeatedly to seek help this was a common occurrence during our marriage but he took things to the different disturbing way."
21 Savage Gets Sued for $1 million By Promoter in Civil Case >>>
Since then 'Todd began to respond with some aggressive and disturbing behaviors such as yelling and threatening' Christy shares in a statement.
Gibel claims that Todd has harassed Autumn to the point where she has had multiple panic attacks a day.
SOURCE: THG
Gibel seemed disturbed and frightened as she expressed in trauma that Todd constantly harassed her multiple times by blackmailing on numerous occasions as well as obstructing her to leave the house several times. Besides, Gibel even blamed and doubted her for having an extramarital relationship.
Television Personality JWoww and Roger Mathews Confirms They are Divorcing >>>
The duo walked down the aisle back in 2014. In their initial days, the duo shared a blissful relationship but recently Todd's changing and aggressive behavior are still questioning. Well, we will find all about it after Gibson's story from their the upcoming case meeting.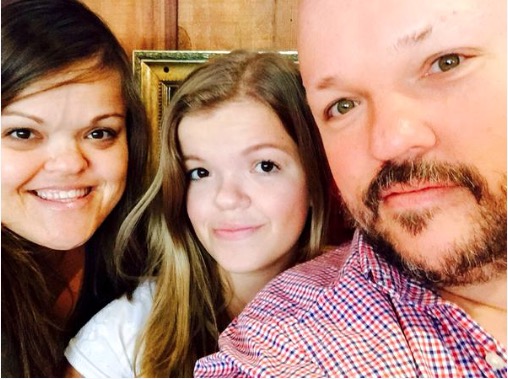 Christy Gibel along with her husband and daughter.
SOURCE: SheKnows
The case is now been obtained by 'Los Angeles Superior Court' where Christy requested 'Domestic Violence Prevention Order' on May 8. Her restraining order against Todd has been approved, compelling him to stay at least 100 yards away from Christy and Autumn.
Fortunately, Court recently granted Gibel and her daughter Autumn's filed lawsuit and has set a court hearing for May 29. Well, let's hope the deserving candidate gets the win and liberty.
-->