Does Lizzo Have a Boyfriend? Grab All the Details of her Dating History
Published Tue Dec 24 2019 By Travis
The first half of 2019 was all Keanu Reeves, there was no one in the world who could dethrone the internet's boyfriend, but as the year progressed, one person was slowly nipping at his heel, and by the end of the year Lizzo is one of the biggest performers of 2019. The rapper went from an unknown commodity to become a sensation in a span of a year, and it was fitting she was there to close out 'SNL' for the decade.
Plus-size models were not a thing back in the day; models looked like the Victoria's Secrets Angels, ladies of the unattainable figure. That is how we perceived beauty, but the change in time resulted in a change in how people looked at a model. The thin models were pitiful because of everything they needed to go through, and body acceptance became the norm.
Body positivity was promoted, and sometimes it was even over peddled with the plus-size people vilifying thin people and people who promoted exercise. There is something to be said about bullying, but it's a topic for another day. One of the people promoting body positivity and all-around inspiration living is Lizzo, and the rapper talked about how it is for her to find romance and the feeling men have for her.
Lizzo Talked About Difficulty of Finding a Boyfriend in High School
High School is probably the meanest place on earth, filled with judgmental youth, and bullying is a real problem in schools. It is an especially scary place for kids who look different, and being fat is not something that earns you a lot of friends and cool points in high school. Lizzo also went through a tough period in school.
Lizzo was a big girl in school and a rapper and there was no boyfriend in her life.
Source: Lizzo's Instagram (@lizzobeeating)
The rapper said she was a huge girl in school, but her cute face meant there were kids who were in love with her or wanted to be with her, but the ridicule of being with a large lady was something no one was ready to take on. This was the reason the rapper went through high school without a single boyfriend.
Lizzo Slid into Drake's DMs
Drake is known for being the one who slides into people's DMs, and especially ladies, he is considered to be a womanizer, but in the case of Lizzo, she was faster than him. Lizzo took to Instagram one day and decided she wanted to hit up Drake, which she did.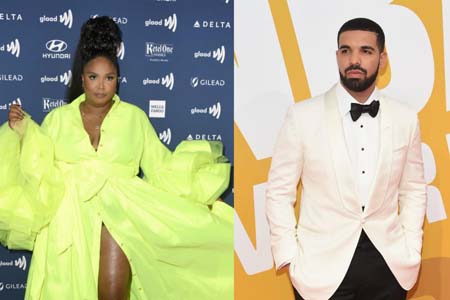 Lizzo said she slid into Drake's DMs while she was drunk.
Source: Hot New Hip Hop
The rapper was drunk, and according to her, "I was drunk, and I was just like, 'Let's just see if this motherf--ker can sing.' And I sent him a DM… this was a while ago. And then I unsent it, and then he followed me after that." Well, she probably did not mean anything by the DM, but she got a follow back from one of the best performers of the 2010s.
Lizzo Went After Chris Evans – Like Who Wouldn't?
Chris Evans is a beautiful human being, and the peak was when he was sporting the amazing beard (oof, that beard); still, the actor is a specimen when it comes to men. Everyone loves Chris Evans, and Lizzo is on the same hype train as everyone else, which is why she went shoot her shot when she got the chance.
The actor retweeted a video of a girl dancing to Lizzo's Juice, and the rapper could not hold back her feeling as she sent back a tweet proposing him to marry her. After doing her thing on Twitter, she took to Instagram with a screenshot of the tweet and wrote, "Shooters gon shoot."
Lizzo's Got a "New Man on the Minnesota Vikings" – Or Does She?
Okay, this is an old song lyric from Lizzo, whose viral 2019 hit 'Truth Hurts' was released in 2017, and the lyrics included a line "new man on the Minnesota Vikings." The details of the identity of the man in 'Minnesota Vikings' is still not clear, and during a concert in Detroit, the rapper revealed her man was from Detroit.
The Minnesota Vikings player is still a mystery, two years later, and the rapper is not going to share his identity anyway. But she is single now and is comfortable being her own soulmate; maybe she is self-partnered in the same way Emma Watson is.
Lizzo also Shared Some Sizzling Chemistry with Trevor Noah
Lizzo was on The Daily Show when everyone could see the sizzling chemistry between her and Trevor Noah. The dimply comedian from South Africa was getting hit on and Lizzo later said the comedian was playing hard to get and she also stated she would get him eventually.
The rapper is not scared about playing the field and shooting her shots because it only needs to strike the right spot once. But it also shows the fun-loving side of Lizzo, not afraid to put herself out there.
Lizzo is Fine Being With a Man or a Woman – She Identifies as Queer
Lizzo does not feel comfortable subscribing to one single orientation when it comes to her sexuality or gender. "I cannot sit here right now and tell you I'm just one thing," the rapper said while talking about her sexuality.
Lizzo said she does not fit one single column when it comes to her sexuality and gender.
Source: Lizzo's Instagram (@lizzobeating)
"That's why the colors for LGBTQ+ are a rainbow! Because there's a spectrum and right now we try to keep it black and white, that's just not working for me," Lizzo revealed. She also talked about her crush on both Barack and Michelle Obama, don't know how that's supposed to work. So, it is clear, the rapper is open about her sexuality and is happily single at the moment.
Also Read: Full Story on Lizzo Weight Loss!
Before you leave, make sure to visit Glamour Fame to be in the know of all the happenings in the world of show business.
-->