Love Island Star Tommy Fury Shares Daughter With Molly Mae Hague. Know About Their Relationship
How often do you watch reality series? Which is your favorite one? If you love watching dating reality television, then this next personality is no stranger to you. His name is Tommy Fury, an American TV personality known for appearing in the reality TV series Love Island.
Not only that, Fury almost won the fifth series of the show but ended as runner-up. Tommy was born into a family of boxing and became a boxer. He has appeared in nine fights and has won every one of them. Now let's discover more about Fury's lifestyle and relationship below.
The Wonderful Love Journey of Tommy Fury With Fellow Love Island Star, Molly-Mae Hague
Season five of Love Island show played an epic role, Tommy and Molly- Mae Hague for one another. In 2019, the duo met each other for the first time in the villa and had an immediate impact. Since July, they began a serious relationship, and their chemistry is seen all over the shows.
After spending almost fifty days in the villa, the duo made the entire season only to come second for the show. Soon after exiting Love Island, Tommy and his partner moved to a Manchester apartment together. Many fans accused the Hague of faking love with the boxer. However, she proved them wrong after celebrating their second anniversary in 2021. The duo are very much supportive of one another and helps to grow.
They often upload pictures on their social media accounts where they are seen spending quality time together. With their great bonding, the celebrity couple finally bought their first home in 2022. In several boxing events, Molly is seen cheering him up to the fullest, and she is a lucky charm for the boxer.
Also See: Love Island Fans Accuse Molly-Mae Hague Of Faking Her Tommy Fury Romance
Love Island Runner Ups, Tommy Fury, and Molly-Mae Hague Welcomed Baby Girl
Tommy Fury and his partner, Molly-Mae Hague, are one of the couple goals of many people. With their love and dedication to their relationship, they are praised by many fans. Fury and Hague remained in a romantic relationship for over three years and shared great connections.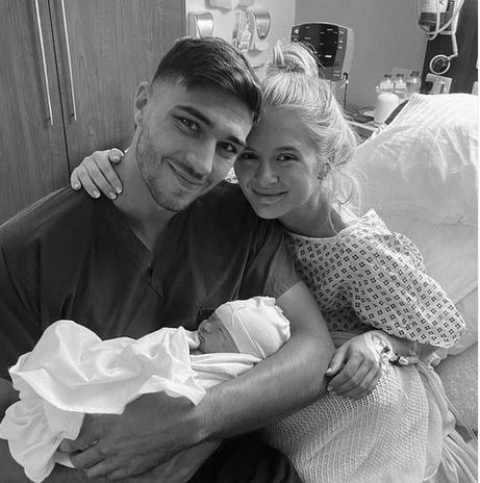 During this long journey of love, they are blessed with one beautiful child. In September 2022, the pair announced they were expecting their first child via Instagram accounts. Finally, on January 2023, Hague gave birth to their baby girl, Bambi Fuy. The Island partner revealed the child through their social media accounts.
Tommy and Molly stated that their daughter was the best achievement of the pair's entire life. Their fans rushed to the comment section to congratulate them on the beginning of life. Like every, guardian couple is taking good care of their newborn child. The social media influencer often uploads cute e pictures of her baby on her Instagram account.
Defeated YouTuber and Boxer, Jake Paul
One of the achievements in Tommy's life is winning against the undefeated boxer, Jake Paul. The two were scheduled to face one another on 18 December 2021, which didn't happen due to the Love Island star's injury. Later, on 23rd April 2022, he fought with British boxer Dillian Whyte at Wembley Stadium, which the reality star bagged.
On 6th August, their fight was rescheduled at Madison Square Garden, which also never happened due to traveling issues. On February 26, they finally faced one another in Diriyah, Saudia Arabi, witnessed by a giant crowd. The fight concluded with a split decision handing Paul's first loss in his career. After winning the bout, the Love Island star declared:
"For the past two-and-a-half years, this is all that's consumed my life. Tonight I established my own legacy - I am Tommy Fury. "I had a dream I would win, people doubted me, but i proved everyone wrong "This is great fight for me, this is my fate, my destiny."
With a tremendous victory in Tommmy's career, he was awarded the WBC Diriyah Belt and made his place in the cruiserweight rankings. Although the fight appeared messy, the duo appreciated one another's game and strategy.
Tommy Fury's Net Worth in 2023
The boxer turned into a TV star Tommy Fury holds an outstanding career so far. Tommy amassed a tremendous name and fame with his talents and hard work. Currently, he is enjoying a net worth of $4 Million luxuriously. All of his earnings are via his boxing and TV shows career. As a part of the popular dating show, he has made over $200,000.
After landing a mesmerizing victory against YouTuber, Jake, he doubled his fortune. Tommy earned $2 Million from the said bout. Also, he made almost 35% of the Pay Per View profits.
That made his total payout from the show almost $5 Million. From his overall investment, the boxer made over $100,000 per annum. Fury's beginning of 2023 is one of the most fruitful so far. Currently, Tommy is enjoying a lavish lifestyle with his family for sure.
Love Island Duo Molly-Mae Hague and Her Partner Was Robbed in 2021
In mid-2019, Molly and her partner, Tommy Fury, bought a penthouse for $1 Million in Hale, Manchester. However, in September 2021, the house was ransacked by thieves while they were away n London.
The burglars emptied designer clothes and jewelry worth $850,000 from their luxury three-bed flat. Molly told the world about the incident through her YouTube channel and stated it was the worst. Of this hectic event, Molly was terrified to disclose the location of her new home, which she bought in December 2021.
However, she is excited and lives in her dream home. The pair often share the beautiful design and decoration of their property.
For More Relevant share content, Visit Glamour Fame.
-->