Love Island's India Reynolds Reveals She Is More Than Happy To Be A Hit With Porn Viewers
Published Fri Aug 23 2019 By Alice
Love Island's India Reynolds does not have any objection to be hit with porn viewers.
After Love Island's fan discovered the racy videos of Reynolds on Pornhub, some defenced her saying it was the part of the job while others believed Ovie Soko should know about her raunchy past.
The glamour model stares alluringly into the camera being topless while making suggestive comments as she prepares the poultry carcass in the Christmas-themed adult clip.
India Reynolds posing for snap being topless.
Source: Dailymail
However, the reality star who got third place in the show revealed that she's not bothered about what images or videos there are of her on the internet and what people can see.
Reynolds said in a bold statement,
I'm not bothered what's on those websites...I was there when the videos were shot, so I'm not exactly going to be shocked by what's in them.
Moreover, the brunette bombshell also clarified that being a glamour model it's just a part of her job. Nevertheless, it's not even porn.
They were just videos behind the scenes at photoshoots. It wasn't exactly porn.
Well, that's true, India has not participated in full-frontal nudity or sex on camera.
Furthermore, India even disclosed she would like to ditch the sexy look for something a little more PG besides her successful career as a Page 3 pin-up. She maintains,
I put my bra back on and it won't be coming off again. These days I'm working with some fashion brands and I'd love to continue doing that.
Meanwhile, Reynolds is currently in a romantic relationship with her basketball player beau, Ovie Soko. Likewise, the couple is growing stronger with each passing day.
Watch: Anna And Ovie Have Their Second Kiss | Love Island
The duo got close together on the reality dating show, Love Island and still dating after the show. What's more, Ovie first paired with Anna Vakili on the show and even shared kisses multiple times.
Whatsoever, its all in the past and Ovie, as well as India both, have moved on. Further, they are trying to take their relationship to the next level and are spending lots of time together.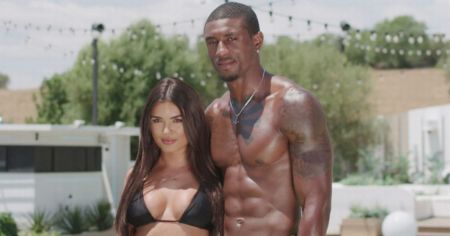 India with her beau, Ovie Soko.
Source: Mirror
What's more, Soko is extremely supportive of the glamour model work and even doesn't mind her past as she said, "We've spoken about the sort of work I've done in the past and he's been great."
-->