Love Island's Michael Griffiths Said He Wants A Relationship With Joanna Chimonides And Insists He Has No Future With Amber Gill
Published Tue Jul 23 2019 By Jasmine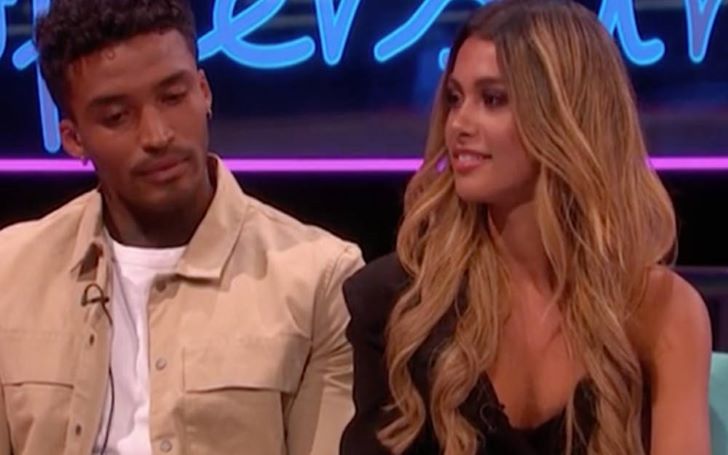 Love Island's Michael Griffiths wants a relationship with Joanna Chimonides!
Micheal Griffiths is seemingly the most confused man in the Love Island villa. Currently, he is jumping between two women, and they both do not seem to enjoy it.
The 27-year-old firefighter is trying to win back Joanna Chimonides' heart. Originally, Micheal was coupled up with Amber Gill. Even though Micheal later switched to Joanna, he later begged Amber to take him back when Joanna was kicked off from the show.
Also See: Love Island Fans Are Divided Over Belle Hassan After She Caused Quite A Stir!
Everybody in the villa was shocked when Micheal did not leave the Love Island after his partner Joanna was dumped from the show. He decided to stay in the show stating he had everything he needed. This triggered Joanna intensely and called Micheal, "a fucking snake".
Watch: Joanna brands Michael a 'f****** snake' as she departs
Even though Micheal later stated he regretted his decision, the fact that he chose to beg his ex-partner, Amber Gill to take him back, made Joanna uninterested in him. When Joanna was later asked about the situation, she exclaimed she had no idea what was going inside Micheal's head and did not know what he was feeling.
Recommended: Why Are Fans Laying Into Love Island's Joanna Chimonides On Twitter?
Michael later revealed he is hoping to win Joanna back, insisting:
"Ultimately yeah I am hoping that is the case. It's just whether Joanna will speak to me or not. If Joanna told me to leave her alone, I'd totally respect that. And I'd understand why she would do that. I'd be upset because I wouldn't be able to make things work, but everyone makes mistakes, and it's something I hope I could work towards, but if she doesn't want to revisit it then she doesn't want to revisit it. That's up to her."
We will have to wait for further episodes to see if Micheal and Joanna will truly get back together or Amber and Micheal still stand a chance. So far, it seems that the firefighter is losing hold on both the women.