Love Wins: Robin Roberts and Amber Laign's Inspiring Wedding Journey!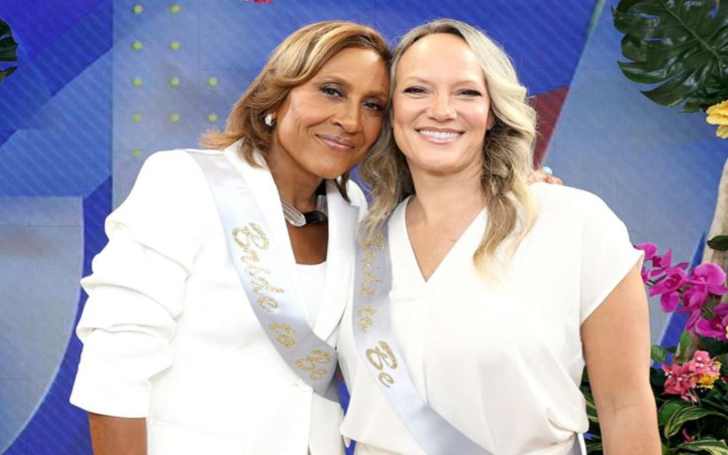 After months of giving their fans and Good Morning America viewers glimpses of their wedding planning journey and pre-wedding celebrations, Robin Roberts and Amber Laign have now exchanged vows. The ABC Morning Show co-anchor and her partner of 18 years officially became a married couple on September 8, 2023, in the comfort of their own backyard.
The delightful announcement came through Robin Roberts' Instagram post on September 10, 2023. In her post, she shared, "We had a truly enchanting, intimate wedding ceremony in our backyard, followed by a joyful reception... and oh, the dancing that followed!"
Wedding Ceremony and Dresses
The ceremony began with Robin Roberts being escorted down the aisle by her brother, Lawrence Roberts Jr., who looked dapper in a plaid jacket, black dress pants, and a floral boutonnière.
Robin held a delicate bouquet featuring roses, ranunculus, and greenery as she approached the altar.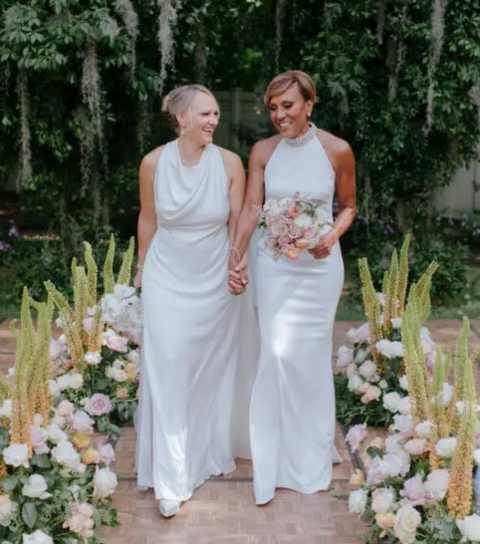 The Good Morning America photos revealed that Robin and Laign exchanged their vows in front of an altar adorned with long-stemmed pink and cream roses.
Flanking the couple were bridesmaids elegantly attired in floor-length pink satin dresses.
How Did Robin Roberts Meet Her Love of Life, Amber Login?
In a 2014 appearance on The Ellen DeGeneres Show, Robin Roberts disclosed that she and Amber Laign had initially met on a blind date back in July 2005. Despite Laing's preference for a more private life, Roberts emphasized her unwavering support.
On their 15th anniversary in July 2020, Laign shared a heartfelt Instagram post, recounting their first date, during which they both tried to cancel but found a deep connection.
Laign admitted feeling butterflies after their second date and revealed that the separation when Roberts left for Tahiti only strengthened her love, a feeling that remained strong to this day. Their enduring bond was beautifully recounted in Laign's touching message.
Amber Lagin Took Care of Robin Roberts During Bon Marrow Transplant
In a year-end Facebook post, Robin Roberts celebrated her recovery from a life-saving bone marrow transplant for myelodysplastic syndrome, a rare blood disease diagnosed in 2007.
She thanked her medical team, family, friends, and her sister Sally-Ann, who was her donor. Importantly, Roberts publicly acknowledged her "longtime girlfriend Amber" for the first time, marking a significant moment in her coming out.
On a 2017 broadcast of Good Morning America, Laign shared her experience as Roberts' caregiver during her recovery, emphasizing the importance of self-care for caretakers dealing with the challenges of supporting their loved ones.
Celebrating Love For Almost Two Decades
In July 2020, marking their 15th anniversary, Robin Roberts gifted Amber Laign a sentimental collage featuring a photo from each year of their relationship. She also presented a celebratory cake and personalized crystal champagne glasses for their "crystal" anniversary.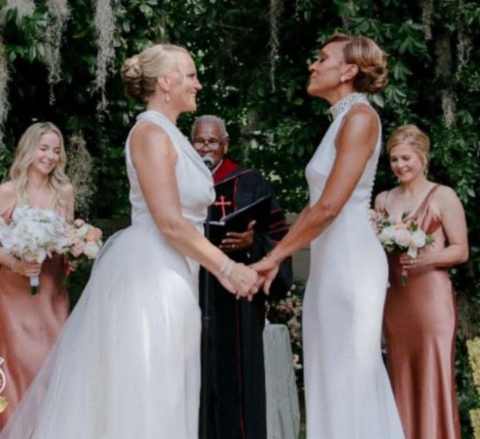 Laign expressed her deep appreciation in a heartfelt tribute on her private Instagram, which Roberts shared. During the COVID-19 pandemic, Roberts spoke of how the extra time at home allowed them to further strengthen their relationship, with Roberts stating that after nearly 16 years together, they had never been stronger.
Amber Laign Went Through Breast Cancer
In a Twitter video, Robin Roberts shared that her partner, Amber, had been diagnosed with breast cancer, undergoing surgery followed by chemotherapy.
Roberts expressed gratitude for a positive prognosis and discussed their nearly 17-year relationship, highlighting how they had supported each other through life's challenges, including her own cancer journey.
Roberts admitted that Amber's health was now her priority and discussed the emotional toll of switching roles, with Amber being the caregiver this time.
The experience made Roberts more vulnerable and taught her the importance of self-care while encouraging Amber on her journey. Their bond continued to evolve as they faced this new challenge together.
Proposing Love of Life
Robin Roberts shared on Good Morning America that she and Amber Laign have plans to marry in 2023. Expressing her commitment by saying "yes" to marriage and explaining that it signifies moving forward into the next chapter of their lives.
She mentioned that it had been a topic of discussion but had been postponed due to Amber's illness. Roberts posted the clip on Instagram, confirming their intention to marry in 2023 with a caption that read, "Saying YES to marriage in 2023.
Robin Roberts is the Anchor of Good Morning America
Robin Roberts is a renowned American television broadcaster and journalist celebrated for her impressive career in the field of news reporting and anchoring.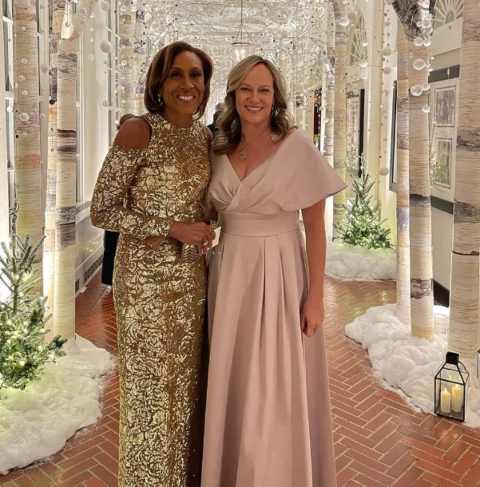 Born on November 23, 1960, in Tuskegee, Alabama, Roberts has become a respected figure in the media industry. She first gained national prominence as a sports anchor on ESPN, where she worked for 15 years.
However, she is best known for her role as co-anchor on ABC's "Good Morning America," where her warm and empathetic demeanor has endeared her to viewers worldwide.
Amber Laign is a Professional Therapist
Amber Laign is a professional massage therapist who has garnered attention not only for her expertise in wellness but also for her relationship with Robin Roberts. She began her career as a sales representative at the prestigious Berger and Stevens Showroom in New York City, gaining valuable experience in the industry.
Her journey into the field of wellness led her to the Swedish Institute of Health Sciences in New York, where she honed her skills and became a licensed massage therapist.
Amber specializes in various massage techniques, including deep tissue, Swedish, myofascial release, and trigger point massages. Her relationship with Robin Roberts, a prominent television personality, has also been a point of interest in the media.
Visit Glamour Fame For More Related Content
-->