Following Fox News Mix-Up with Robin Roberts Gayle King Says 'All Black People Don't Look Alike'
Published Fri Mar 08 2019 By Chester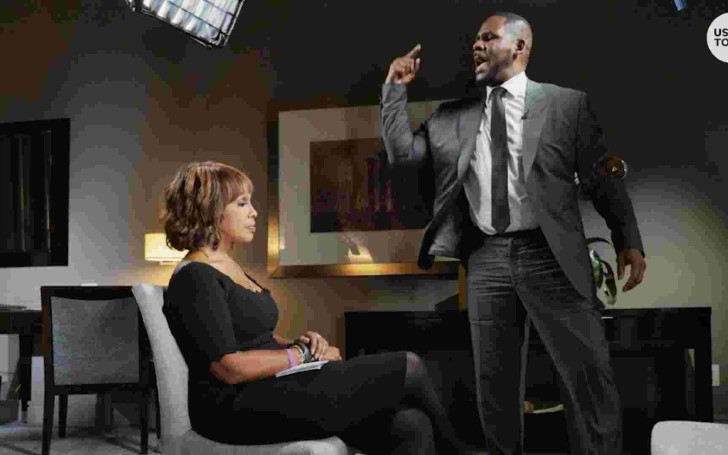 Reporter Jesse Watters got mixed-up with similar Afro-American journalists Robin Roberts and Gayle King during a live premiere of the show Fox's "The Five."
Recently Fox channel's political commenter Jesse Watters mistakenly acknowledged journalist Gayle King instead of ABC's anchor Robin Robert for the recent Robert Kelly sexual abuse case.
The Fox's reporter Jesse's broadcast was all over the internet resulting criticisms from viewers for his silly mistake. He even had to face accusations like racism.
Gayle King (Left) and Robin Robert (Right)
SOURCE: USA Today
Walter was actually congratulating Gayle's interview regarding singer Kelly's accused sexual crime of assaulting 3 underage girls. However, he tongue-slipped and congratulated Robin instead.
Find out: Riverdale Pays Tribute To Luke Perry in First-Episode Since Actor's Death
Here is the exclusive video of Gayle that got Fox's reporter Jesse confused.
Jesse and his team were discussing the Rapper R.Kelly sexual assault and Pop star Michael Jackson's child harassment abuse allegations.
But reporter Jesse Watters got confused with the two African-American journalists during 'The Five' show and credited Robin Rene Roberts instead of Gayle King for the interview.
Jesse Watters: "Hats off to @GayleKing for totally redeeming herself after the [Jussie] Smollett fiasco.."

Dana Perino: "That was not Gayle King...Robin Roberts did the Smollett interview." pic.twitter.com/8nRcLhVybA

— Yashar Ali 🐘 (@yashar) March 6, 2019
In the interview, Jesse gets mistaken with the two saying:
"Hats off to GayleKing for totally redeeming herself after the Smollett fiasco.."
The statement was instantly corrected by his Fox News teammate Dana Perini.
Dana Perino corrects Jesse:
"That was not Gayle King...Robin Roberts did the Smollett interview."
Watters responded,
"I knew that."
The reporter covering his head in embarrassment.
"Sorry for Robin Roberts out there. I apologize."
Subsequently, in The Late Show, Stephen Colbert asked CBS anchor Gayle King about the ongoing rumors about her from the Fox show.
The 64-years-old journalist replied:
"So many people started sending this to me, I don't normally watch Fox news."
Gayle added:
"I emailed Dana, who I don't know, and I said, 'Hi, just wanted to thank you for letting your colleague know that … we are two different people. And could you let the rest of your colleagues know that all black people do not look alike? Could you please just share that?"
Jesse, later asked for an apology holding a whiteboard wring "I'm sorry Gayle + Robin" on Fox News.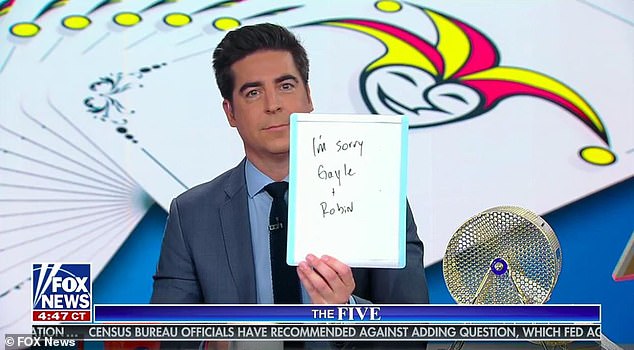 Watters's apology
SOURCE: Fox News
The host of "O'Reilly Factor" constantly apologized to both reporters exclusively on Television several times.
Did you know: Televisa's Yeka Rosales Faced Online Criticism For Dressing Up in 'Brownface' and Wearing a Prosthetic Nose To Resemble Mexican Actress Yalitza Aparicio
The 40-year-old TV personality seemed honest regarding his mistake by confessing several times, firstly during the controversial interview and later writing on a board.
-->