Why Gayle King isn't Expecting a Christmas Present From Oprah Winfrey?
Published Mon Dec 17 2018 By Tess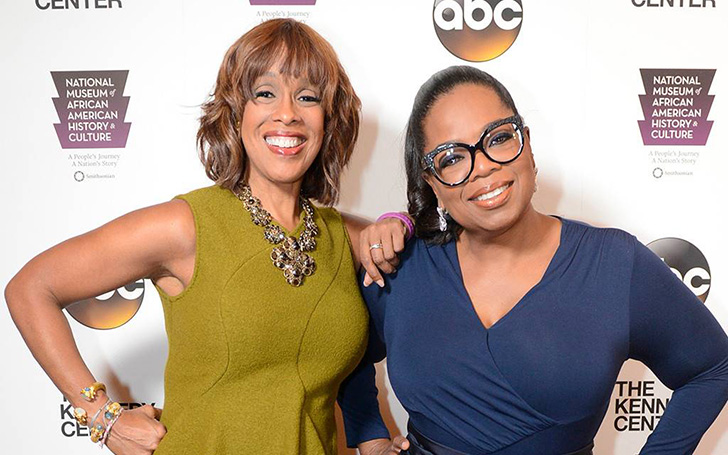 The longtime best friends Oprah Winfrey and Gayle King don't exchange Christmas presents.
Best friends for over 40 years, Oprah Winfrey and Gayle King have a rule when it comes to holiday gifting. The longtime best friends avoid exchanging gifts on Christmas.
They have been best friends for years and given how successful their career has been, their no gift rule makes a lot of sense.
Oprah Winfrey and Gayle King together at an event
SOURCE: eonline!
On Wednesday, during an appearance on Bravo's "Watch What Happens Live With Andy Cohen" The CBS This Morning co-anchor King revealed that she and her best friend Oprah Winfrey do not exchange Christmas presents.
"We don't exchange gifts because both of us feel that we really don't need anything, we just like hanging out together."
Also Read: Ariana Grande and Kanye West are Currently Battling, Ariana Grande Apologizes To Kanye West
The longtime besties value each other's company rather than presents and gifts. So, they will be spending a lot of time together this January.
As announced in June, the pair along with more than 2,600 of their closest pals are planning on setting sails for a three-day "girls getaway" cruise aboard Holland America's Nieuw Statendam ship on January 30, 2019.
Don't Miss: Kate Middleton Rumoured To Be Pregnant And Expecting Fourth Child
Their "the power of friendship" themed journey is meant to honor and pay tribute to the special bond between women. Their journey runs roundtrip from Fort Lauderdale, Florida, and makes a stop in the Bahamas' Half Moon Cay.
You May Also Like: Johnny Depp Enjoys Passionate Kiss With Mystery Blonde Woman After Divorce From Amber Heard
While announcing the vacation, Winfrey asked everyone to bring their best friend with them.
"Bring your best friend with you, whoever that is — your mom, your aunt…your bestie from elementary school. Bring your Gayle!"
As for items featured on Winfrey's annual "Favorite Things" list, King revealed:
"My favorite is the Apple watch 'cause I got one for the first time. And the least favorite would be pajamas because I don't wear pajamas."
Meanwhile, this year's list does feature pajama sets which include Kassatex robes, Cozychic caftans, and Softies hooded snuggle loungers.
-->