R. Kelly Charged With Aggravated Sexual Assault of Four People
Published Sun Feb 24 2019 By Jessica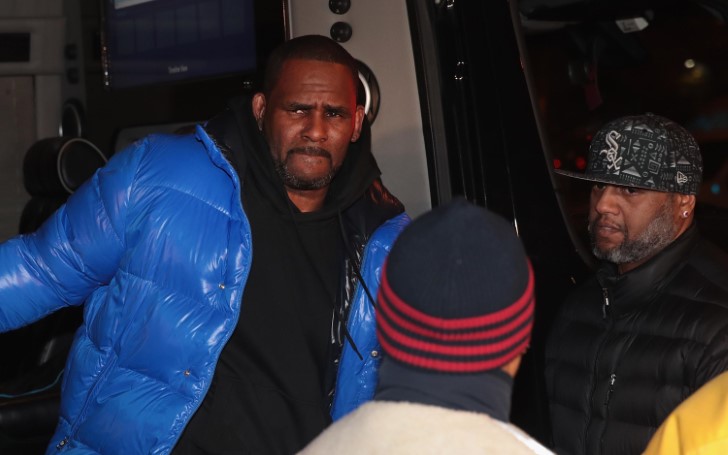 US Rapper R. Kelly arrested after being charged with 10 counts of sexual abuse against women including at least four charges with underage girls.
Grammy-winning rapper, R. Kelly finally surrendered to police on Friday at about 8:15 in Central District station on Near South Side after allegedly being accused by more than ten women for sexually abusing them and for keeping some of them as his virtual slaves from the year 1998 to 2010.
The rapper surrounded by camera turned himself to the officers as they handcuffed Kelly and escorted him away.
Kelly whose real name is Robert Kelly previously kept denying the accusations against him including the documentary series 'Surviving R. Kelly' made upon his predatory behaviors against women, at least three of them minors being between 13 and 16.
Alleged rapist and pedophile R. Kelly's mugshot
SOURCE: Lexi Sutter
Cook County prosecutors alleged on Saturday with a darkly painted portrait of the rapper for how he repeatedly solicited underage girls for sex. Kelly once even encountered one at her 16th birthday party at a restaurant in 1998. Another victim included an underaged girl he violated whilst he attempted a trial for child pornography.
The R&B singer and record producer's manager gave the 16 years old birthday girl his business card and advised her to call the rapper. The mother of the girl overheard the conversation and warned the manager saying his daughter was just 16. But the 16 years old girl later regained the card from her mother's purse and contacted Kelly. The rapper then gave her directions and transportation charge to his studio, where the two reportedly became involved in sex for over a year.
Another victim, also 16, claims she met Kelly during his 2008 trial, where he signed her an autograph. Kelly then later invited the girl to his home in Chicago suburb of Olympia Fields where they had sex several times. The documents also state the artist choked, slapped and spit on her.
Kelly's other victim includes a Chicago hairdresser who thought she was going to braid Kelly's hair, but the 'I believe I can fly' singer pulled down his pants and forced her to have sex with him. The victim, who then was 24, pulled away, but the rapper still ejaculated and spit on her face.
Another document claims a witness with access to videotapes that showed the artist having sex with again an underaged girl of 14 years old, who repeatedly happens to say her age on the footage.
See more: Selena Gomez's BFF Courtney Barry Ties the Knot in Stunning Gown
The rapper's DNA was discovered in semen on one of his accuser's clothes, and on a shirt that was worn by another woman who submitted for DNA testing.
Kelly is given a chance to go free while awaiting a trial with a bond at $1 million which implies the alleged rapist and pedophile must pay $100,000 to be released, judge John Fitzgerald Lyke Jr. said. The judge also called the charges "disturbing." The 52 years old singer looked down on the floor as the judge addressed.
The rapper's defense attorney Steve Greenberg claims all of Kelly's alleged victims are liars.
"I think all the women are lying, yes,"

"Unfortunately the state's attorney has now succumbed to public pressure. Mr. Kelly is strong, he's got a lot of support and he's going to be vindicated on all these charges."
Greenberg also said he is uncertain whether it's actually his client on those photos, claiming 'anyone can have photos'. Greenberg also supported Kelly by telling reporters that he did not force anyone to have sex.
Kelly is also ordered to surrender his passport by the judge that further restricts him ongoing for his upcoming tours. In addition, the singer could serve up to 70 years in jail since each count of the criminal charges against him sends up to seven years behind bars.
See more: Kim Kardashian West Springs To The Defence of Her Sister Khloe Kardashian For Going Out
Kelly's record label, Sony Music-owned RCA, cut their ties off with the rapper last month.
Cook County court official declared Kelly is scheduled to appear in court on March 8 in his native home, Chicago.
-->