Lucy Mecklenburgh Stuns In Untouched Bikini Photoshoot As She Shows Off The Results Of Her Beach Body With Lucy Programme
Published Tue Apr 30 2019 By Jessica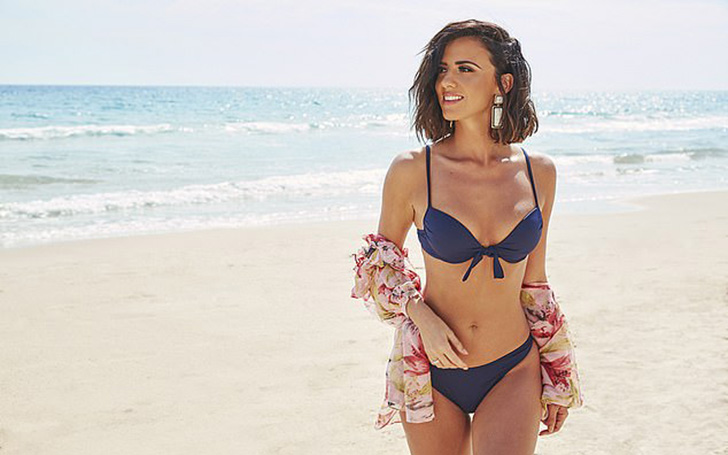 Lucy Mecklenburgh poses in bikinis to show off the results of her Beach Body with Lucy's new fitness programme.
English reality star Lucy Mecklenburgh is a fitness freak.
Since her departure from ITV2's TOWIE five years ago, Mecklenburgh prioritized more to her fitness career and business and even paved a successful career on it.
The 27-year-old is no stranger to sharing bikini pictures to show off her amazing toned and fit physique on social media in bikinis or swimsuits.
Recommended: Darren Criss Goes House Hunting In Los Feliz With New Wife Mia Swie
Mecklenburgh once again looked flawless than ever when she shared new pictures to show the results of her new Beach Body with Lucy's workout programme.
Lucy Mecklenburgh for Beach Body with Lucy.
SOURCE: Beach Body with Lucy
Shot in Portugal, the reality star opted to show her sizzling body figure in numerous swimwears as she and some of her girl pals hit the beach for the photo shoot.
In one of the pictures shared, the dark-haired woman looked radiant in a pink striped swimsuit that featured a different peachy colored pattern.
In another look, Lucy rocked a navy blue two-piece bikini she accompanied with a matching chiffon shawl that was draped around her shoulders.
Lucy Mecklenburgh happily poses for Beach Body with Lucy.
SOURCE: Beach Body with Lucy
Likewise, for another look, Mecklenburgh can be sported in a polka dot black and white off-shoulder two-piece bikini as she posed with her body laid on the sand whilst playfully throwing one of her legs in the air.
Lucy opted to put her short bob brunette styled with side partition in thin loose waves and free. She also touched her tiny face with a palette of bright makeup that suited her bikini looks very well.
The rest of the pictures showcase the fitness guru posed with her Beach Body with Lucy's members including Cecilia Harris, the co-founder of her fitness foundation.
Also see: Kaley Cuoco Steps Out In Hoodie And Leggings With Long Blonde Hair Up In A Top Knot
The new programme for the Beach Body with Lucy launched on Monday is a six-week fitness course and all the pictures were untouched.
Lucy says she wants to inspire her fans with body positivity and help women of all shapes and sizes to feel beautiful and confident in their body.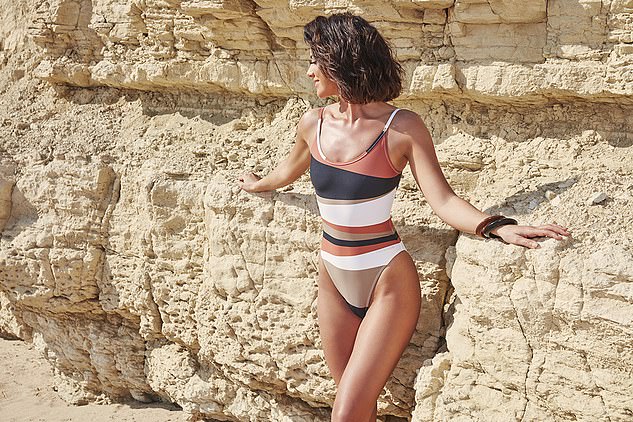 Lucy Mecklenburgh looking amazing in a colorful swimsuit.
SOURCE: Beach Body with Lucy
"At @ResultswithLucy We promote an active balanced lifestyle that should be consistent all year round for a healthy body & mind but understand most of us wants that body confidence boost before stepping out in your bikini."
"This programme is not designed with one body type in mind. We want every woman, no matter what their size or shape, to feel confident and exciting about slipping into their swimwear this summer!" said Lucy in a new Instagram post.
Harris too added: "Over the course of the six weeks we want to keep everyone taking part in the Beach Body with Lucy programme on their toes and so the workouts will always vary. Members can expect a mix of Legs, Bums & Tums, HIIT and Full-Body so get ready to sweat!"
Don't miss: Beyonce and JAY-Z Had Fun At The B-Sides 2 Concert
The six-week fitness course programme, 'Beach Body with Lucy' is available at £19.99 per month.
-->