Maria Menounos and Husband Keven Undergaro Are Expecting Their First Baby
The gorgeous woman Maria Menounos has admired personality in the United States. She is an American TV presenter, actress, and journalist who has a wide range of fan following. Maria is the host of E! News and Extra, who has previously co-hosted the Eurovision Song Contest 2006.
In 1995, Maria even won the Miss Massachusetts Teen USA and was placed in the top fifteen in Miss Teen USA. She has also written four books to date and received incredible feedback from readers and critics. Here is everything you need to know about journalist Menounos's life.
Maria Menounos and Keven Undergaro Engaged in Howard Stern's Show
As we see, the beautiful TV presenter is a very happily married woman. She accepted Keven Undergaro as life long partner. Recalling their old days, the duo found each other at the set of a small film in Boston in the late 90s. During that time, Menounos was still a young college student.
It was love at first sight, and they immediately fell for one another. Despite the age gap, they still made a great couple and enjoyed one another companionship. In comparison, the journalist's father didn't approve of their relationship. Soon, they moved together and started appearing in several public places together.
On March 2016, after several years of dating, Undergaro got on his knee and proposed to his love of life on Howard Stern Show live. Well, the response was a surprised and crazy yes from Maria. The duo shared a smooch and had a great time there.
"This is the first thing we listened to together 19 years in that basement on a single twin mattress and I said, 'One day you will be on that show and you will be a star.' And here you are, and here we are. Why not make it official now?"
Journalist Maria Menounos Marries Her Husband During Fox New Year's Eve Broadcast
On New Year's Eve of 2018, Keven Undergaro and Maria Menounos took the internet by storm with their surprise marriage. During Fox's live broadcast of the event in Times Square, they walked down the aisle and shocked the world with a bang. The beautiful ceremony was hosted by popular American host Steve Harvey.
During the event, the bride wore a beautiful mermaid gown with long sleeves designed by the Atelier Pronovias. At the same time, the groom stunned in his black tuxedo with a matching bow tie.
The most interesting thing was they didn't tell their parents or friends about the marriage. After almost ten months of their first surprise marriage, they again made a buzz in the industry.
Also See: Who Is Steve Harvey's Wife, Marjorie? Inside the Television Host's Relationship History
Maria Menounos Marries Her Husband for the Second Time
This time Keven Undergaro and Maria Menounos were wedded in the TV journalist's homeland Akvos, Greece. Maria and Keven exchanged their vows in a proper ceremony alongside their close friends and family.
During the ceremony, the bride found a beautiful outfit designed by Celia Kritharioti. Menounos wore a wedding gown made from silk organza, engraved flowers, and a veil also made with silk.
On the other hand, the groom, Keven, went full black like before. At the end of the beautiful day, the pair expressed gratitude to everyone who supported them.
Menounos even told People:
"I have the best husband, I have the best family, I am so blessed and so so happy that we get to do this amazing wedding in this beautiful village."
Keven Undergaro and Maria Menounos Are Expecting Their First Child
Finally, the day has arrived. After a decade-long relationship, Keven Undergaro and Maria Menounos will be parents. The pair never fails to give the world an extra dose of entertainment.
They recently announced that they are expecting their first child through their social media accounts. Well, they are having a baby with the aid of a surrogate which the couple revealed to the world. Maria shared a picture of the pair on her Instagram account, showing the world a cute little dress while Keven teamed her with the news.
Thousands of people rushed into the comment section to congratulate the pair. Well, it is still unclear when the baby is due, but it is inevitable that Mr. and Mrs. Undergaro make great parents.
Maria Menounos's Appearance in WWE
The gorgeous TV personality never fails to surprise her fans and followers. Apart from being runner-up of Miss Massachusetts USA, she has taken over professional wrestling. Being a long-time WWE fan, Maria Menounos has made several memorable appearances.
In October 2009, she guest hosted WWE Raw and even joined the Nacny O'Dell in six diva tag team matches. During the event, she slapped Beth Phoenix and made highlights in the WWE industry. The journalist continued her feud with WWE Divas Champion Beth and secured a match in WrestleMania XXVIII.
Interesting that she and her partner, Kelly, defeated the Eve Torres and Phonexi team despite with cracked ribs she had during Dancing with the Stars. Further, On January 2018, she was the ring announcer for the first-ever female Royal Rumble Match.
Net Worth of One Tree Hill Actress, Maria Menounos
Without a doubt, Menounos is a successful American personality who has tasted success in every field she has been involved. From beauty pageants to WWE, she has taken everything under her belt. As of 2023, Menounos is enjoying a net worth of $9 Million, which she gathered through her incredible career. Being a top presenter in the United States, she only makes over $800,000 per annum in salary.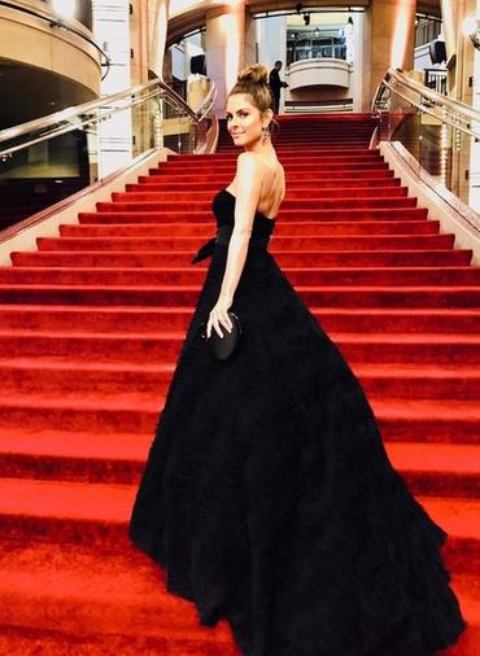 Not only that, but the beauty pageant winner has also done several movies and podcasts from which she amassed a huge fortune. Her estimated annual income is over $1.5 Million through her associations. In 2015, her starred movie, Entourage, made a total of $50 Million under a budget of $30 Million. Similarly, her other starred film, Fantastic Four, gathered $333 MIllion worldwide. Maria's latest appearance was in the Canadian comedy mini-series, The Pentaverate.
Menounos held many necessary casts. As such, she is paid a decent amount of pay for sure. Regarding her husband, Keven enjoys a net worth of $20 Million as of now. In 2005, the pair bought a $2.3 MIllion 5-bedroom home in California. Mr. and Mr.s Undergaro live a luxurious lifestyle and can't wait to hold their new offspring.
For More Content, Visit Glamour Fame
-->