Mariah Carey's Twitter account hacked on New Year's Eve
Published Wed Jan 01 2020 By Chester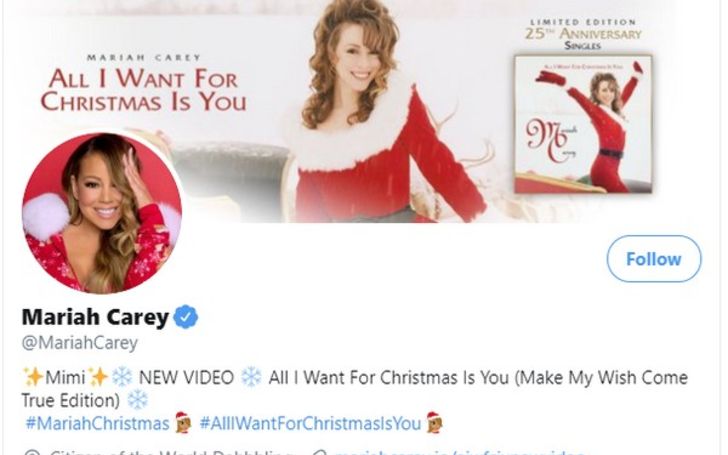 Late on Tuesday afternoon, Hollywood singer Mariah Carey's twitter account was hacked and series of offensive tweets were shared among her 21.4 million followers.
Mariah Carey's Twitter was hacked recently on December 31st, however, it's still unsure what & who was the reason behind the hack, and Mariah tends to stay quiet regarding it.
Tweets which were published on Tuesday afternoon was shortly deleted. The chains of the racist tweet were related to his co-star friend Eminem.
Series of now deleted spam tweets.
SOURCE: Twitter
One of the highlighted tweet read."Personally, I don't think racism is real, it's just p*ssy boy talk."
You May Like: Eminem Turned Down $100 Million to go out on Tour With Dr. Dre Snoop Dogg and 50 Cent >>>
Another which made headlines was "Eminem has a small pen*s," where fans even came up with speculations citing back the incident between Carey and rapper Eminem, who once had a very public feud where the 'Not Afraid' rapper claimed to have slept with the singer.
Mariah Carey - All I Want for Christmas Is You (Make My Wish Come True Edition)
The 49 years old. Mariah's social media hack news comes right after her new Christmas song 'All I Want for Christmas Is You.' The song released on Christmas has already garnered 21 Million views topping the Billboard chart.
FYI, Caray recently held the record of being the first artist to have the number one hot in four consecutive decades.
After achieving such a prominent award, Carey tweeted, "What's a decade."
Don't Miss: Mariah Carey is Known as The Queen of Christmas, Why???
Nevertheless, her account is now secured and she has full control over it. Hope you enjoyed the article, stay tuned and connected to find latest Entertainment updates on Glamour Fame.
-->