Married At First Sight: Couple Jess and Dan Backflip on Living Plans
Published Mon Apr 01 2019 By Jessica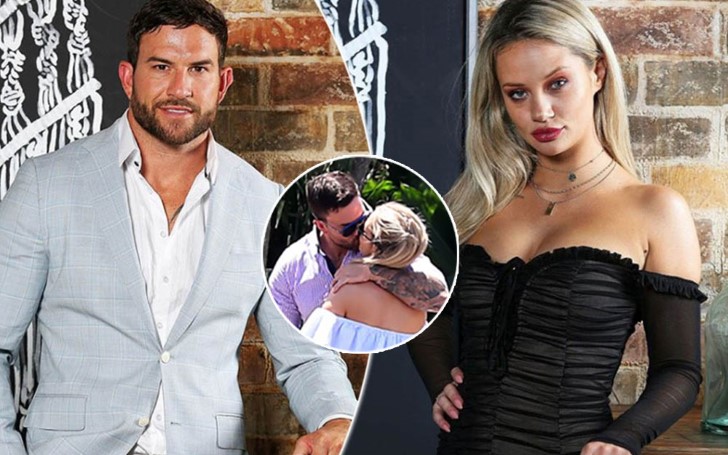 Married at First Sight couple Jess and Dan to take things slow on settling together.
Despite being expressive when it comes to sharing their love and feelings to each other prior to the two weeks of dating, Married at First Sight's famous couple, Jessika Power and Dan Webb want to take things slow between them.
Following the end of the filming for the series, Dan told in his recent conversation with radio station Hit 103.5 that the two are living separately although Jess previously mentioned her consideration on moving to the Gold Coast where Dan and his 5 years old child reside.
Recommended: MAFS's star Luke and Kate reportedly had Sex Numerous Times Despite Luke Claiming He Felt Dead Inside After Their First Kiss
Upon Dan's revelation, it's come to our knowledge that Jess lives in between Brisbane and Gold Coast where some of her families live. And that the pair immediately moving in together is something they both haven't put much thought into.
Married at First Sight Dan Webb and Jessica Power.
SOURCE: Stuff NZ
Dan himself admits being the kinda man who likes taking things slow and that 'reassess everything.' However, though when Jess visits him in the Gold Coast, the couple regularly spends most of their time together, as much as they can.
The reality star also continued confirming Jess is yet to meet his son and mother who was disappointed after finding out her son cheating on ex-wife, 'Tamara'.
Dan said:
"It's been one big whirlwind since this is all finished, (I'm) just trying to get through things and back in routine and work. And Mum actually lives up in Airlie Beach, so we haven't got that far yet, we're just taking things slow at the moment."
On Monday, Jessica also revealed in a different interview with Hit 92.9 that she is yet to meet Dan's son although the couple has now dated for nearly seventeen weeks, further admitting they had no intention of moving in right away.
Also Read: Married at First Sight: Jilted Bride Tamara Plans To Move in With a MAFS NZ Groom
In her words, she said:
"Because coming out of the experiment we just wanted to do like the normal couple thing like go on dates and have the honeymoon stage,"
However, both Dan and Jes have always been supportive of each other's decisions and lifestyles.
The love birds previously opened up on having more children in the future with Jess claiming that if her partner didn't want any kids, then it would a no from her too.
Also since Jess has a son, someone a big part of his life and his number one priority, the couple wants to be able to see how they organize things that involve his son, obviously before they end up on marriage terms.
As a matter of fact, Dan has never brought a woman in his son's life before and wants to see him being happy with women in his father's life.
Also See: Father Of The Groom Makes Misogynistic Comments in Married At First Sight Leaving Viewers Disgusted
What Dan also liked about Jess is the fact that he found her more interested in his son than in him. Jess then added how she really admired and liked seeing Dan who loves being a dad.
She said: "A lot of young men these days use their children as an accessory to find women. But you can see the love Dan has when he talks about his son."
Previously, the pair received death threats from the fans following their cheating scandal on their ex-partners.
-->