MAFS's star Luke and Kate reportedly had Sex Numerous Times Despite Luke Claiming He Felt Dead Inside After Their First Kiss
Published Wed Mar 13 2019 By Jessica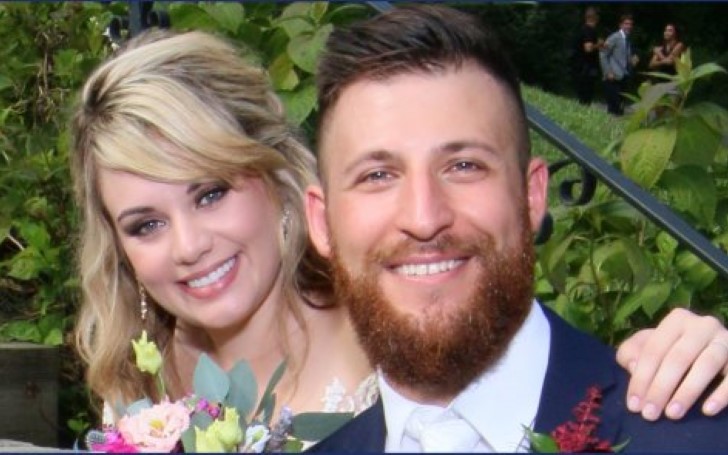 Despite Married At First Sight's groom, Luke Cuccurullo claimed he felt dead inside after his first kiss with wife Kate Sisk, they reportedly had sex numerous times.
The audiences of 'Married At First Sight' are aware of the rough and struggling marriage the bride and groom Kate Sisk and Luke Cuccurullo shares since the beginning of their relationship.
Their upsetting relationship tale starts since the time Luke revealed Kate wasn't his usual type wife marking more to Luke often being the one who usually let down Kate although she always gave her best to make things work out between them.
Married At First Sight's Kate Sisk and Luke Cuccurullo
SOURCE: Vimbelle news
However, after the latest episode dropped on Tuesday night, it appears both are equally... unfortunate in their relationship as Sisk made a shocking revelation as she opened up about their sex life, which Luke clearly didn't approve of, apparently.
You may also like: It's Official! Hannah B. all set to star as the next Bachelorette
Kate revealed to Dr. Pepper Schwartz, one of the experts on the show during a therapy session that she and her husband have been intimate several times since their honeymoon, counting to nearly five more times, in spite of Luke telling her to not tell about their sex and personal life to the experts.
Sisk said:
"Luke and I have been having sex since the honeymoon and it's awkward. Luke just gets very serious after sex and quiet and doesn't want to be around me."

"I kind of feel bad because Luke asked me not to talk about this with the experts, but I can't keep it a secret anymore."

"Luke and I have had sex probably five or six times"
The reality TV star further went on revealing how Luke becomes quite and serious after they're done with sex and that he doesn't even wanna be around her as he goes into other room for approximately two hours to avoid her. (Poor Kate.)
However, for Kate, this is not the first time for her to be felt this way. The news comes after the pair showed their concerns regarding their marriage that it might not work, which happened after they shared their first kiss as it didn't go as per Luke's want.
Not sure whether Luke is a jerk or an extremely inconsiderate honest person because apparently, Luke told Kate he felt 'dead inside' and 'repulsed' after the couple shared their first kiss on their honeymoon.
Don't miss: 'Guardians of the Galaxy' Star Dave Bautista Claims Dwayne Johnson Isn't a Great Actor
As Dr. Pepper hears from Kate saying:
"I didn't realize that it was a much bigger deal for him. I just thought it's our honeymoon, we're married, I like you so far… and I just asked and we did, but then it turned out he didn't want to."

"He just seemed really unhappy about it and then I just felt terrible. I feel like that really affected our sexual relationship since then."
The situation even got worse after Dr. Pepper adviced Kate to confess to Luke because as she does, she ends up crying after Luke clearly didn't seem to be fine about it when he responds her with saying "How could I try you? Cause you were like, 'Oh I swear to God'… and it's not changing!"
Now, many reports claim Cuccurullo, a civil engineer and Sisk, a hotel marketing specialist might have split. Since it can't be confirmed yet as both of their Instagram accounts are private.
See more: Fake Melania? People Seem Convinced Melania Trump Has Been Replaced By 'Body Double'
Married At First Sight produced by Nine Network and narrated by Georgie Gardner airs on Tuesday at 9 p.m. ET.
-->